"If we can have only one thing to decorate our house at Christmas, it must be a Christmas tree."
The decoration job of a Christmas tree is a fixed ritual every year that most people enjoy and look forward to, whose happiness won't yield to receiving Christmas gifts. And it also has become a part of precious memory in every one's mind. When you feel tired of the classic decor ideas years after years, be creative to set up a theme for the tree and then add some special ornament. Here're the most popular five themes for Christmas tree decoration to feed your inspiration, resulting in a shining and stunning festive atmosphere.
Traditional Theme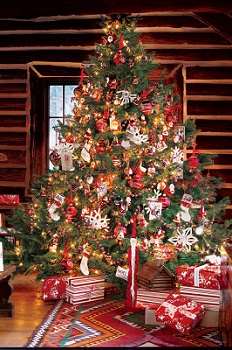 No need to rack your brain to figure out extraordinary decor style.Use the most classic elements like snowflakes, Santa and hanging socks can achieve the super festive atmosphere.In a word, choose some red-and-white ornaments and pull them up together,then add some Christmas lights, your Christmas will be extraordinary for the classic tree.
Forest Theme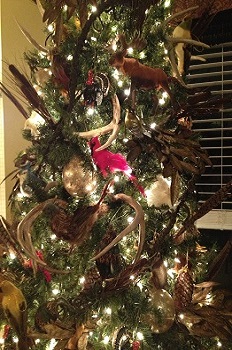 Like most traditional decoration, sparkling Christmas lights, bell balls, and snowflakes are necessary to make a festive Christmas tree. In this tree, many elks and deer placed in some key spots add some vigor of the whole tree. By poking a head out of bush, the deer seem to escape out of the forest. If your interior furnishing belongs to vintage style,this forest theme is an option you want for the Christmas tree.
Usually Christmas should be connected with snowy winter, but it is not entirely impossible to have a Christmas of snowy style when you live in the southern hemisphere.Buy a white Christmas tree at home and decorate it with shining bell balls, Santa and any other colorful ornaments you like.Some people just decorate a white Christmas tree as a snow man, which makes you feel coolness and forget the brutally hot summer outside.
Memory Theme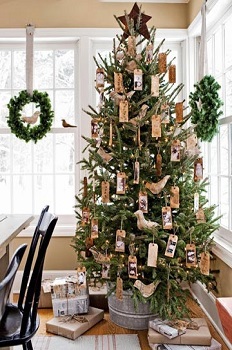 At the end of a year, you must collect many pictures or holiday cards. Don't keep them in the bottom of your storage box and share them with every visiting guests on Christmas. The best way is hanging them on the Christmas tree with a string instead.Suppose when you light up the tree, all smiling faces and warm-hearted wishes are shining together, making the Christmas tree a memory tree or a lucky tree that carries all your beautiful stories throughout the year.
​
---
DIY a Christmas Tree
(via hometalk)
Compared to cutting off a pine and adding some festive decor, the modern artificial Christmas tree has been a great progress on protecting environment and decorating our house. But there's a smarter guidance to get a pretty Christmas tree with lowest cost. All you need are just some handy tools and waste at home, and some Christmas decor items.
What You Need:
One tomato cag
Two rubber bands
One plier
Some garland
Two strings of Christmas lights
What You Do: