It's high time that you need to gather the Easter eggs and Easter decoration ideas for the coming event. With the following simple and low-budget Easter crafts inspirations, you can make stunning Easter DIY decorations to delight your family and guests.
Easter Eggs
As one of essential signs in the event, Easter eggs must be what come into your mind immediately. Compared to the traditional dyeing Easter eggs, there're many other simple and creative ways to decorate the eggs.
---
Painterly Easter Eggs (Credit: Paper & Stitch)
What You'll Need: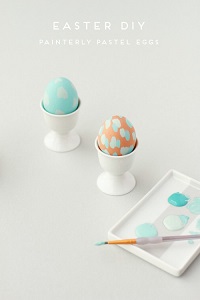 Hard boiled eggs
Acrylic craft paint
A paint palette
A paint brush
What You'll Do:
Choose a colour scheme and mix several paints to get the perfect colours
Add short lines of paint over the entire egg, leaving space between the stokes
Set aside and start another egg the same way
When the first round of paint is completely dry, add the second round colour of brushstrokes
Then the third and fourth round the same way
---
Tape Easter Eggs (Credit: LOVELY INDEED)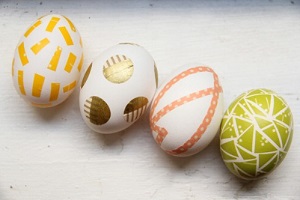 What You'll Need:
A pair of scissors
Washi tapes with different patterns
Hard-boiled eggs
What You'll Do:
Cut tapes indifferent shapes and apply to room-temperature eggs.
---
Ribbon Easter eggs (Credit: Better Home & Gardens)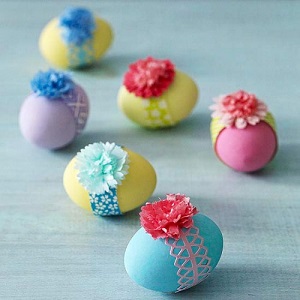 What You'll Need:
Ribbons in various colours and patterns
Hard-boiled dyed eggs
What You'll Do:
Cut a 1/2-inch-wide strip of patterned ribbon to wrap around the middle of an egg
Adhere paper flowers to the ribbon for additional charm
---
Easter Sock Bunny (Credit: Handimania.com)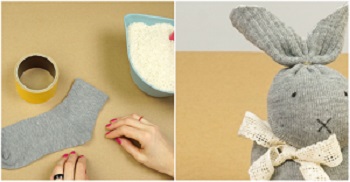 What You'll Need:
A sock
Rice
Scissors
Twine
Ribbon
Tape
Marker
What You'll Do:
---
Lovely Door Decoration (Credit: DIY & Crafts)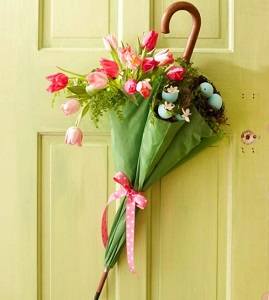 What You'll Need:
An umbrella
A bouquet of flowers
What You'll Do:
Gather a bouquet of flowers (real or silk) into an umbrella for a door display full of country charm.
Tie a ribbon around the umbrella to hold the bouquet in place.
Add a few dyed, blown-out eggshells for extra Easter fun.
Editor's Tip: If using real flowers, create a simple vase with water in a plastic resealable bag. Secure at the base of the flower stem with a rubber band.
---
Easy Yarn-Wrapped Easter Wreath
(Credit: architecture art design)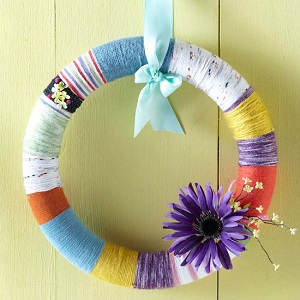 What You'll Need:
A wreath form, some yarn,
A few springtime embellishments.
Hot glue
What You'll Do:
Decide which colors to use and where, and mark the different areas on the wreath form.
Use hot glue to secure the yarn ends before and after wrapping.
Add some hot-glue spring elements, such as faux flowers, to your wreath for accents.
Add a pretty ribbon to hang on a door or wall.
---
Besides delighting yourself in the Easter event, these last-minute Easter crafts are perfect bonding activities with your family and friends. Come on and innovate the artistic inspiration inside!
More Easter ideas can be checked in our 2017 Easter Recipe | Hard-To-Resist Easter Brunch Desserts