With a Smoothie Blender, you can do so much more than make milkshakes–try our awesome blender recipes – Raspberry Margaritas, Muesli Greek Yogurt Smoothie Bowls, Stout Float with Chocolate Cream… All are delicious and easy to make.
Raspberry Margaritas
---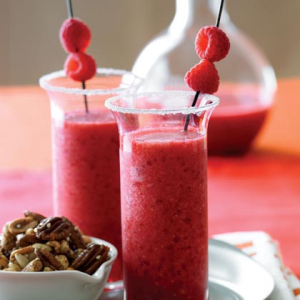 Ingredients
• 4 cups frozen unsweetened raspberries, slightly thawed
• 1 1/2 cups freshly squeezed lime juice
• 3/4 cup sugar, plus more to coat rims
• 1 cup tequila
• 1 cup triple sec
• 5 cups crushed ice cubes
• 1 lime wedge
Directions
1. In a blender, combine raspberries, lime juice, and sugar (you may need to do this in batches). Whirl until puréed. Rub purée through a fine strainer set over a glass measure; discard seeds. Stir in tequila and triple sec.
2. Put half of the crushed ice into the blender with half of the raspberry mixture. Whirl until blended. Repeat with remaining ice and raspberry mix.
3. If desired, rub rims of 8 glasses (8 oz. or smaller) with lime wedge. Pour a thin layer of sugar into a shallow dish; dip glass rims into sugar. Pour margaritas into glasses and serve cold.
Muesli Greek Yogurt Smoothie Bowls
---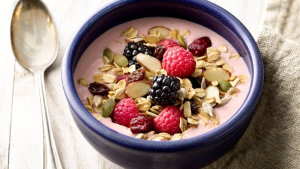 Ingredients
• 1 cup frozen strawberries
• 1 banana
• 1 cup vanilla yogurt (from 32-oz container)
• 1/2 cup toasted oats muesli original
• 1 cup fresh berries
Directions
1. In blender, add frozen strawberries, banana and yogurt. Cover and blend on high speed until smooth.
2. Pour into 2 bowls; top with muesli and fresh berries.
Sweet with Heat Prepared Mustard Recipe
---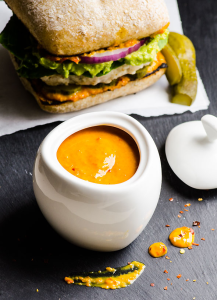 Ingredients
• 1 small red bell pepper, cored & coarsely chopped
• 1/2 cup yellow mustard
• 3 tbsp maple syrup or raw honey
• 1/4 tsp red pepper flakes
Directions
1. In a food processor or high speed blender, add bell pepper and process until finely chopped, pausing and scraping the walls once. For a thicker consistency mustard sauce drain the juice (personal choice).
2. Add mustard, honey and pepper flakes just enough to combine. Add more red pepper for more kick if you wish.
Cantaloupe Sorbet
---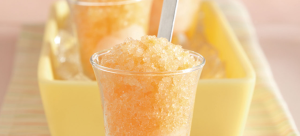 Ingredients
• Makes 4 cups (8 servings)
• 1 medium cantaloupe, rind removed, seeded and cubed (6 cups)
• 1/3 cup light corn syrup
• 3 tbsp lime juice
Instructions
1. Place cantaloupe, corn syrup and lime juice in pitcher of blender. Cover and blend on smoothies setting. Transfer to medium bowl and refrigerate until cold.
2. Freeze cantaloupe mixture. Serve immediately or transfer to freezer food storage container and freeze until ready to serve.
Stout Float with Chocolate Cream
---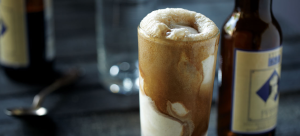 Ingredients
• Makes 2 servings
• 1/4 cup heavy cream
• 1 tbsp unsweetened cocoa powder
• 1 tbsp powdered sugar
• 4 scoops vanilla ice cream
• 1 bottle (12 ounces) stout
Instructions
1. For chocolate foam, place heavy cream in a blender. Sift cocoa powder and powdered sugar over cream. Blend on 30 seconds until mixture begins to thicken and looks foamy.
2. Scoop ice cream into two glasses; pour stout over ice cream. Top with chocolate foam; serve immediately.
Cheesecake Brownie Blast
---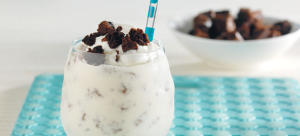 Ingredients
• Makes 2 servings
• 2 cups vanilla ice cream or frozen yogurt
• 1/2 cup whipped cream cheese
• 1/2 cup half-and-half
• 2 ice cubes
• 1 brownie (about 3 ounces), divided
• Whipped cream
Instructions
1. Place ice cream, cream cheese, half-and-half and ice in pitcher of juicer blender. Cover and blend to milkshake.
2. Break half of brownie into pieces; add to blender. Pulse 2 to 3 times or just until combined.
3. Pour into two glasses. Top with whipped cream. Crumble remaining half of brownie; sprinkle over shakes. Serve immediately.
All in all, a blender is a must-have kitchen utensil. Now that you've been inspired to indulge your stomach in healthy and beautiful looking Blenders Food , it's time to start shopping for a super blender!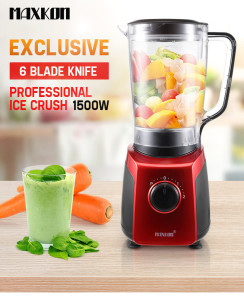 Enjoy the fruit of your labour using very little effort with this $49. 95 Maxkon Commercial Blender! Its multi-functional juicer is equipped with an exclusive stainless steel 6-blade knife, making it easy to make juice, sauces, purees or smoothies and crush ice. Set it free with brilliant recipes from CrazySales. Next to the microwave, you may find that the blender is your favourite time-saving kitchen gadget.
If you want to check recipes about baby food, please click here >>> http://blog.crazysales.com.au/cooking/blender-brings-easy-complementary-foods-making