Whole body vibration or WBV training is becoming more and more popular in Australia. According to studies, WBV training can accelerate weight loss, eliminate unwanted fat and train and tone muscles in a fraction of the time required when using traditional training methods. You can increase muscle tone, strength, circulation and flexibility in ONLY 10 minutes a day, 3 times a week by using it. No wonder more and more people would like to buy one now. Read this before you buy: Compare the Genki Ultra Slim Vibration Platform 2nd Gen with the Powerfit Vibration Machine. We will compare specifications, features and pricing. Let us help you to decide which machine is right for you, and ultimately save you money!

Knowing which features to look for will help you select the best WVB machine for you. Take a look below at the differences between the machines… most notably you will see a big variance in price! Don't miss our extensive analysis of the top vibration platform machines and our pick for your best bet.
---
The science behind whole body vibration machine
In the absence of gravity, astronauts lose muscle at a rate of 2% per week and bone at the rate of 1% per month which is harmful to your body. Meanwhile, Whole Body Vibration is a very safe way to load the muscles and bones causing them to become stronger using up to and above 20G, because like a slap in the face, it only lasts a split second; just long enough to stimulate the muscles and bones but not cause any harm.
The frequency at which the plate of a whole body vibration machine vibrates is measured in hertz (HZ). A quality whole body vibration machine gives the user the ability to increase or decrease the frequency hence you can change the frequency to change the effect. When the Hertz is up to 45, it's good for muscle strength, bone density, body shaping and circulation. When it's up to 20, your coordination, circulation, relaxation and mobility will be improved. And if it's 8 HZ, it will be useful for your balance.
Most important of all, a pivotal vibration machine is much better than a linear one. In pivotal vibration machine, the platform you stand on tilts around a central pivot point like a see-saw, while a linear vibration platform remains horizontal at all times with the entire platform moving up and down by the same amount.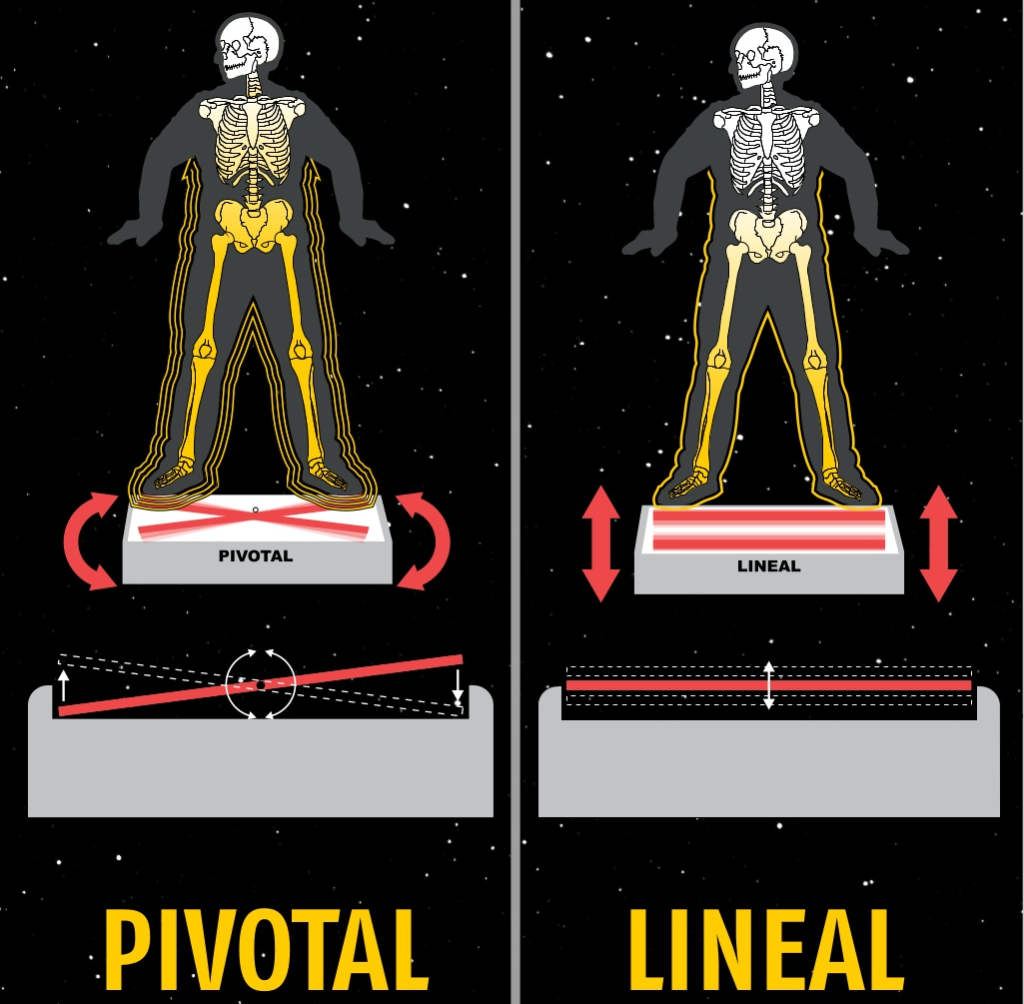 ---
Genki Vibration Platform 2nd Gen VS. Powerfit Comparison
Product
Genki Vibration Platform 2nd Gen
Powerfit
Price (RRP)
$149.98 - $169.96
$945
Warranty
1 Year
1 Year
Colours
White, Red, Gold, Black
Orange
Speed Range
120 Speed Levels
1-99
Control Panel
Digital Display and Press Button Controls
2-LED Displayer for Time/Mode, Speed
Digital Display and Press Button Controls
Pre-set Programs
10 Auto Running Program,
Walking, Jogging, Running 3 Channels
3
Platform Type
Oscillating
Oscillating
Amplitude
0-12 mm
Not Specified
Max Power
200W
200W
Maximum User Weight
150kg
120kg
Product Weight
14.5 kg approx.
16kg
Included with Purchase
1x mat
1x platform
1x plug & cord
2x resistance bands
1x Wireless remote controller
Remote Control, Resistance Straps
---
What's the difference between the vibration machines?
Actually, all vibration machines have similar functions. They are oscillating platforms, with similar designs, same movements and similar programs. However, there are still some differences among them for you to figure out and make the best choice:
Product details
The Powerfit vibration machine employs a 200W motor to deliver oscillating (pivotal) vibrations to the plate. There are 3 pre-programmed exercise routines available; the primary goal of these programs is to introduce muscle confusion into the workout. The unit has 99-speed settings.
Genki Vibration Platform 2nd Gen has an easy-to-read display showing how much time has elapsed per session and which speed mode you have chosen. There are 120 Speed Levels available, along with 10 Auto Running Program. What's more, its portability is ideal for use in an office or hotel room.
Convenience
Genki Vibration Platform 2nd Gen is easy to set up and use. Its generous dimensions should provide users of all sizes a sense of security during use. And its entire platform has a non-slip surface, allowing users to wear standard athletic shoes. Users can do different positions for each one-minute set, from standing to deep squats and push-ups. (Vibration therapy may be viewed by many as a passive form of exercise, but there is indeed a great deal of muscle engagement!) Genki Vibration Platform 2nd Gen truly understands the requirements of a gym-quality machine.
The weight limit of Powerfit is only 120kg while Genki has a 150kg limit. If weight limit is too low, it could be a serious drawback for heavier consumers who want to explore WBV for weight loss. Assembly can be difficult, according to some people. We give props to this model for its centrally located, easy-to-read display unit.

Performance
WBV trainers vary in a number of features, including frequency, amplitude and horsepower. Amplitude is the distance the plate travels from the lowest to the highest position, measured in millimetres per vibration. The higher the amplitude, the more intense the workout. Genki Vibration Platform 2nd Gen has a great amplitude from 0-12mm.
Frequency refers to how fast the plate can vibrate, measured in impulses per second. A higher frequency provides more force to your bones and muscles, resulting in a more intense workout. Genki Vibration Platform 2nd Gen has a speed range of 120 Speed Levels while Powerfit has 99 levels. Regarding horsepower, Powerfit has 200W Max Power and Genki Vibration Machine has 100W Unit Average Power.
Price
As you can see from the above table, the Genki Vibration Platform 2nd Gen come in at around 1/5 the price of the Powerfit! That's a huge difference and given that you could buy 5 for the price of 1, it is definitely something to consider. Most importantly, both Genki and Powerfit have the same 1-year warranty.
CrazySales strongly believes in offering products which offer good value to our customers. We offer not only a good price, but also ensuring that when customers buy a product from us, they are a customer for life.
Selecting Your WBV Trainer Here!

---
Different Generations of Genki Vibration Machines
VIBRATION MACHINE SERIES
Genki 1008 Series
Genki 1005 Series
Genki 1010B Series
Genki 1010 Series
Genki 1019 Series
Genki 06 Series
Genki 07 Series
BETTER LOOK
SHAKE
Up & Down Shake
Up & Down Shake
Up & Down Shake
Up & Down Shake
Up & Down Left & Right Shake
Up & Down Shake
Up & Down Shake
VIBRATION LEVELS
120 Levels
120 Levels
150 Levels
150 Levels
120 Levels
120 Levels
120 Levels
WEIGHT CAPACITY
150 kg
150 kg
160 kg
160 kg
160 kg
150 kg
150 kg
AUTO RUNNING PROGRAM
10
5
5
10
6
3 + DIY Programs
3 + DIY Programs
LCD DISPLAY
NO
YES
YES
NO
NO
YES
YES
MUSIC AND BLUETOOTH
NO
YES
NO
NO
NO
NO
NO
ROLLER
YES
YES
YES
YES
NO
YES
NO
PRODUCT SIZE
67*39*14cm
78*39*15cm
77.5*39*15cm
77.5*39*15cm
77.5*39*15cm
77*45*11cm
60.5*14.5cm
---
Story of Genki


Focus on Home Gym Equipment
Come and see Australia's most popular Gym Equipment. At Genki, we develop products with the exerciser in mind. We improve so that you can improve. Our home product offering has developed and expanded greatly over the past decade. No matter if you are new to training or starting your own personal training business, you can find the perfect products here. Genki Gym Equipment includes Abdominal Machines, Exercise Bikes, Strength Training Equipment and the most popular, Vibration Machines and more.
Genki products are the only choice for home exercisers looking for the best brand in fitness. It's club-quality equipment, that's built for the home.
Choose Genki, You Will Enjoy:
Expert engineering
State-of-the-art technology
Attention to design
Extreme durability
Reasonable Price
If you want to buy one, please click the banner below 🙂 🙂 Start from Only $169.95

If you prefer exercise bike or treadmill, please read our previous blog: Genki Exercise Bike VS Lifespan Treadmill: Gym Equipment Buyer's Guide