Do you have a fitness plan for the new year, new you? The most popular home gym equipment should be exercise bike and treadmill. If you're comparing the benefits between them, this buying guide may help you. Overall, review shows that treadmills are better for losing weight and building overall muscles. However, stationary bikes are cheaper, safer, easier on the joints and more conveniently stored.



Knowing which features to look for will help you select the best gym equipment for you. What you need to focus on are safety, workout effectiveness and whether or not you will avoid boredom and continue using the equipment. Take a look at the differences between the Genki exercise bike and Lifespan treadmill. Don't miss our extensive analysis of these two different types of exercises. Most importantly, pick the best equipment for you with the cheapest price.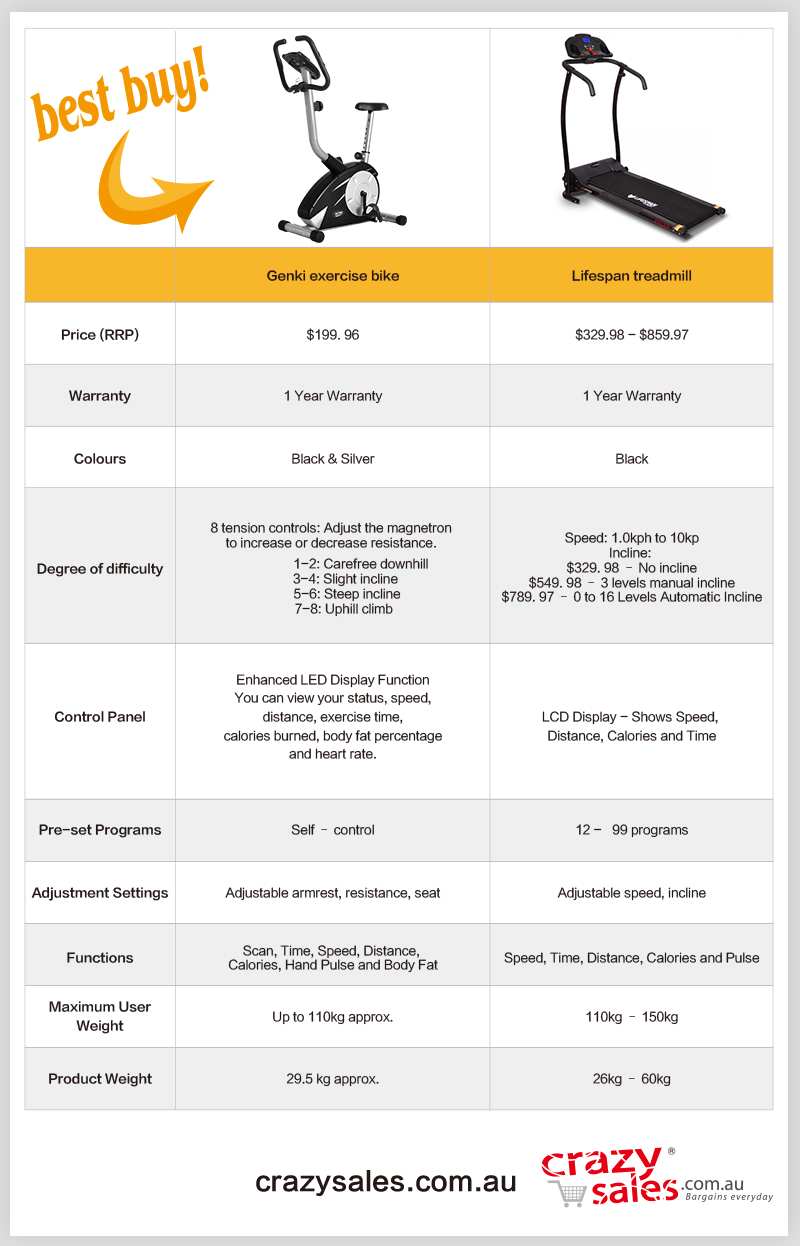 Treadmill vs. Exercise Bike – What are the Pros and Cons?
Workout Effectiveness
The most important thing for you to consider when choosing gym equipment is its workout effectiveness. A good exercise workout provides you aerobic benefits, works the major muscles and helps to maintain or reduce weight.
Treadmill will burn more calories per hour (750) than a stationary bike (550) at the same intensity, according to studies. Treadmills are designed for weight bearing exercises such as walking and running. Walking on a treadmill uses core muscles in the back and abs, allowing you to get a more all-over workout if you swing your arms as you walk. They're also superior for developing cardiovascular fitness and losing weight. However, treadmills are also harder on joints than stationary bikes. If you have joint or certain other health problems, a treadmill could prove too jarring for your workout, and could cause you undue pain.
Exercise bikes, while unable to provide whole body workouts like treadmills, are just as popular because they still provide great aerobic fitness with minimal stress on the back, hips, knees, ankles and feet according to many reviews. It strengthens your legs and reduces hip size. It's convenient and easy to use as physical therapists have used them for years to rehabilitate athletes with knee injuries. In addition, you may find it hard to walk or run 10 minutes on a treadmill but can easily ride for 20 minutes on an exercise bike and you will burn more calories per session on an exercise bike.
Safety
Safety is surely an important issue to consider when you're adding new things for your home. Let's see what you should look for when considering the safety matter of fitness equipment.
Most new models of treadmills feature automatic shut-off function. If you use it properly, it is safe enough. Remember to look forward and don't rely on handrails. But if you have a balance disorder, treadmills may be a safety risk because of the possibility of falling. And treadmills put more stress on joints, especially knees and ankles. People with arthritis may find a treadmill painful at times due to this stress.
In the meantime, though stationary bikes do not burn calories as efficiently as a treadmill, they may be the preferable choice if you have certain medical conditions. Stationary or recumbent bikes place less stress on joints. An exercise bike is the safest if joint stress is a major concern due to age or injury. People with heart disorders may also prefer a recumbent bike because the tension or resistance can be set to zero; a cyclist will be able to pedal for a longer period of time without putting too much strain on the heart. It's very difficult to fall off an exercise bike. What's more, if you have an upper body injury, the support of a recumbent bike may allow you to continue exercising.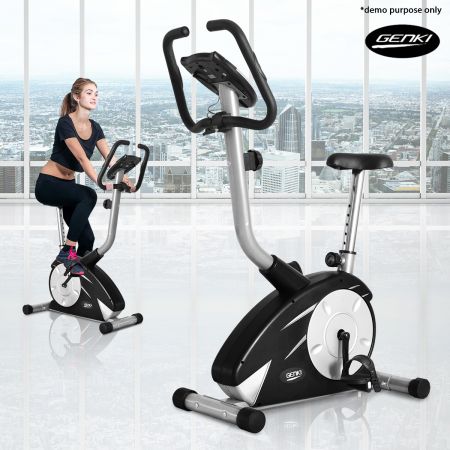 Boredom
In the purpose of sticking your gym plan, you must find a great way to beat boredom which is the hardest part of working out. Stay home work out is not like going to a gym where you have only one thing to do – exercising. You may have a ton of distractions when you try to home exercising. Hence, it's important to have fun gym equipment to get you motivated and stay interested.
You could place a treadmill in front of a TV and enjoy TV shows or movies. As with the lifespan treadmill, the expensive ones offer an incline or variable speeds which makes your workout more challenging and interesting. You could also listen to music during your workout so that you may feel time flies faster. But honestly, the treadmill noise will often cover the television sound. Reading on it is also impossible as you will find your eyes difficult to focus on the same line. Hence, even though treadmills burn more calories that exercise bikes, if you bore easily, stationary bikes may be a better choice which you can stick longer for a long-term success. Like a treadmill, the Bike can be placed in front of a TV, but they also make it easier to hold a book or a magazine or even a phone. Multi-tasking during the workout keeps it from becoming boring.



Overall, treadmills are better in burning fats and remains to be superior home fitness equipment for many people. However, exercise bikes will be more and more popular in the future as it's cheaper, energy-saving, fun to play and better to your joints. You need to make the workout fun and interesting enough that you look forward to it every day. Remember, for all aerobic exercises, you need a minimum of 20 minutes on any machine to get real benefit. Sticking to your fitness plan and look forward to the new you!

At CrazySales, you could also find other effective gym equipment for an interesting and easy way to exercise such as vibration machine, elliptical cross trainer and inversion table. For more reviews about vibration machine and introduction of Genki, please have a look at our previous blog: Genki VS Powerfit : Whole Body Vibration Machine Buying Guides