Food vacuum sealers can remove air and moisture from food to keep its freshness for a much longer period than the normal storage methods. They make it possible for you to buy food in bulk, seal the food with vacuuming bags and freeze food in your fridge. Among the diverse packing methods like Tupperware, aluminium foils and canisters, there's no one that can compare to vacuuming storage, an effective storage method to keep food's freshness for weeks and months.
Before making an informed decision, it's necessary to know the detailed features of a food saver. Now we compare our Maxkon Food Vacuum Sealer with another popular brand, Sunbeam Food Saver.
If you're on the market for a food vacuum sealer and don't know which one to choose, why not read this Vacuum Sealer Review Australia, comparing our Maxkon vacuum sealer and another popular brand, Sunbeam food saver. Mentioning about small kitchen appliances, you need to consider more factors, including price level, bonus accessories, sealing effectiveness, speed setting and so on.
Maxkon VS Sunbeam Food Savers Comparison
Warranty
12 months
12 months
Product
Maxkon LED Vacuum Sealer
Sunbeam VS6100 Food Saver
Price
$109.96
$199
Bonus Accessories
20cm bag roll *1
Two-sided twill bag *5
Silicon vacuum wine stopper *1
Accessory hose *1
28cm bag roll *1
Pre-cut bags *5
Accessory hose *1 
Speed setting
Normal

Gentle

Moist

Dry
Moist 

Normal
Portability
Net weight 1.58KG
Net weight 4.0KG
Noise
65dB(quiet enough for sleeping)
Like talking loud
Shape design
Compact design
Compact design
Operation
One press and hold
One press and hold
Fresh-keeping time
Extend +5 times than normal storage
Extend +5 times than normal storage
Anti-leaking Measure
Liquid plate
Liquid plate
Release Mechanism
Pushing buttons on both sides
Pushing buttons on both sides
Speed Settings
Both of Maxkon and Sunbeam food savers can help to extend the storage time five times as the normal storage methods. The following table can show you the impressively long storage time that our Maxkon vacuum sealer. Before deciding which one to buy, you need to check a food vacuum sealer's setting modes and sealing strip design.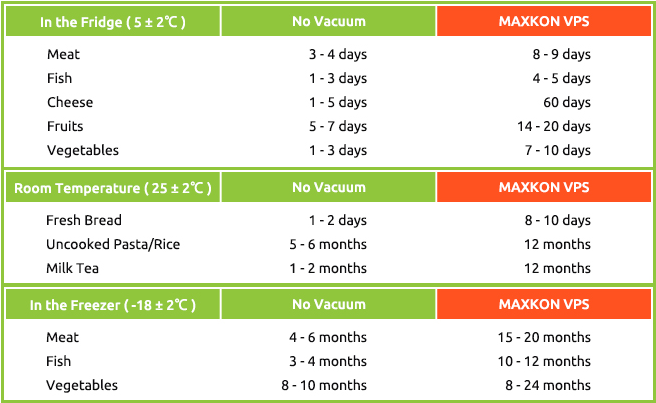 On the one hand, Maxkon food vacuum sealer adopt four food modes to cater for different food's saving positions: dry mode for normal food without liquid and moist sealing for moist and juicy food. On the other hand, speed settings include normal mode and gentle mode which is especially for softer food. While Sunbeam food saver VS6100 has fewer sealing modes than our Maxkon vacuum sealers, which only consists of Normal sealing and Moist mode. Therefore, Maxkon's complete sealing options allow you to save your food in the best position, even nobrainers can operate it well with the instructing modes.
Sunbeam food saver VS6100 got a Vacuum & Seal button which can automatically shut off when food is sealed airtight. You don't have to check whether the air inside package is all sucked. But our Maxkon food vacuum sealer has a progress light to check the sealing condition, also convenient for beginners to operate.
Price Level
Proper price is important for most appliance consumers to make a decision before placing an order. Maxkon vacuum sealers feature reasonable price at about $109, without sacrifice of product quality and functions. Sharing the same sealing effectiveness, Maxkon food vacuum sealers can help you save nearly a half at $109.96 on your food saver budget, while a Sunbeam vacuum sealer costs you $199.
Bonus Accessories
Much lower price doesn't mean fewer bonus accessories. On the contrary, we have one more accessory than Sunbeam food saver offers. Maxkon's bonus accessories come with one more silicon vacuum wine stopper, besides the same accessories as Sunbeam: a bag roll, five pre-cut bags and a hose. A wine stopper can help you a lot while you're vacuuming a bottle of wine. Otherwise you have to get an extra wine stopper before vacuum sealing, which may fail to match with the hose.
Noise
Many kitchen appliances cause some sounds during working, such as blenders and mincers. Food vacuum sealers aren't the exceptions as well, but our Maxkon food vacuum sealers think about it for you. Through testing, our vacuum sealers cause noise under 65dB, quiet enough for sleeping. For kid-raising families it would be a piece of good news, because mothers don't have to worry about waking their babies up while using our products any time. However, Sunbeam food saver has some noise that may annoy sleeping kids when it works.
Overall, Maxkon food vacuum sealers are more suitable for housework beginners by featuring more detailed sealing modes, lower price, less noise and more bonus accessories. Sunbeam food savers have simpler designs and sealing modes, requiring users to have richer knowledge on food storage. CrazySales aims to find valuable and economical kitchen appliances for our customers such as food vacuum sealers, blenders, food dehydrators and so on.
If you want to read more product reviews and comparisons, we've prepared you some detailed buyer's guides and review in our previous articles:
Genki Exercise Bike VS Lifespan Treadmill: Gym Equipment Buyer's Guide
Genki VS Powerfit : Whole Body Vibration Machine Buying Guides