In hot summer, it'll be more pleasant to stay at or work from home when there's a cooling fan quietly blowing fresh, cool air around your house. Cooling fans currently on the market are powerful enough to keep you cool like air conditioning but are more energy-saving and won't put as big of a dent in your wallet. The best cooling fan can do more than cool down your space but deliver constant heating even in cold winter. When it comes to choosing a cooling fan, consider your space and personal needs first.
Different Styles of Cooling Fans for Your Needs
If you need a new device to help you stay cool all summer long, then a cooling fan is likely worth the investment. There're plenty of options, from standing models to simple and compact fans with cool and hot features, each to suit different needs.
Pedestal fans: Pedestal fans are also called standing fans as they can sit stably on the floor. Although they are large but portable, strong enough to move air around and keep you cool. Most pedestal fans are adjustable in height and with tilt and swivel features, great for everything from patios to basements to family rooms.
Tower fans: These fans usually come in a variety of styles and sizes and can be used in almost any room of your house, like a living room or bedroom. Some models also incorporate heating and remote functions.
Bladeless fans: Unlike pedestal fans, bladeless fans have no noisy blades and adopt the latest ventilation system to circulate and purify the air around your house. They are safer and more friendly for families with pets and children.
Ceiling fans: A ceiling fan, as the name implies, is generally installed on the ceiling of a room. They move air around to carry that heat off, keeping your space comfortable and cool in the summer.
Desk/Table fans: This type of fan is small and compact to fit on a desk or table and offers a direct airflow that is great for cooling you off, whether you're sitting at a desk or on a couch or lying in bed.
Best Cooling Fans Buying Guide
| Product | Maxkon 2-in-1 Bladeless Tower Fan Cool Hot Oscillating Heating | Dyson Cool Tower Fan AM07 Air Multiplier, White and Silver |
| --- | --- | --- |
| Price | $249.9 | $449 (White/Silver) |
| Picture | | |
| Rating | | |
| Fan Type | Cooling tower fan, bladeless fan, space heater | Cooling tower fan, bladeless fan |
| Suitable Area | 15-25 SQM | 10-20 SQM |
| Heating Functions | | |
| Heating Element | PTC Ceramic | |
| Technology | Turbocharging principle of aircraft engine | Dyson air multiplier technology |
| Wind Speed | 1-10 gears (cool mode) 1-3 gears (hot mode) | 10 gears |
| Wind Cover Distance | 3-6 metres | Not specified |
| Oscillating | | |
| Body Oscillation Angle | 120 degrees | 90 degrees |
| Control Method | LED touch screen, remote control | Press button, remote control |
| Timer | 1-9 hours | 15minutes to 9 hours |
| Power | Cool: 5-35W Hot: 1650-1950W (-10% ~ 5%) | 56W |
| Power Cord Length | 1.5 metres | 1.8 metres |
| Total Product Size | 85.5x26cm | 100.7x23cm |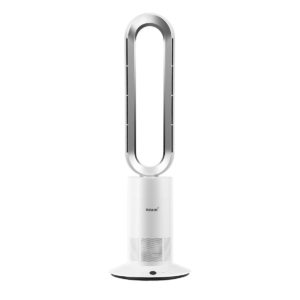 The Maxkon indoor cooling tower fan is certainly nice to have for its slim contour, oscillation, remote control and chic white and silver finish. The advanced air multiplier technology gives this tower fan the power to circulate a refreshing breeze through your room, keeping you cool in the hottest days. With an exclusive heating function, it can be served as a space heater to give a constant supply of hot wind even in the cold winter. The striking cool hot fan is energy efficient and safe to use with a bladeless design and the built-in intelligent thermostat in heat mode. Its body can rotate 120 degrees to ensure that everyone in the room gets relief from the heat or cold. Touch or remote controlled, you can set the timer from one to nine hours easily. The oscillating fan is also easy to clean and maintain.
Dyson Cool Tower Fan AM07 Air Multiplier, White and Silver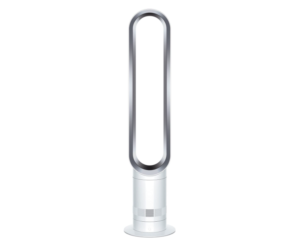 Dyson AM07 Tower Fan integrates a striking design and with a wealth of impressive features. It adopts Dyson patented Air Multiplier technology to deliver an uninterrupted cooling breeze to your room during the hot summer. It has the ability to adjust the ten speeds from a remote and with the specially-designed sleep timer, you can set the fan to run from 15 minutes to nine hours. Similar to other bladeless fans, this fan has no dangerous spinning blades that are safe if you have kids or pets and easy to clean. However, Dyson Cool AM07 can't beat the cold in the winter due to a lack of heating elements. This cooling fan is engineered to be quieter than most other fans, but some customers still complain that it's too noisy while running at a high speed.
Conclusion
When the temperature rises, a cooling fan definitely offers an easy way to beat the heat without running up your energy bill. It's also a powerful and effective alternative to a heavy air conditioning unit. Maxkon tower fans do a great job of keeping you and your home cool and comfortable the whole summer with the latest technology and exceptional quality. More surprisingly, with advanced ceramic PTC heating technology, Maxkon tower can heat up a room quickly and keep you warm and toasty on cold winter days and nights. Check out our Maxkon tower fans and heater in one now to enjoy all season comfort.