Though Black Friday began in the USA, it has become a popular shopping day among Australians in recent years. It is not only the greatest time of the year to get bargains but also the beginning of the Christmas shopping season to buy Christmas presents in advance. Black Friday is named "Black Friday" because crowds line up at the mall who offers special discounts on the Friday after Thanksgiving and cause traffic jams. Thanks to the development of technology, smartphone puts a virtual store in our pocket. Instead of sandwiching in a crowd, we can now simply turn on our phones and scroll up and down to find the product we want.
Although Black Friday sales offer mammoth discounts on almost everything, you should not buy everything in sight. Because if you do so, you will find useless things and regret it when the shopping carnival subsides. To avoid this situation from happening, bear this first principle in your mind before your Black Friday shopping: only buy what you need.
Here we have selected seven kinds of must-haves that you should take into account on your Black Friday shopping list.
Black Friday is a good time to update your household appliances like a food vacuum sealer, air fryer, vacuum cleaner, kitchen stoves, microwave ovens, etc., which are on sale at this huge sale event of the year.
Maxkon Food Vacuum Sealer Packing Machine Dry Wet Food Storage with Free Bags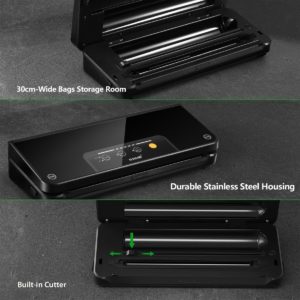 WAS: $189.95
NOW: $64. 97
Whether you are a restaurant owner or a housewife who need to buy large quantities of food, look no further than this food vacuum sealer. Packaging your food with a vacuum sealer can isolate most air, preventing the oxygen-triggered chemical reaction that can spoil food. Also, it prevents bacteria from building up in food and causing it to go bad. The Maxkon food vacuum sealer comes with a suction power that goes up to 64kPa, which means it only takes 8-12s to seal food. Further, this vacuum sealer features dry and wet food storage, giving you the ultimate convenience.
2-In-1 Cordless Vacuum Cleaner Stick Handheld Vac Rechargeable Led Lights 2 Speed-Blue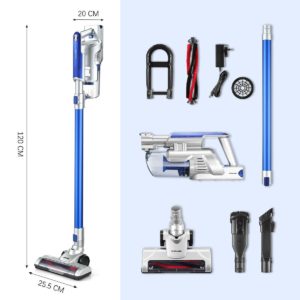 WAS: $199.95
NOW: $99. 88
Mopping the floor might be one of the heaviest household chores, especially for those not physically active. This vacuum cleaner stands out for a powerful centrifugal filter system that can quickly capture dust and dirt. Moreover, the vacuum cleaner comes with all-around cleaning, which allows it to clean the floor, ceiling, curtain, sofa, and crevice. Take the advantage of Black Friday to be nice to yourself and buy a cordless vacuum cleaner that works efficiently and is easy to maneuver.
You might remain deeply hesitant about buying a piece of furniture because of its high price on non-Black Friday Days, then you should take advantage of this frenzied shopping day to get some bargains.
Modern Bedside Table 2 Drawers Side Nightstand Cabinet High Gloss Bedroom Furniture – White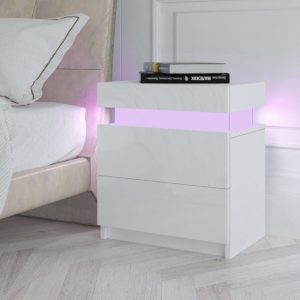 WAS: $199.96
NOW: $89. 97
Your bedroom will be perfect with a modern bedside table that offers ample storage space while decorating your space. This nightstand comes with two drawers, where you can store your books and small items. Equipped with RGB LED lights this bedside table will give your bedroom a brand new look. Plus, a high gloss front sends the room a more spacious feel.
Modern Dressing Table Makeup Desk Vanity Table Stool Set with LED Lights Mirror Drawers-Black
WAS: $349.95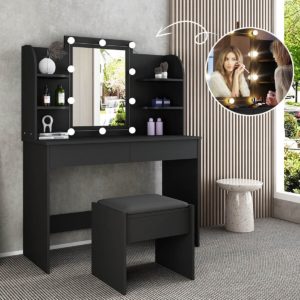 NOW: $229. 97
A dressing table is more than an area to get ready. It serves as a storage cabinet and provides an extra surface to place all messy stuff that may disorder your nightstand. This modern dressing table is characterized by three compartments offering you sufficient area to hold beauty gadgets and two spacious drawers to store your private items. Besides, an ultra-clear mirror comes with ten detachable makeup light bulbs, giving this dressing table a charming flair.
Daily Use Products
If you want to save every penny on Black Friday, you should write down not only the large items like furniture on your shopping list but also the small daily use items.
One-Step Hair Dryer and Volumizer Hot Air Brush, Pink
WAS: $149.95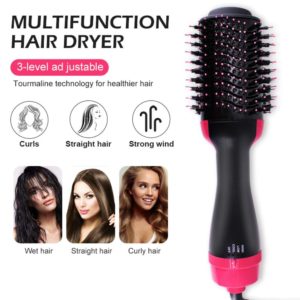 NOW: $39. 97
If you love to get your hair styled, then this volumizer hot air brush that can style your hair while drying it should be one of the must-haves on your Black Friday shopping list. The brush features a power of 1100 Watt that provides the proper heat you need. Built with a genuine ION generator, the hot air brush can promote fast drying and make your hair shiny and healthy. Different from conventional hair dryers, this brush can be placed close to the scalp for lift.
Maxkon Trifold Makeup Mirror Lights 3 Colours Lighting Modes Dimmable LED Touch Control with Makeup Tool Storage Box
WAS: $129.95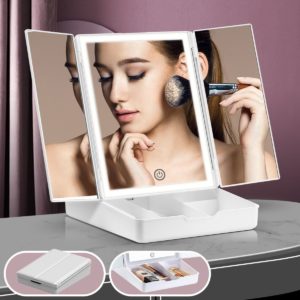 NOW: $9. 88
A bathroom mirror allows you to see the outline of yourself, while a makeup mirror enables you to examine your facial details and correct makeup errors like imperfect foundation, making it a fabulous present for your mother, sister, wife or girlfriend on Christmas. This Maxkon makeup mirror features 90-degree rotation and a tri-fold design, giving you the ultimate user experience. Moreover, three lighting colours comes with a touch control dimmer that enables you to adjust the brightness freely, which is a smarter alternative to traditional lamps.
Take the garden supplies into account when viewing numerous discounted products on Black Friday, which are easy-to-forget but useful for emergencies.
Maxkon Ultrasonic Bird & Animal Repeller Solar Powered Pest Repeller with LED Indicator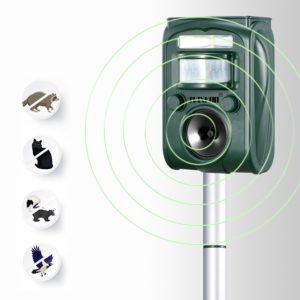 WAS: $99.95
NOW: $29. 98
Some little uninvited guests are always drawn attention to your garden by its beauty. However, they know nothing about your garden and will cause damages sometimes. We cannot kill them with poison or catch them with traps, which takes time and energy and is inhuman. Compared with traditional methods like chemical pest control, an ultrasonic pest repeller is environmentally friendly and will not harm human's or unwanted animals' health. This Maxkon Ultrasonic Bird and Animal Repeller covers an area of 315 square meters and features three kinds of frequency to repel mice and foxes, cats and raccoons, bats and birds, allowing you to repel the pest effectively without bothering others.
It is certainly indispensable to put a kid's toy on your Black Friday shopping list. Most parents have spent a lot of money on kids' toys before Black Friday, so why not snag this chance to save this budget?
Toy Claw Machine Candy Catch Grabber Game with Lights & Music 24 Coins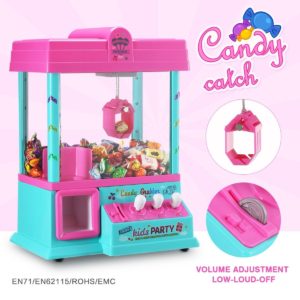 WAS: $199.95
NOW: $64. 97
Just fill candy, gum, and small toys in this toy claw machine, insert a taken and steer the claw to the right position before the music stops, and your kids will enjoy the fairground at home! This candy catch grabber is not only a great way to practice your kid's patience but also an effective way to save money spending in the arcade, making it a great gift for your kids on Christmas.
New 15-in-1 Chess Game Set Wooden Board Game Checker Backgammon Solitaire
WAS: $99.95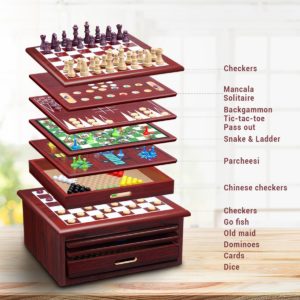 NOW: $49. 97
More than a game of pure entertainment, it is said that playing chess helps kids store memory and manage information. Improve your kid's concentration, problem-solving skills, and critical thinking with this 15-1 chess game set that includes checkers, mancala solitaire, backgammon, tic-tac-toe, Parcheesi and more. You can spend some time playing chess game with your kids to deepen your relationship, or they can do that with their little fellows, which will be a plesant diversion for them.
6. Pet Supplies
Pets like cats and dogs play a significant role in our lives and mean a lot to us. Studies have shown that dogs seem to love us back and take us as their family as well. Therefore, we should not forget to bring them gifts from the Black Friday shopping event.
5.5M Portable Pet Dog Agility Training Exercise Tunnel Chute with Carry Bag
WAS: $89.95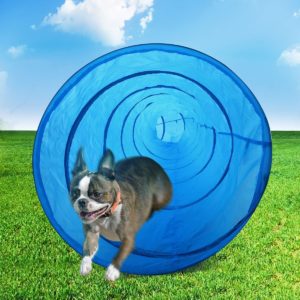 NOW: $39. 98
Exercise your dogs to prevent them from destroying your house due to too much pent-up energy. A dog agility tunnel is a great way to consume your dog's excess energy. This dog agility tunnel comes with a length of 5.5m, which is sufficient to give your pet a complete workout. Made of sturdy waterproof material with spring steel construction, the tunnel ensures a safe environment for training your dog. It is suitable for medium and large dogs.
One of the big reasons we get attached to Black Friday is that it is the first day after the last major holiday before Christmas, during which we are offered large discounts on Christmas trees, wreaths and other decorations. So take a good look at the holiday deals.
Christmas Bells with Bow Light Display
WAS: $99.95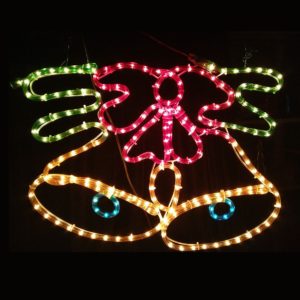 NOW: $49. 97
Compared with the conventional ringing bells, announcing the arrival of Christmas by lighting up your house with the Christmas bells characterized by rope light display will show more festival atmosphere. This pair of Christmas bells come with a sturdy frame and thick durable rope light, allowing you to place it indoors and outdoors. With vibrant colours, the Christmas bells are sure to make a warm addition to every Christmas night. Approved by SAA and IP44, the Christmas bells are safe to use.
34pcs Christmas Tree Ornaments Set Shatterproof Holiday Ornaments Balls Color Red+Gold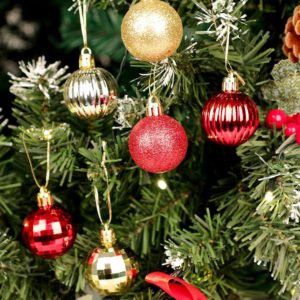 WAS: $49.99
NOW: $19. 99
Christmas balls reflect God's love and light in our lives. The 34pcs shatterproof Christmas balls are made of durable and eco-friendly plastic and won't break easily. Each ball comes with a dismountable hook and a lace rape, making it easy to hang on Christmas trees. Featuring a bright colour, the ball will make the Christmas tree more attractive.
Light-up Acrylic Duck with Scarf Holiday Christmas Decoration Colorful light Batteries Power
WAS: $19.99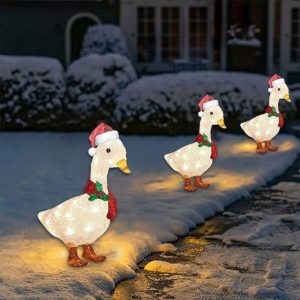 NOW: $14. 99
In addition to the traditional Christmas decoration, there is a novelty you should add to the ornament. This light-up acrylic duck wearing an adorable mistletoe scarf features a lovely appearance that will add a festive mood. Further, the little duck comes with built-in lights, which will be a focal point of your backyard to wow your family and friends. Moreover, made of durable material, it is designed for continual use.
With Black Friday lasting only for 24 hours, don't be dazzled by the numerous discounted products, remember what you need and seize the bargain quickly and smartly. Crazysales are kicking off the holiday season with a large number of deals and discounts, which are for a limited period only. Check out for great deals now.