It's the holiday season and Christmas is around the corner. Do you prepare your home to welcome the grand holiday? If not, you can't miss out on our Christmas decorating ideas for indoors and outdoors to make your house and everyone in it merry and bright throughout the season.
The most interesting thing about Christmas is decorating. Christmas decorations, from traditional Christmas trees to innovative decorative ornaments, can beautify every corner of your house and provide festive atmospheres. Even some small subtle decorative items should not be underestimated – they will have a significant impact.
To decorate the living room, you can set up a Christmas tree, natural or artificial, for a merry Christmas. A string of crystal LED lights or a garland of artificial pine can give your dining room a festival and warm glow. An LED music box on the bedside table is guaranteed to provide a good mood when you get up. Even your bathroom will be full of Christmas spirit with Christmas bathroom sets. The shining outdoor lighted Christmas decorations will be sure to have your guests feeling welcome on arrival.
Whether you're planning to dress up your new home or are in desperate need of replacing your old decorations, here are some of our best-selling options that are sure to make your home the merriest ever on the block.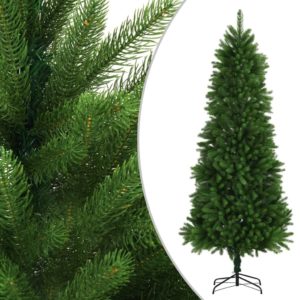 This artificial Christmas tree is the perfect solution for people who wants a Christmas tree that looks real and is an economical choice compared to a real tree. It's beautiful, perfect to make any home the ideal wonderland and measures a solid 2.4 metres tall with plenty of branches tips ready for decorating. Its branches are built with lifelike needles moulded from PE materials to make it appear like the real one and can be shaped for either an upswept or down swept look. Thanks to its lightweight and water-resistant features, you can place the tree both indoors and outdoors to capture the festive spirit of the holidays. Made of durable construction with a stable steel base, this realistic Christmas tree will last you for many years. If you're opting for a nontraditional theme tree, check out this one with Baubles and LED lights.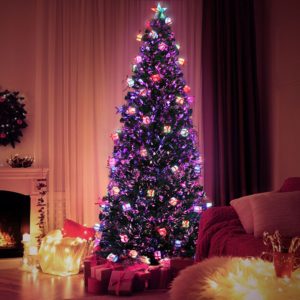 If you prefer something modern and shining, this Jingle Jollys 2.1m LED Christmas Tree is the best choice. The surprisingly beautiful piece looks lifelike and comes without any of the fluffing of branches that an artificial tree requires. At 2.1 metres high, it sports 48 colour-changing LED starlights as well as 260 well-arranged PVC branch tips for a thick and lush look. For more stunning lighting effects, there're 48 small gift boxes and a large LED star light on top. Plus, this Christmas tree provides lots of space to hang your favourite ornaments like garlands for a warmer festive atmosphere. It's easy to set up and store for the next holiday season and competitively priced.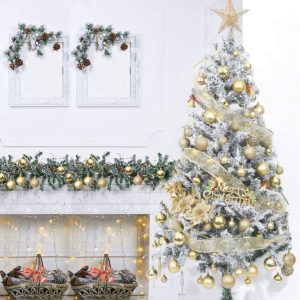 Your Christmas tree is not complete with these fabulous 100-Piece Christmas Ball Ornaments Set. The set arrives in a set of 100 pieces crafted from lightweight plastic with excellent laser cutting and polishing for a beautiful and bold look. To make your holiday more festive and charming, these ornaments come in six different patterns from shiny coated, matte, spiral, wavy, prismatic to designed with small snowflakes. These Christmas ornaments are eco-friendly, shatterproof and durable, which is a timeless way to preserve memories of the holidays year after year. They are also suited for hanging around the wreath on the front door or switching up your colour scheme. If gold is not your thing, an array of different colours and finishes are provided to choose from.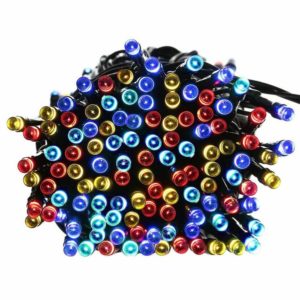 String lights have been an integral part of Christmas decorating for centuries. The Solar String Fairy Lights offer a great way to brighten up the night and add seasonal cheer to your Christmas decoration. These icicle lights feature 400 super-bright LED bulbs powered by an advanced solar panel on a ground stake and provide lighting time up to six to eight hours after a full charge. Measuring 42 metres long, the strand is ideal for decorating eaves, trees, lawns, pathways and gardens. Get these pretty and affordable Christmas lights to match the rest of your Christmas decorations and help you stand out from other homes in your neighbourhood.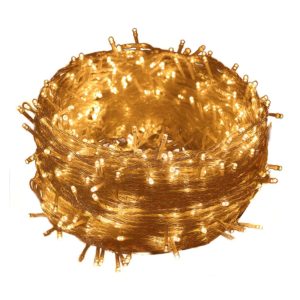 Just like Christmas trees, some luminous decorations are essential for the holiday season. These curtain string lights come with 800 LED lights, super bright and energy-efficient, perfect for creating a romantic atmosphere by hanging on the walls, windows, curtains, fences or arranging on the bedroom shelves or furniture and more. Available in eight different lighting modes, you can easily control through the included control box to meet your diverse needs. Made of high-quality and waterproof PVC and at 32 metres long, these warm-white string lights can be used for indoor and outdoor decorations and are durable, long-lasting for not only Christmas but also weddings, parties, birthdays and other festivals and events.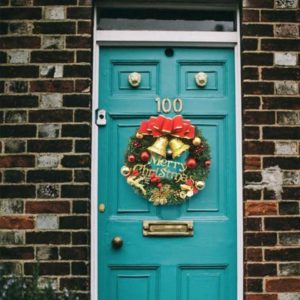 Decorating your front door is as important as decking the inside of your house since this is the first thing your guests will see when they step into your house. This pretty Christmas wreath is just what your front door or wall needs for the holiday season. It's a 40-wide garland comprised of artificial pine branch tips and adorned with traditional elements such as big red bowknot, gold bells, reindeer, red balls, flowers and Merry Christmas letters for a wonderful festive scent. Hang this elegant wreath on your front door to make your exterior look more festive and welcome and impress your family and friends or simply place it as a window or table centrepiece.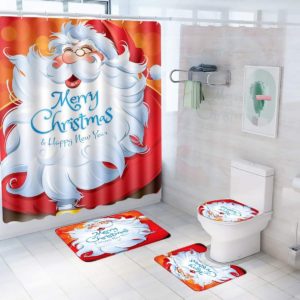 Your bathroom can be downright jolly with the best Christmas bathroom set. This Santa Claus themed bathroom decoration set comprises a shower curtain, a toilet seat cover, two bathroom mats to transform your bathroom from ho-hum to holly-jolly within a few minutes. All the contents are made from top-quality materials with non-slip, wear-resistant and waterproof features for superior reliability and durability. 12 sturdy curtain rings are provided for stably fixing and hanging the shower curtain. This bathroom decoration is full of a Christmas atmosphere, making it a cute addition to any bathroom style and a nice gift to your family or friends.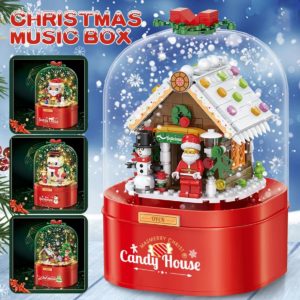 Decorate without limitation, this magical building block music box can bring thematic holiday vibes into your sanctuary – your bedroom. It's filled with strong Christmas elements such as green Christmas trees, Santa Claus wearing red and white, and snowman dress in black top hat and red scarf. This Christmas block set offers a perfect educational toy for kids to improve their hands-on ability and stimulate their creativity and imagination and provides an interesting game to enhance parent-child bonding. Built with high-quality ABS plastic with smooth surfaces and edges, this piece is safe and child-friendly to keep them busy and provide plenty of entertainment. It's good for placing on the tabletop in your office or shop to spread the holiday cheer.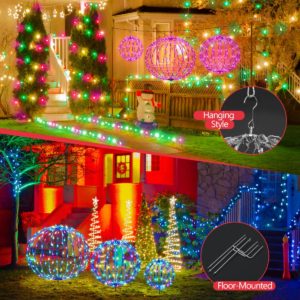 If you're looking for Christmas lights to decorate your backyard or front porch for the best-looking home on your street, this Set of 3 Christmas LED Light Balls is just what you want. This beauty has three spheres in large, medium and small sizes and is bursting with more than 332 LED lights that can be programmed in a variety of colours and rhythms. Made from sturdy and water-resistant materials, these Christmas light balls can be hung from the ceiling or walls or driven into the ground to brighten up your outdoor space for the holidays. Moreover, these outdoor Christmas lights are affordable and energy-efficient to help you save on your electricity bills come December.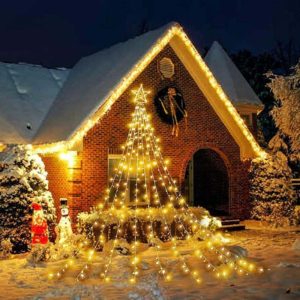 Nothing gets you in the holiday spirit quite like this beautiful waterfall display glimmering with warm white lights. These twinkling string lights are lit by 350 small LED bulbs, along with one plastic star topper for a lovely and cosy ambience. You can hang these lights under the eaves, arrange them on Christmas trees or simply put them on fences and stair posts. With an easy-to-operate remote, the LED light can be adjusted into eight different lighting modes to suit your moods and environmental needs. The solar Christmas lights are made from sturdy, durable and waterproof materials, making them the best choice for indoor and outdoor Christmas decoration and other holiday arrangements. If warm white isn't your style, there are other colour options available such as multicolour.