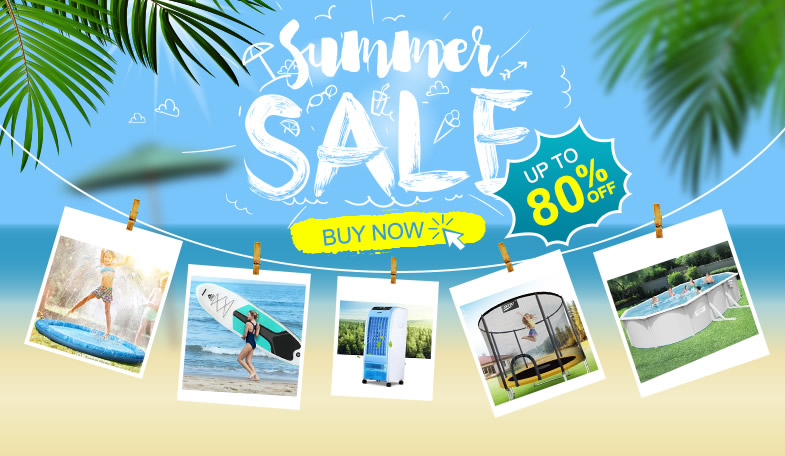 With summer in full swing and temperatures soaring in Australia, many of us are trying every means to escape the heat lately. Fortunately, it is finally time for the long-awaited Crazysales's big summer sale, and we are offering hundreds of special products from now on until February 28, 2022! With so many products on sale though, it is hard to know which one to buy for a while. But don't worry, we have carefully selected for you the top 10 bestsellers that are on special offer. From the swimming pool to the ice maker, read on to discover the best way to beat the summer heat.
A night of better sleep is of primary importance, especially at summer night, as it will help you get more energetic during the day. The following bestselling mattress and pillow are good choices for a night of cool sleep.
10cm Queen Size Cool Gel Memory Foam Mattress Topper Underlay Bamboo Cover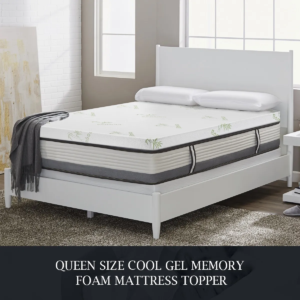 Was: $269.95
Now: $179. 96
Get an ultimate sleep experience on hot summer nights with this Cool Gel Memory Foam Mattress. This memory foam topper is infused with plush gel material to help regulate temperature, offering you the ultimate sleep experience during hot summer nights. Adopting open-cell technology, the mattress prevents lasting body impressions, making it always comfortable. Moreover, this mattress features antimicrobial and stain-resist treatment, making it ideal for many occasions. In addition to a mattress topper, it can be served as an instant bed on the floor when your friends come to visit you. And you could even bring it to your caravan as a mattress or use it in your camp when camping. Plus, a removable cover and non-slip bottom add more convenience to this mattress.
Luxdream Memory Foam and Cool Gel Wedge Pillow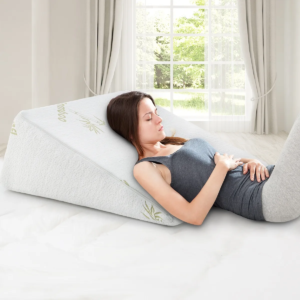 Was: $99.95
Now: $59. 96
Say goodbye to sleep acid reflux or back pain, especially during the summer night, with this Luxdream Memory Foam and Cool Gel Wedge Pillow. This wedge pillow is filled with cool gel memory foam that reduces trapped body heat and distributes cool air, and the high-density resilient base foam offers comfortable and solid support, allowing you to sleep more soundly and wake refreshed. Whether you are watching television or reading in bed, this wedge pillow with a large and comfortable slop will give your support to elevate your upper body. Besides, the pillow comes with a 300gsm bamboo knitted cover, which means it is dust mite resistant, anti-bacterial and hypoallergenic, and perfect for those with allergies or sensitive skin.
In addition to preparing proper summer beddings, remember to cool your bedroom before you go to sleep. An air cooler or Bladeless tower fan provides great cool airflow and makes getting sleep a lot easier.
MAXKON 7L Evaporative Air Cooler Quiet Fan Ionizer Button 3 Modes W/Remote Control Black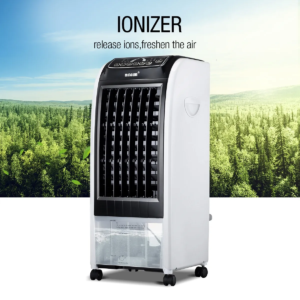 Was: $239.95
Now: $109. 97
No more struggling on hot days with this MAXKON 7L Evaporative Air Cooler that adopts ice crystal refrigeration and air-evaporative technology, enabling it to cut down the temperature from the air vent. It comes with three adjustable speeds to meet your different needs and wide-angle wind delivering to deliver air at the horizontal angle. Further, a 24-hour timing function means the air cooler will automatically stop after the performance time is set. With a capacity of 7L, the water tank prevents you from adding water continuously. Plus, this air cooler equips with universal wheels, allowing you to move it freely from room to room.
Bladeless Tower Fan 2 In 1 Heater Cool Hot Oscillating Heating with LED and Remote Control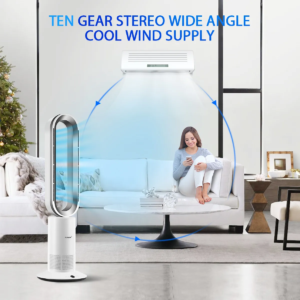 Was: $449.95
Now: $269. 96
Another cost-effective alternative is to offer a nice cool breeze to your bedroom in summer with this Bladeless Tower Fan. As a combination of a heater and a fan, this leafless fan boasts the air multiplier technology that can effectively project heating or cooling into the room quickly and evenly for a comfortable environment, allowing you to use whichever setting you need for the time. With an intelligent thermostat, the tower fan will get to the set temperature and maintain that without wasting energy. Plus, this fan comes with an LED touch screen and remote control for easy operation.
Besides sticking around your dear bedroom or living room to enjoy the cool breeze, some additions like iced drinks, swimming pool, beach chair can also be your perfect summer companions.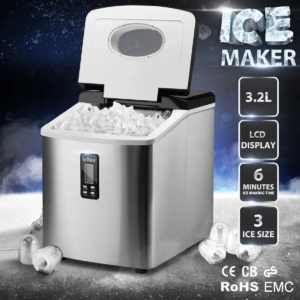 Was: $339.95
Now: $269. 96
How can it be considered a cool summer without a home ice maker to make you cool refreshing drinks? The Silver 3.2L Home Ice Maker features a compact and portable design that makes it easy for carrying anywhere you want. It comes with such a powerful cooling ability that it can produce ice at a rate of every 10-15 minutes, which is over 80% faster than others. Three different ice sizes of small, medium and large enable you to satisfy all the needs of thirsty friends and family. Plus, an inspection window allows for immediate observation and an LCD control panel for easy operation. These merits qualify this home ice maker as a great summer companion for making iced drinks, such as iced coffee or cola, and keeping your fruit and vegetable salads at the perfect temp.
Bestway 3.66M Above Ground Steel Frame Swimming Pool w/Filter Pump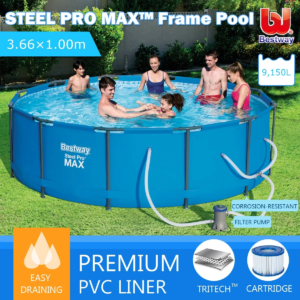 Was: $493.95
Now: $309. 96
One of the best ways to cool off on a hot summer day is to jump into a swimming pool. Beat the heat by soaking yourself in the Bestway 3.66m above ground steel frame swimming pool. Featuring a size of 3.66m x 1.00m and a water capacity of 9,150 litres, this swimming pool is big enough for an outdoor summer pool party. Rust-resistant metal frames and heavy-duty PVC and polyester sidewalls ensure that this pool is durable, puncture and UV resistant, and secure. A flow control drain valve can be attached to your garden hose for easy drainage. Plus, this swimming pool comes with a heavy-duty repair patch for additional protection and a free DVD Detailed Pool Set-up for easy installation.
Reclining Chair Zero Gravity Sun Bed Beach Chair – Black
Was: $99.95
Now: $79. 97
After swimming, how about relaxing on a Reclining Zero Gravity Sun Bed Beach Chair by the pool? This reclining chair comprises strong steel tubes to support a maximum weight capacity of 120kg, ensuring security and durability. A padded headrest offers your extra comfort and support, allowing you to sit or sleep well. Moreover, an adjustable reclining angle range from 90 to 165 degrees enables you to recline or sit at any position you like. With the strong ventilation of the fabric, you will be free of stress and heat with this chair whether you are sitting or reclining on it. Plus, this beach chair comes with a foldable design for easy storage and carrying. Lose yourself in peaceful comfort this summer on this reclining chair while holding a cup of ice drink by the pool or on the beach.
You are not cool enough until your pet feels cool. Dogs are more sensitive to heat than we are, but they don't sweat out excess body heat as we do. Although they usually release heat by panting, this may not always be enough to cool them down. They are bound to love you more this summer if you can help them drive away from the heat.
Pet Self-Cooling Gel Mat Bed-XX-Large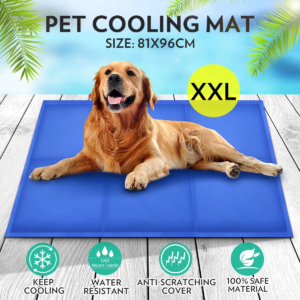 Was: $99.95
Now: $44. 97
It is time to say goodbye to the ordinary pet mat and switch to our Pet Self-Cooling Gel Mat to keep your dog cool throughout the summer. It stands out for a cool gel interior set in a durable nylon cushion, which will absorb your dogs' body heat and keep them cool and comfortable. Also, the high-quality nylon fabric prevents it from being torn by claws or teeth. This self-cooling pet bed works without batteries or electricity, water or refrigeration. Moreover, its light and portable design enables you to take it anywhere you want—from the backyard to the park or even long road trips.
120CM X 30CM Foldable Dog Pool Pet Swimming Bathing Tub for Puppy Cats Kids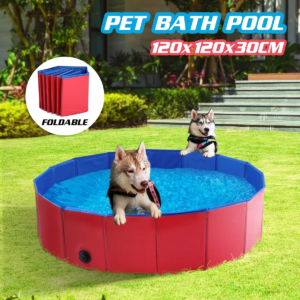 Was: $89.95
Now: $29. 97
Dogs enjoy swimming as much as we do! Introduce your dogs to this swimming bathing tub, and they will make good swimmers. This dog pool is made of water-resistant PVC material to prevent water leakage, ensuring durability and longevity. It features a drainage hole, which will drain out water quickly. A foldable design allows for easy storage and carrying, making it suitable for outdoor and indoor use. With a size of 120CM X 30CM, your dogs can enjoy themselves to the full in water. Moreover, this dog swimming pool comes with multiple purposes, which can be served as a dog bathtub, outdoor water pond, fish pond, etc. Let your pet dog accompany you and play with the water as you do to spend a cool summer.
A cool summer will not be perfect without a fountain adding coolness to your garden. What a pleasant thing to sit outside on a lazy summer evening while listening to the sound of running water!
5W Solar Powered Fountain Water Pump for Outdoor Garden Pond Pool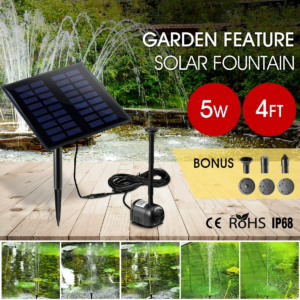 Was: $79.95
Now: $39. 96
Impress your guests and neighbours with this fountain water pump to create a marvellous water view in your backyard or garden. Solar-powered, this water pump is not only cost-effective but also eco-friendly. This solar pond pump comes with a DC brushless motor working perfectly with a polycrystalline solar panel, which will provide an excellent water spray with a height from 20 to 65cm and a flow rate of 240L/H under sufficient sunlight. Six different fountain heads allow you to create various water effects as you like. Plus, a cable 5m in length gives you more options to set up this water pump. Enjoy a wonderful mini waterfall in summer with this solar pond pump.
These ten pieces are just a few of Crazysales summer sales 2022. If you want to check for more deals, come visit our Hot Summer Sale to enjoy a chill-out summer at a low expense. As one of the most popular online shopping stores across Australia, Crasyzales comes with a wide range of products with reasonable prices and exceptional values. Whether you are in search of garden supplies, sports equipment, or pet supplies, we will have you covered. From deals on furniture and appliances to discounts on home & garden goods and fashion pieces, Crazysales offers the best sales to you. Come visit us for a chill-out summer!