Australia Day is not only a day for awards ceremonies and citizenship presentations, but a great opportunity for family and friends to get together and have fun to the fullest. Aussies have tons of ways to celebrate this national public holiday, such as cooking Australian foods, doing Australia-themed crafts, attending public events and watching fireworks. There are various ways to celebrate Australia Day and here are our 6 best Australia Day accessories to help you enjoy the national celebration and spend memorable moments with family and friends.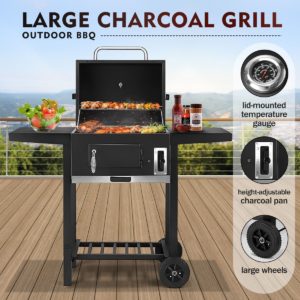 For Australians who want to hold a backyard BBQ party, you can't beat this Portable Charcoal BBQ Grill Trolley for Picnic Patio Backyard Cooking. It's powerful, reliable and large enough for a whole mess of hamburger patties, perfectly seared medium-rare steaks or thoroughly cooked chickens with crispy, golden skin. A thermometer in the lid helps you get a rough idea that how hot it is under the grill. The easy-lift adjustment system allows you to raise and lower the charcoal pan to control the heat and offer great cooking flexibility. Four built-in vents and a front door with a cool-touch handle improve the control when you grill. Extras include two spacious side shelves to hold your tongs, trays and platters and an easy-to-pull-out tray to collect ashes for a stress-free cleanup after cooking.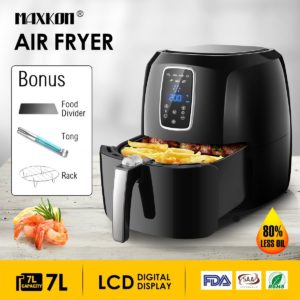 Maxkon Oil Free Digital Air Fryer is an amazing appliance to cook insanely delicious dishes if you're going to throw a healthy party in your backyard. Using 360-degree rapid hot air circulation technology, you and your guests can enjoy all of the yumminess of your favourite fried food with little or zero oil. Besides the traditional chicken wings, fries and shrimps, this air fryer can produce turkey tacos, baked potatoes, cheese pizzas and salmon patties and many other incredibly crisp and warm foods. It is very easy to operate with a lightweight, 5-litre air fryer basket and a touchscreen for pre-programmed settings. For convenience, there's a 'Ready Bell' ringing to remind you when the cooking is done. Moreover, the non-stick parts are for quick and easy cleaning.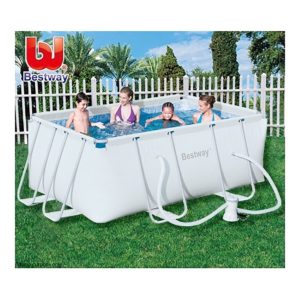 If you want to have some water fun with your family this Australia Day, this Bestway Steel Pro Frame Above Ground Swimming Pool is the top pick. This swimming pool has a generous size of 282x196x84cm, so you and your family have somewhere to swim in your backyard leisurely and happily without going to overcrowded public pools. It has an impressive 4964 litres capacity at 90% full. An easy-to-control drain valve and a filter pump with a flow rate of 300 gallons per hour maximally enhance the cleanliness for healthier and pleasant swimming experiences. Moreover, it's easy to set up and take down with detailed video instructions. This notably robust pool is built to withstand heavy use for its rugged steel frame, extra-strength triple-ply sidewalls and high-quality accessories.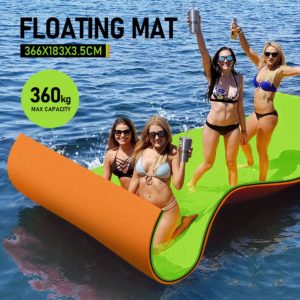 Nothing is more exciting than being on or around water in the summer. The Water Floating Mat Foam Pad Lounge is perfect to play in and enjoy a good day with the ones you love. Made of high-quality and durable XPE foam and measuring 366x183x3.5cm, you and your family can drift peacefully on this mat that holds up to 360 kilograms. Its bright, eye-catching colours provide extra visibility. A 3.6-metre bungee cord with a rust-proof buckle and a heavy-duty mooring device ensure keeping the mat in place while relaxing. The best floating foam pad is sturdy and reliable with terrific three-layer texture and additional features like tear-resistance, non-slip, no water absorption, non-deforming and UV protection. For convenience, you can easily roll up the mat for storage in the off-season.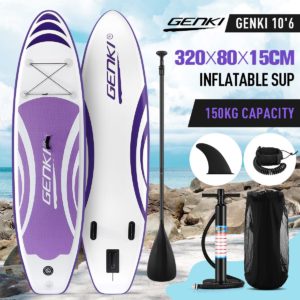 For adventurers who want a real blue Aussie experience, hop on the GENKI Stand Up Paddle Board and catch waves in the ocean. Designed for paddlers of any level, the length of this SUP board is 320cm for covering more distance with each stroke. It has an 80cm wide deck to provide great balance and stability in both whitewater and flatwater. The removable centre fin is well positioned between two integrated side fins that allow for faster moving in calm water and can handle obstacle-ridden waters with ease. Apart from incredible stability, this paddle board is strong enough to load a maximum capacity of 150kg. Included are a pump for inflating the board and a storage bag for storage and transportation. The inflatable surfboard is lightweight and built to last for years thanks to its military-grade double-layer drop stitch and an EVA-textured-grip deck pad.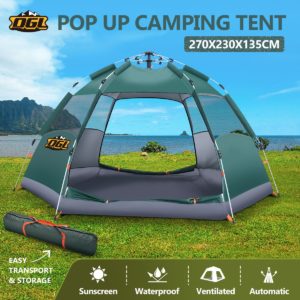 You could opt for this OGL 5 Person Tent if you're planning to spend more time on the beach during the Australia Day holiday. Easily setting it up in minutes, you and your family and your pets can enjoy sweet beach time in no time. The pop-up tent will give you all-around protection from any weather conditions due to its premium silver-coated polyester and Oxford cloth, PU waterproof taping and strong fibreglass poles. When the weather heats up, there're high-density mesh screens on the two zippered doors and four windows to keep mosquitoes out and let air circulate in the tent for better rest and sleep. You can also hang a camping fan with light and store some necessities inside the tent. Lightweight and portable, the sunshade is perfect for family gatherings, festival camping and other outdoor activities.
Whether you're looking for anything that contributes to a good dose of relaxation, adventure or a family-friendly Australia Day holiday, you can find them right here on CrazySales. We offer you wide assortments of products on fashion, home appliances, electronics, toys, travel and more with the highest quality at affordable prices for you to enjoy more value out of your purchases. Visit us and order yours today to save with our Australia Day Sales and Deals.