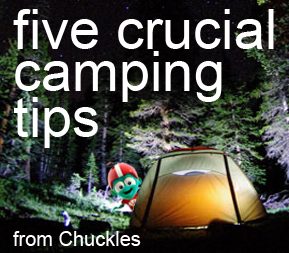 It's the perfect time of the
year for camping, so here's
a few crucial tips to help
you survive your next trip
into the wild!
---
Unless you're the primitive type of camper who prefers sleeping on the ground under the stars, then try to get your camp set up before dark. Whether you're planning on a tent or and RV or a cabin, make sure you've got your sleeping arrangements set up before the sun goes down, and before you start the real party. The last thing you need before passing out for the night is to struggle with tent poles in the dark.
---
Speaking of tents…make sure you've got the right one. Bigger isn't always better, because remember, you'll be carrying it to your campsite. And it wouldn't hurt to try it out at home before you leave to make sure there aren't any major issues.
---
When it's time to finally lay your head down for the night, make sure you have the right sleeping bag for the season. A light blanket might do well in the warmer months, but if you're camping in the cold you'll need a bag that is rated for lower temps. Mummy shaped bags fit more snugly around the legs and feet, which will preserve body heat. If you've got an extra yoga mat, bring it along and place under the sleeping bag for a flatter surface and a more comfortable sleep. Best case sleeping scenario: THIS
---
If hiking is part of your trip, you'll need to think about what you're wearing. Ideally you'll be more comfortable in loose layers of clean clothing, but if the temp is dropping then you'll need gloves, hats, jackets and thermal underwear. When you're moving and feeling warm, stay dry by taking off layers of clothing before you start to sweat.
---
If you're heading deep into the wilderness, make sure you plan and always know where you were, where you are, and where you're going. These days it's not cheating to keep a gps device in your survival pack, along with a good knife, a metal bowl for boiling water and some matches. Did you know you can water proof your matches by dipping the tip in clear nail polish? True story.