All we hope is to figure out how to make your life more convenient. In this article, we are going to discuss the increasingly popular product of steam mop, telling you how to choose it, how it works, which are the top-rated brands, and many other things that you should know before buying your first steam mop.
---
What Are Steam Mops?
Steam mops offer a more effective solution to clean and disinfect the floors.
It works by heating the water inside the small water tank to a temperature of about 120°C, so to produce a jet of dry steam (the jets may vary) to moisture the microfibre pad. The moister pad helps remove dirt and dust, leaving no residue behind, and the heat is capable of killing nearly 99% bacteria and dust mites. Using tap water or distilled water is good enough, without any chemical cleaners. It is the best cleaning tool to eliminate stubborn dirt and stains and restore the lustre of your floors.
---
Steam Mops VS Regular Mops
We have listed some reasons for you to determine to buy a steam mop or a regular one combing the customer feedback and our own experiences.
What we like  
What we don't like
- Less scrubbing effort and one hand is enough

- It kills harmful germs

- Easily tackle stubborn dirt 

- Customise the intensity depending on your needs

- Requiring no toxic chemicals such as bleach 

- Suitable for cleaning carpet
- Requires some prep work such as fill up the water tank and fully charged

- Cannot work without electricity or batteries

- Unfit for some kinds of floors such as
laminate
What we like  
What we don't like
- Easily handle spills and quick accidents 
Comes in all shapes and sizes

- No power cord or electricity needed 
Perfect for cleaning debris and crumbs

- Safe for most flooring including laminate
Affordable price
- Takes more physical energy 

- Requires cleaning solutions and detergents that can be harmful to health

- Unfit for cleaning carpet 
If you don't want to experience any back pain and desire a quick and thorough cleaning performance, a steam mop will be your primary option.
---
What Floors Can You Use Steam Mop?
A steam mop can be used on a wide range of hard floorings such as ceramic tile, vinyl, marble, stone, linoleum and hardwood floors, but not recommended for use on unsealed wood flooring.
If you have no idea whether your floor is sealed or not, try this quick test: place a drop of water on the floor, and if the drop beads sit completely on the surface of the wood, then the wood is very likely to be sealed. If it is absorbed into the floor, the floor is not sealed or the sealant has worn out.
For laminate flooring, we strongly recommend not to use a steam mop. Laminate exposed to moisture from the steam mop is prone to swell and eventually start to buckle. Thus, it is more recommended to use a damp cloth and a laminate flooring cleaner to clean.
---
Our Top-Pick Steam Mops
From our research, we've screened out some top-rated steam mops.
The Most Affordable: Crazysales 13-in-1 Steam Cleaner Mop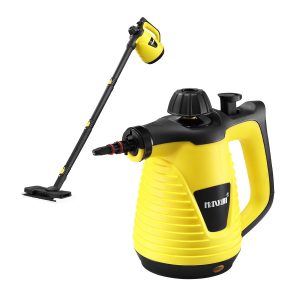 Water tank: 350ml

Heat-up time: 30 seconds

Functioning Temp: 132°C

Power: 1050W

Weight: 1.7kg

Price:$49.95
This 13-in-1 handheld steam cleaning tool gives you all the power you need to disinfect and sterilize from flooring, doors, windows, clothes, sofas, carpets, and more! It features a long list of accessories including brush, nozzles, floor cloth and so on to suit all kinds of cleaning needs. It is lightweight and simple to use, for which you can easily get your living space spick and span. Upright mode and handheld format can be swapped at a breeze.
The cheap price and the versatile accessories make it a wonderful investment if you are going to give a try to your first steam mop.
The Best Steam Cleaner: Maxkon 13-in-1 Steam Mop Cleaner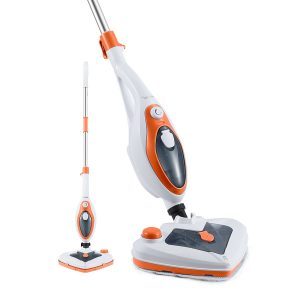 Cable length: 5m
Water tank: 400ml
Heat-up time: 30 seconds
Functioning Temp: 110°C
Power: 1500W
Weight: 2.8kg
Price: $79.95
Coming with a detergent tank is one of the highlights of this steam mop cleaner. With the anticipation of detergent, it is easier to prevent germs from multiplying and keep odours at bay. The steam mop also features a triangle mop head for unimpeded access to all kinds of corners. It is suitable for a wide range of floors but no way limited to flooring. Along with a variety of functional accessories, it also plays magic on ovens, hobs, taps, tiles, sofas, carpets, and other places by swapping from upright mode to hand nozzles or handy brushes at a breeze.
It takes only 30 seconds to heat up, and the steam flow is adjustable for various kinds of surface and level of dirt.
The Most Valuable: 14-in-1 Upright and Handheld Steam Mop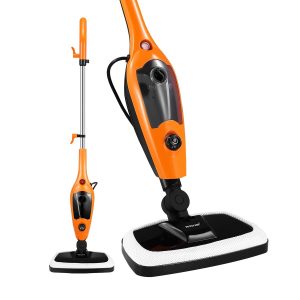 Water tank: 400ml

Heat-up time: 30 seconds

Functioning Temp: 132°C

Power: 1050W

Weight: 1.7kg

Price: $59.95
The 14-in-1 Upright and Handheld Steam Mop from Crazysales.com.au is a versatile option for most families. It boils water in 30 seconds and highlights 180° swivel steering. The user-friendly design allows you to easily switch to a handheld format for a wider range of applications. Also included are numerous accessories and tools.
You will feel comfortable with the operation. The water tank is easy to fill and the steam intensity is adjustable. It also features an ergonomic design in order to reduce stress on your hand and wrist, as well as a quick-release cord which is convenient for storage.
The versatile steam mop also boasts a premium performance in eliminating grease, grime, and grout dirt. The handheld mode makes it perfect for not only the floors but also sofas, toilets and counters.
---
Common Questions for Using Steam Mops
Can You Put Vinegar In Your Steam Mop?
Always read the user manual and follow the guidance. Most steam mop manufacturers recommend using water only. If you stick to add some vinegar, do not use it to clean the hardwood floor because it will break down the chemical finish.
Can You Add Floor Cleaner To Steam Mop?
No. The purpose of collaborating with floor detergents is to sterilize and sanitize the floor. Since the high temperature of the steam achieves the same goal and detergents may cause harm to the steam mops, it is not recommended to add any floor cleaner to the water tank other than water.
---
Conclusion
Cleaning is never a pleasant task. If you care a lot about the hygiene in your house but also hope to reduce your labour intensity, steam mops offer an ideal solution for you to resort to.