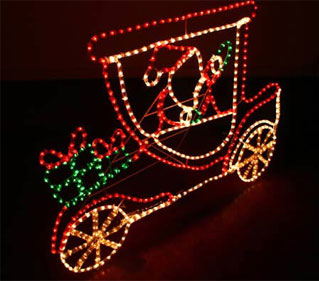 Christmas Season is a time to "light up your life" with different outdoor Christmas lights and creative techniques. By arranging and combining a range of lights you can create a spectacular light show. Check out these simple tips on how to make your home more vibrant this holiday season.
Outline with Outdoor Lights
Coloured Christmas rope lights are perfect for outlining the most beautiful edges of your home like the roof, windows, doors, patios, pathways, trees or any interesting element in the outdoor landscape. Choosing the right Christmas outdoor lights is important especially if you're planning to use a lot. LED string lights are a good choice. The traditional Christmas lights use incandescent lights, which when compared to LED lights consumes 80% more electricity, wears out up to 20 times faster, and can be very hot and unsafe when left lighted up for a long time.
Break the Line Monotony
Besides outlining, rope lights can be shaped into names, figures, and symbols. Write the family name or initials, make stars, and shape up a spiral Christmas tree with these bright outdoor lights. Whatever that can be shaped using a string can certainly be shaped using the coloured Christmas rope lights. But if you don't have much time conceptualizing on the rope light design, then go with the giant star rope light, Christmas bell rope light, or Snowman rope light. Don't forget to greet everyone with the big "Merry Christmas" rope light banner. There are also other glowing shapes that can perfectly fit outdoors like the Santa Lights and the inflatable Christmas tree with inner light. All these glowing Christmas outdoor decorations are ready to be installed right out of the box.
Brighten Up Everything Else
Your outdoor will surely brighten up with more of the assorted Christmas lights. Hide white or multi-coloured LED lights in the deepest of the thickest trees or bushes. Light 'em up at night and the illuminating glow will just be perfect to awe passers-by.
Decoration Safety
What's the sense of being the brightest home in the neighborhood if the outdoor Christmas lights were unsafely installed? Always be safe by following this simple advice:
-Limit every strand with up to 500 lights only. That means that only 10 50-light rope lights or five 100-light rope lights can be connected.
-Install GFCI outlets. This special outlet will automatically cut connection to electricity whenever danger is sensed. -Wrap the connected plugs with electrical tape for extra protection. -Never run electrical cords on high-traffic or hidden areas.
-Inspect every electric outdoor Christmas light for any sign of damage before decoration. Keep these safety tips in mind when working with outdoor Christmas lights. Don't ruin the holiday spirit just because of an accident that could have been prevented. Safe outdoor lights and stunning decorations will certainly make your home the brightest and safest in the block this Christmas season.