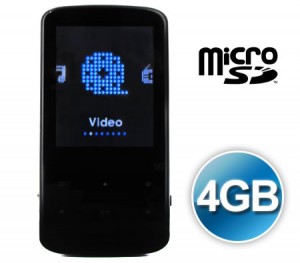 Kill the boredom and be entertained anytime and anywhere with a multi media player. There's no need to limit the fun to your home or office. Even while waiting for a taxi, driving the car, jogging around the park, or just killing time, an mp3 player will keep you entertained.
The popular portable music player is not just a player of mp3 files. Now, it rightfully deserves to be called an mp4 player because it can do much more than just playing music. It can play videos, display digital photos, record sounds, be a handy karaoke, and more.
Must Have Features of Your Portable Player
How can you expect a phone-size player fit in your pocket or be clipped on your clothes? Only ultra portable players can do that. Sony NWZ Walkman and Laser Video MP3 Player are examples of perfect portable mp3 players.
Sometimes, it is not the size of the player that bothers people on the move, but the annoying earphone wiring connection. A wireless, waterproof solution is also available. Instead of the wired earphones, use wireless headsets powered by Bluetooth.
Smaller players have enough internal storage for easy and fast scanning. If a touch of a button is too tiring, then try ZAPPIN™ – dedicated zap button searches your music library for the perfect song. This cool feature will play short music clips so it will be super easy to scan and search for that particular song.
And if that particular song is found, no need to look on the LCD screen to check the title, artist, and album. An amazing feature called VoiceOver will read the song's information for you, just like how a voice over should be.
When Bigger is Better
While ultra portable players are good, there are times when bigger is better. Take note that the multimedia players today are not anymore just pure music. There are more…just like videos. And if video viewing is your thing, then bigger is definitely better.
A three-inch LCD display is just enough to have a little bit of portability and a lot of viewing experience. Choose players with crystal-clear OLED screens. Just make sure that the player can read XviD video format, AVI, DivX and other popular formats.
But with this bigger player, you can also display pictures and read ebooks. Even singing the karaoke is possible. In fact, the Karaoke Mode is starting to be among the must-have features in a multimedia player. The song simply has to have its .lrc file, which can be found in the big database of Lyric Sync.
Players that Suit Your Style and Personality
Choices on mp3/mp4 players today are huge. Picking the perfect device will be easy if your focus is on your entertainment needs.