When the cold winter comes, it's time to winterize your home from inside and out. From the most powerful electric heater to the warmest fireplace, these items will help keep you and your home warm and toasty all winter long.
---
Best Electric Heaters for Homes
The winter months are tough for people who don't enjoy the cold. A good electric heater is what you need to take the edge off the cold days and nights. Our best electric heaters are built with multiple safety features, such as thermal cut-outs and tip-over protection to keep the whole family safe while enjoying warmth comfortably.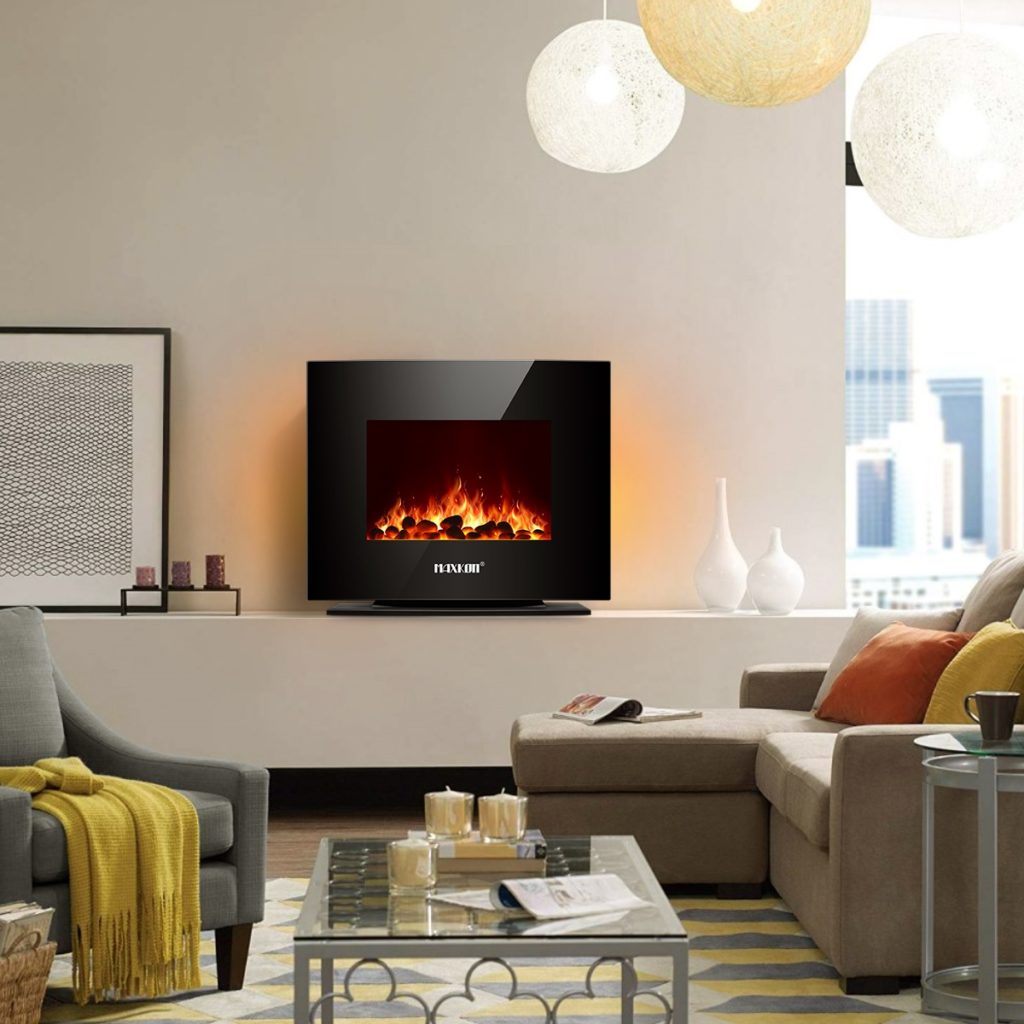 The electric fireplace heater from Maxkon is the perfect choice if you like snuggling up by the fireplace with a good book. It can be mounted on the wall or firmly stand on the floor. With a control panel and a remote controller, you can easily adjust the temperature to meet your preference. It features a realistic design with log-burning and dancing flame effects. This gives you the same cosy ambience of a traditional fireplace without any mess. In addition, it is economical and energy-efficient. Designed with a curved glass LED screen, it's a nice piece for your modern home or office.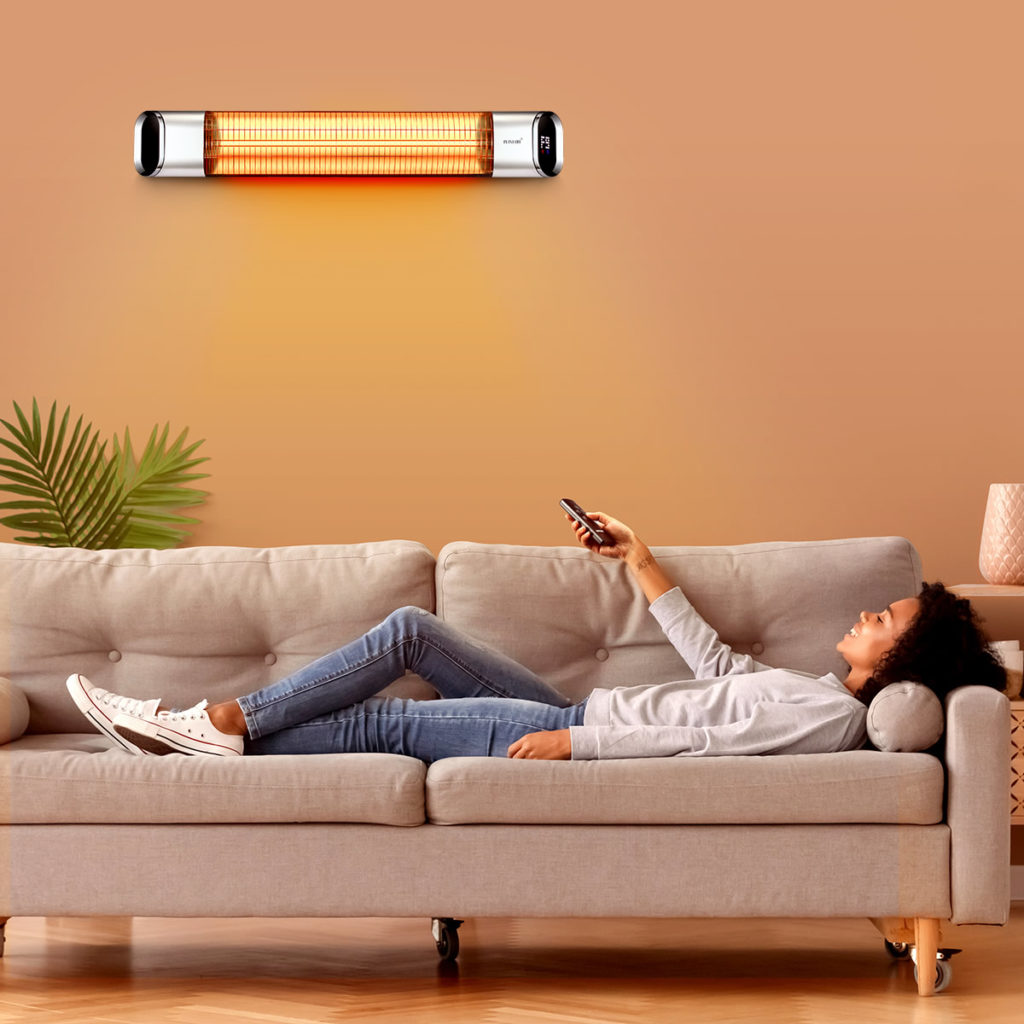 The Maxkon infrared heater does an incredible job of instantly providing warmth for you and your family while saving energy due to its carbon fibre bulb technology. An easy-to-operate remote control comes in options of 4 power settings and a 24-hour timer for complete customisation. It produces invisible thermal rays to deliver direct infrared heat like natural sunshine without harmful UV rays. This also helps minimise oxygen consumption and moisture loss in the air. Made of aluminium housing, it is sturdy, durable and works well in different situations, like rooms, garages, patios and decks. If you don't like to drill holes on the wall or ceiling, the tripod stand is a good option to hold it stable.
---
Best Industrial Heaters for Garages
For the person who's working in or running a workshop or garage, there's an industrial heater to provide enough warmth to get you working in comfort during the winter months. The industrial heaters powered by electricity or natural gas, or kerosene are usually very efficient to heat large areas with extreme temperature changes. Invest in the best heater for your garages or farms to make hard work more enjoyable.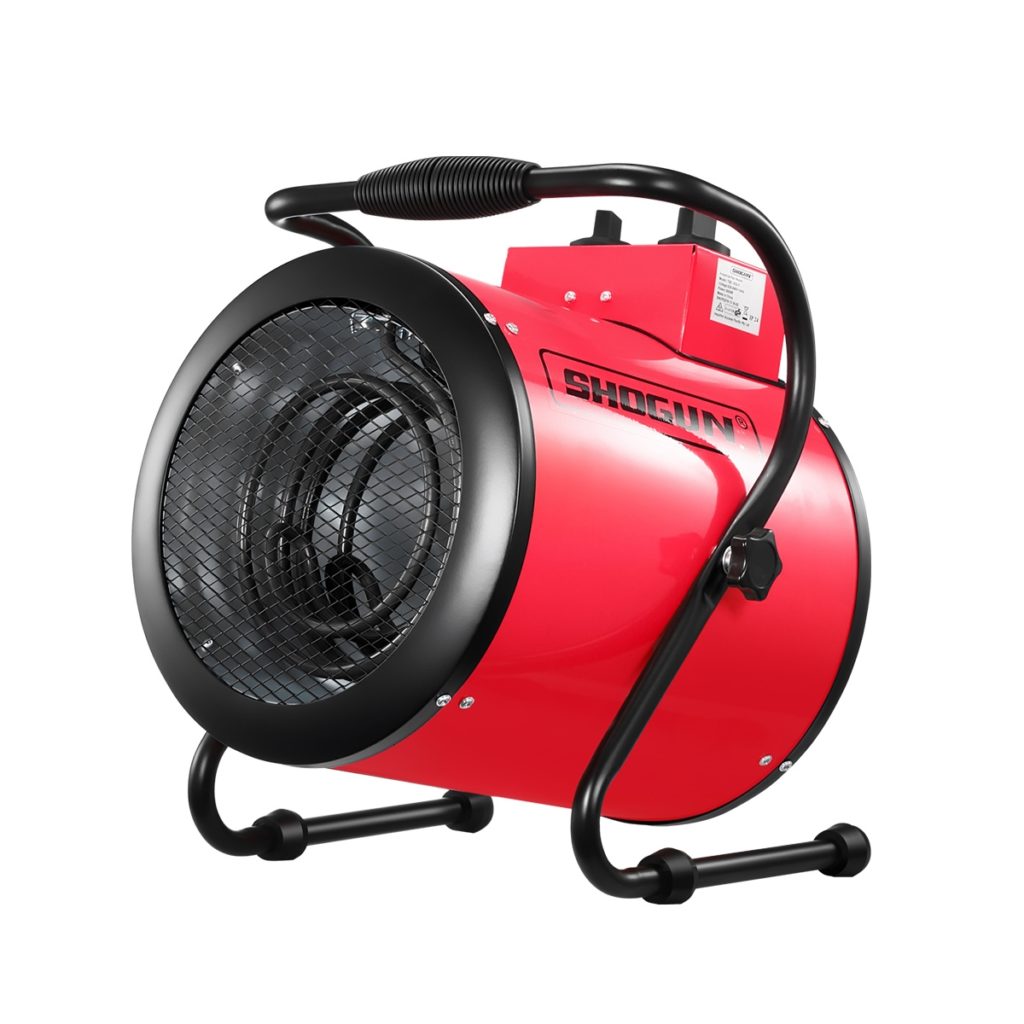 No shivering and numb fingers anymore in cold weather with this electric fan heater when you're on repair tasks in your workspace. It features a 3000-watt motor that quickly heats up a large space up to 40m². Easy to use, it has a dual temperature control switch and automatic constant temperature mode. Lightweight and portable, the fan heater runs quietly, ideal for providing a great amount of heat anywhere you need. In addition, it is safe, durable and waterproof thanks to its strong construction and multiple safety protections. Make the most out of this powerful and efficient heater.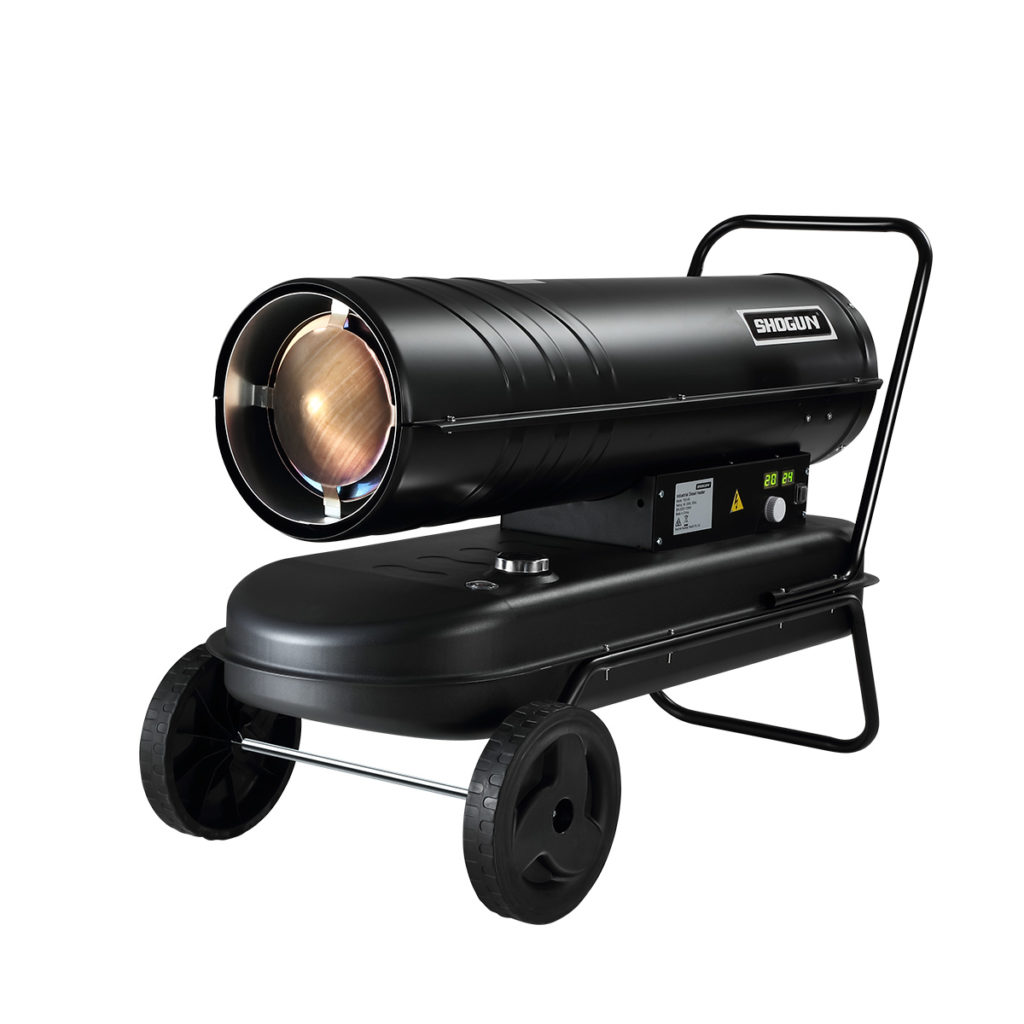 This Industrial Heater is highly efficient specially designed for warming larger spaces such as mining workshops, poultry farms and glasshouses. A portable design, along with a max 68kW heat output, a large air duct, and more air outlets, makes the heater easily to handle up to 290 square metres' space. The kerosene heater is thermostatically controlled for lower energy consumption. It's coming with dual digital displays and high-temp protection that can activate the auto shut-off function. This is a reliable choice for the owner of a factory, warehouse, garage and more.
---
Best Hot Water Supplies
On a cold winter's day, there's no better way to conquer the chill than to have a hot drink or a nice shower, especially if you've spent time outdoors cleaning the muddy walkway. All you need is a hot water urn and a water heater. They ensure that the water you drink and the shower you take is warm when you want it. The hot water urn keeps hot water and juice served for a long time, while the water heater gives that hot water and wonderful steam warming your whole body.

This 20-litre Water Urn from Maxkon is a great add-on accessory to your home. It is made for dispensing a speedy cup of hot water. With this boiler, you can leisurely prepare tasty winter drinks for your family. Hot water or healthy drinks can help with your digestion, boost your community and keep you warm and toasty in the cold or rainy winter. Featuring a large 20-litre capacity with a double layer of stainless steel insulation, it will consistently deliver you hot water for drinking directly or cooking needs. This dispenser can be worked as a heater or thermos urn with adjustable temperature from 30° to 110° for your desired needs. A convenient tap that allows you to get water easily, and other advantages, like transparent water gauge, easy-to-carry handle and boil-dry protection, make it a must-have item for a nice and warm winter.

Showering in winter won't be a challenge by adding this Maxkon Water Heater. Easy to install, you can enjoy that hot shower in the morning or a relaxing hot bath at the end of a long day. Ideal for families of 2 or 3, the heater gives a continuous flow of up to 520 litres per hour. A digit LED display that clearly shows temps with adjustable control of water temperature and water pressure for maximum comfort. The gas water heater is highly efficient and cost-effective, coming with an auto temp control for different seasons. Safety is guaranteed as a variety of protections are equipped like overheat, low flow, anti-freeze protection.
---
Best Heating Ideas for Bathroom
When the temperature starts to take a dip, does your bathroom feel cold? It's time to take actions to keep winter's chill out of the bathroom. Here're some simple ideas for bringing warmth to your home bathroom without breaking the bank. One is to update the toilet seat and another is to pre-warm your towels with an electric towel warmer. A heated toilet seat makes each trip to the bathroom much more enjoyable. Electric towel rails get your towels, bathrobes toasty so you can wrap yourself up when you step out of a steamy shower.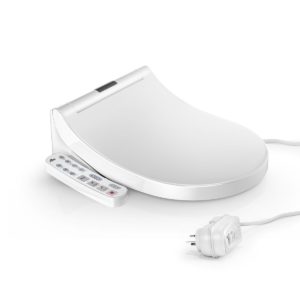 If you want each bathroom visit to be pleasant, especially in the cold season, consider using a heated toilet seat. This electric toilet seat allows you to adjust the seat temperature, water temperature, and water pressure and drying temperature for your preference. Whether in the middle of the night or early in the morning, this smart toilet can provide instant and continuous hot water for ultimate comfort. And it can be quietly closed after each use with a soft closing lid. Moreover, the toilet seat contains self-cleaning nozzles to keep bacteria at bay. It is a perfect choice for any homeowners and renters.
The addition of a heated towel rail is the best way to kiss the shivers goodbye after a hot bath. Made of a solid aluminium frame and featuring 10 heated crossbars, you can warm multiple towels at the same time. This electric towel rail offers freestanding and wall-mounted installation options for you to choose from. Try to position the rack as close to your shower room as possible to easily reach for your toasty towels. Furthermore, it can also double as a heater to warm up your bathroom. The warmer is ideal for any small or big bathroom, master bathroom and laundry room or other areas.
---
Best Outdoor Winter Fire Pit
The winter weather may be a dampener on things, but no one wants to be cooped up indoors all day long. It's time to go outside, enjoy your backyard and have fun. To stay warm outside, it's necessary to prepare a fire pit. The fire pit is a simple addition that can create a cosy ambience and turn your backyard into a welcoming retreat.

How about throwing a warm backyard party with your loved ones surrounding the fire pit? The fire pit will be a hot winter gathering spot where you can keep warm and grill up delicious foods or simply watch the flames dance. It is safe and easy to use and with a mesh screen to keep sparks and embers from flying out. Therefore, you and your family can enjoy the warm fire and outdoor leisure time peacefully. This sturdy unit features an upgraded robust steel body that is rust-resistant, durable for many years of heavy use. The well-designed triangle legs can keep it standing stably even on windy days. Invest in this quality fire pit for a different winter season.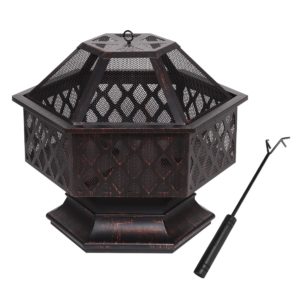 With a polygonal shape, this fire pit creates an incredible retreat for friends and family to gather together and enjoy the warmth this winter. It is ideal for any backyard gatherings, camping and other outdoor activities. The pit is portable and comes with safety insurances like a mesh guard to prevent any flying sparks from landing on your clothes. The included poker is heat resistant that helps keep embers burning for hours. This steel unit is painted in high-quality bronze for rust-resistance and long-lasting use.