With Australia out of the World Cup, hopefully you've chosen another team to pull for. The weekend has finally arrived and there are a lot of good matches scheduled, so I thought I would bring you some interesting Brazil-related food ideas to eat while watching. It's getting cold in Aussie but it's warm as usual in Brazil, so maybe these yummy foods can bring you some much needed warmth on these cold winter days!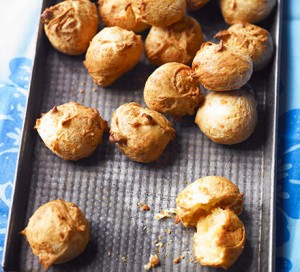 Who doesn't love warm cheesy bread? These light and fluffy cheese puffs, known as Pão de Queijo, are a mainstay of South American culture. Here's what you'll need:
Oil or butter for greasing
250ml full-flat milk
½ x 250g pack unsalted butter
1tsp salt
300g tapioca flour
2 eggs
100g Parmesan Cheese, grated
Now get to work!
1. Grease a baking sheet with oil or butter and set aside, then heat your oven to 220C.
2. Bring the the milk, butter and salt to a boil in a medium saucepan. Remove from heat and add the tapioca flour. Stir the mixture vigorously and let cool a bit.
3. Pour the dough into a standing mixer, or use a bowl and an electric hand whisk. Beat the dough until its cool. Beat the eggs in one at a time, waiting until each one is completely incorporated before adding the cheese. When the dough is glossy and mixed, add in the cheese. Beat again until mixed thoroughly.
4. Spoon the dough onto the baking sheet in 1 tbsp balls, 5cm apart. Bake for 30 minutes until crisp and golden. Remove from the oven and eat while still warm.
Remember the last and most important step and eat while still warm! But save a bite or two to go along with the next recipe, Linguiça de Carne.
Linguiça is an underrated sausage that relies heavily on spices, especially paprika. You can eat it on its own, or add it to a warm hearty stew. Not sure how to make sausage? If you have the right electric meat grinder it's super easy with the following steps.
Here's what you'll need:
5 lbs. boneless pork butt
8 cloves garlic minced fine or pulverized
4 tbsp. paprika (sweet)
3 tsp. salt
1 tbsp. coriander
1 tbsp. cayenne
1 tsp. cinnamon
1 tsp. ground cloves
1 tsp. pepper
1 tsp. allspice
¼ cup sherry (sweet)
¼ cup vinegar
¼ cup cold water
Sausage casings (optional)
Meat smoker (optional)
Here's what you'll do: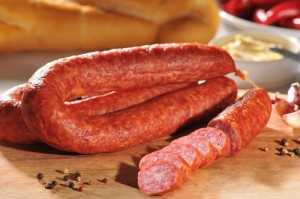 Chop the pork into cubes and grind on the course setting of your grinder.

Combine all ingredients and refrigerate for 48 hours.

Fill sausage casings with the mixture to create loose links.

Smoke or grill the links (smoking adds flavor and complexity to the sausage, so give it a try!

)
If there's any leftover sausage you can always save it for later with an efficient food sealer from CrazySales, a great way to preserve food. Hopefully these warm and spicy food ideas can bring you and your friends some happiness while watching the World Cup this weekend. And if you're not planning to watch soccer, maybe you'll simply fill your time making delicious Brazilian food. Enjoy!