These homemade burgers are perfect for the BBQ and so much more healthy than anything from a packet!
---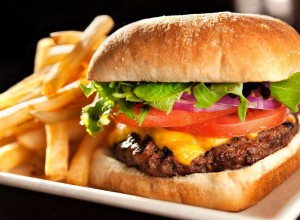 Serves: 4
Preperation Time: 20 minutes
Cooking Time: 10 minutes
Tools: MaxKon 3-in-1 Meat Grinder
Method



Fit the Mincer with the coarse screen and mince the beef into the bowl. For a finer texture pass through the screen again.

Add the herbs, lemon juice and rind and a generous sprinkling of freshly ground black pepper. Using the grinder at minimum speed, mix the ingredients together.

Divide into 4 and with floured hands shape into thick burgers. Either brush with oil and place under a preheated grill for about 4 minutes on each side, or shallow fry over a medium heat.

Meanwhile make the fried onion rings, dip the rings first into the egg white and then into the flour. Heat 2.5cm (1 inch) oil in a pan and fry for 1-2 minutes, until golden.

Serve burgers garnished with onion rings accompanied by toasted crusty bread, mixed salad leaves and the remaining onion rings.