Regardless of how nimble your dog is, to some extent in its life, it will need assistive pet supplies and gadgets to help in its movement. A dog ramp has been becoming a trend in the pet industry as pet owners want to train their dogs to walk onto their bed, SUV or cars, not jump, which can help protect your dog's legs, paws, and neck. With a great number of different dog steps for you to pick from the market, we present several top dog ramps at CrazySales and help you navigate the complicated process of dog ramp selection.
---
What is Dog Ramp
A dog ramp is reputed as an assistive device that helps facilitate the safer movement of a dog to and from an elevated position such as the back of an SUV, a car, and pieces of furniture like beds, couches, and sofas.
In many cases, these contraptions are indicated among dogs which have joint issues such as canine arthritis, osteoarthritis, hip dysplasia, and even severely weakened musculoskeletal system. Jumping on or off an elevated platform can create undue pressure on the joints which can further increase the likelihood of articular and cartilage damage.
Dog stairs are useful among dogs that are sick or ill, too. When puppies are down with an illness, their energy levels drop down significantly that most dogs don't feel like moving at all. Getting up and onto your vehicle will be very taxing for a sick pooch. As such, a dog ramp will greatly reduce the amount of their work and help them conserve their energies.
Pet stairs are also recommended for use among senior pooches and puppies. Senior dogs typically present with health problems from diminished muscle strength, stability issues, chronic pain, reduced range of motion of the joints, and even bone fragility. As such, puppies don't need to use muscle strength to jump onto your truck or car or even onto your bed.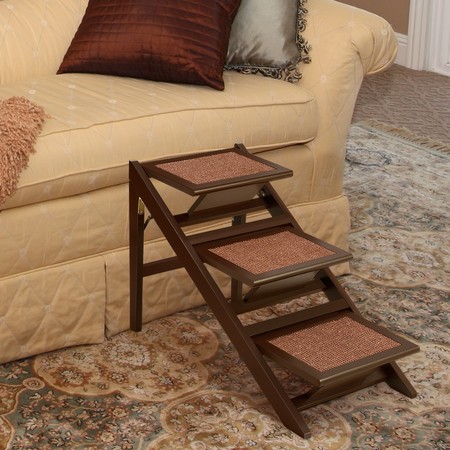 ---
How to Pick a Dog Ramp
Purpose
There are different types of pet steps often based on their purpose currently in the market. Some are purposely made for home furniture pieces such as beds, sofas, couches, and even tables, some are purposely designed for several flights of stairs which should be more like the ramp that is dedicated to wheelchair-bound individuals, and some are specifically for vehicles.
Dog step ramps come in various styles. Some look more like elaborate stairs complete with railings and soft, padded steps, some are more like your traditional straight ramp. Whatever the case, just make sure you know what you are looking for.
Fixed, Folding or Telescopic?
Fixed dog stair ramps are great for beds and other low-height home furniture. However, as they are fixed, you're essentially wasting precious space. If you live in a rather tight house, a folding or telescopic ramp is still the best, while if you live in a home having an overabundance of space, you can freely choose the grandest fixed system.
Folding and telescopic styles offer exceptional versatility because they are easily stored and transported wherever they are needed. The telescopic variety is much easier to extend the length of the walking surface simply by sliding one panel over the other, which eliminates the tendency of flipping and folding panels that you are at an increased risk of hitting yourself or even your vehicle. However, a telescopic system is usually more expensive than a folding type.
Durability
When it comes to durability and strength, heavier ramps typically have more solid construction. But it doesn't mean a particular unit which is lightweight is already structurally unsound. Overall, wood and steel typically provide the best durability and sturdiness. However, wood is pricey and subject to effects of weather.
Steel or metal can be very heavy, but aluminum and vinyl ramps are lightweight and durable. However, you still have to check the patency of the ramp joints, especially in folding or telescopic variants as the point where two panels meet is often the area of least strength. Regardless, a good measure of a dog ramp's durability is its maximum weight rating.
Ease of Use
The weight of the pet ramp really matters as you also don't want to strain yourself loading and unloading this contraption onto and from your vehicles, fixing it up for your dog to walk on, and storing it in the right place afterward. This means the ramp should be easy to handle. The weight of the ramp can affect many parameters on the contraption. For example, inclined platforms which are unusually heavy allow for strength, stability, and sturdiness while lightweight ones often are made of flimsier materials. Hence, it is important to make a balance between portability and structural durability.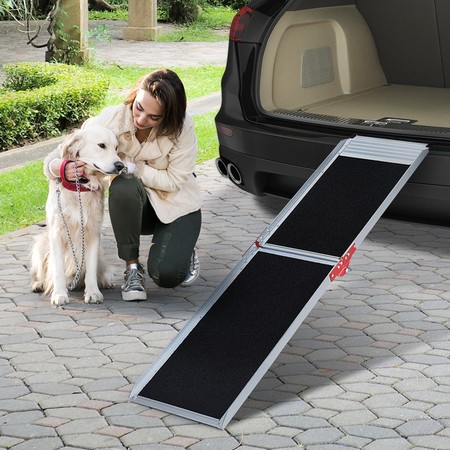 ---
CrazySales Top Dog Ramp Reviews
| Name | Pet Stairs with 4 Steps and Plush Mat | Portable 3 Steps Foldable Doggy Ramp | Dog Car Ramp Folding Portable for Truck Van SUVs | Telescoping Aluminum Dog Car Ramp for Turck Van SUVs | Aluminium Large Foladble Pet Ramp with Non Slip Surface |
| --- | --- | --- | --- | --- | --- |
| Image | | | | | |
| Price | $69.98 | $64.98 | $69.95 | $109.95 | $114.99 |
| Color | Brown | Brown | Black | Black Silver | Black Silver |
| Dimension | 63CM x 46CM x 59CM | 90CM x 39CM x 50CM | 40CM x 152CM x 12CM | 43CM x 11CM x 162CM | 183CM x 38CM x 5CM |
| Step Size | 40CM x 18CM | 35CM x 30.5CM | N/A | N/A | N/A |
| Step Height | 15CM | 16.5CM | N/A | N/A | N/A |
| Material | MDF | MDF | Vinyl | Aluminum | Aluminum |
| Max Weight Capacity | 50KG | 50KG | 68KG | 135KG | 120KG |
| Features | 4 Steps, Plush Sheepskin-Like Mat, Suitable for Indoors | 3 Layer Steps, Plush Sheepskin-Like Washable Mat, Suitable for Indoors | Portable, Lightweight, Injury Prevention, Easy Access, Easy Installation, Non-Slip Feet | Lightweight, Durable, Rigid Construction, Space-Saving Design, Textured Surface, Rubber Feet | Solid & Durable, Foldable, Portable, Non-Slip Surface, Carry Handle |
---
Conclusion
Hope you've found this review helpful in choosing the best dog ramp for your pet. For more pet stairs Australia, you can click dog steps for an overall view.