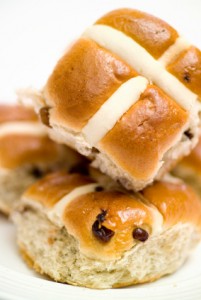 The Hot Cross Bun has become synonymous with Easter Day, with the cross symbolising Christ's Crucifixion.
Surrounding the Hot Cross Bun are many lovely superstitions. It is believed that if you shared a hot cross bun with a dear friend, your friendship will be great the coming year. The words "Half for you and Half for Me, Between us Two, Goodwill Shall Be" must be said at the time of sharing.

Famous Hot Cross Bun Nursery Rhyme
Sang this rhyme a thousand times before? It was published in London in 1798 and still remains a popular rhyme these days.
"Hot Cross Bun! Hot Cross Bun! One 'a Penny, Two a' Penny, Hot Cross Bun!
If you have no daughters, give them to your sons.
One 'a Penny, Two a' Penny, Hot Cross Bun!"

Hot Cross Bun Recipe
(Recipe is taken from Taste.com.au, Recipe by Alison Roberts, 2004 : http://www.taste.com.au/recipes/7695/hot+cross+buns)
Makes: 12
Ingredients:
4 cups plain flour
2 x 7g sachets dried yeast
1/4 cup caster sugar
1 1/2 teaspoons mixed spice
pinch of salt
1 1/2 cups currants
40g butter
300ml milk
2 eggs, lightly beaten
Flour Paste
4 to 5 tablespoons water
1/2 cup plain flour
Method
Combine flour, yeast, sugar, mixed spice, salt and currants in a large bowl. Melt butter in a small saucepan over medium heat. Add milk. Heat for 1 minute, or until lukewarm. Add warm milk mixture and eggs to currant mixture. Use a flat-bladed knife to mix until dough almost comes together. Use clean hands to finish mixing to form a soft dough.

Turn dough out onto a floured surface. Knead for 10 minutes, or until dough is smooth. Place into a lightly oiled bowl. Cover with plastic wrap. Set aside in a warm, draught-free place for 1 to 1 1/2 hours, or until dough doubles in size.

Line a large baking tray with non-stick baking paper. Punch dough down to its original size. Knead on a lightly floured surface until smooth. Divide into 12 even portions. Shape each portion into a ball. Place balls onto lined tray, about 1cm apart. Cover with plastic wrap. Set aside in a warm, draught-free place for 30 minutes, or until buns double in size. Preheat oven to 190°C.

Make flour paste: Mix flour and water together in a small bowl until smooth, adding a little more water if paste is too thick. Spoon into a small snap-lock bag. Snip off 1 corner of bag. Pipe flour paste over tops of buns to form crosses. Bake for 20 to 25 minutes, or until buns are cooked through.

Make glaze: Place water and sugar into a small saucepan over low heat. Stir until sugar dissolves. Bring to the boil. Boil for 5 minutes. Brush warm glaze over warm hot cross buns. Serve warm or at room temperature.
Glaze
2 tablespoons caster sugar
1/3 cup water

Shopping Time!
In the Spirit of baking for this Easter Holiday, do check out the beautiful bakeware we have ordered for this season from great brands like:
Wiltshire Bakeware at CrazySales

SwissPro at CrazySales