Maybe you're not the kind of man who enjoys cooking. Maybe you don't have a desire to cook at all. But taking the time to cook a meal for your girl will definitely put a smile on her face! Here are a few easy recipes that don't require a lot of ingredients or complicated instructions. Take care to follow the instructions for presentation. Your plate of food should be as attractive as it is delicious!
Soy Glazed Salmon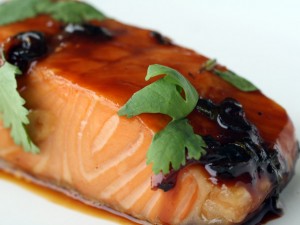 Ingredients:
2 salmon fillets

1/4 cup soy sauce

1/4 cup vegetable oil

1/4 cup brown sugar

1/4 cup water
Directions:
1. Combine all ingredients except the fish in a frying pan and put on low heat.
2. Stir it up until the sugar dissolves and resembles a sauce.
3. Put the salmon and the sauce in a sealable plastic bag.
4. Put it in the fridge and let it marinate for about 2 hours.
5. After 2 hours, remove the fish and sauce from the bag and wrap it in tin foil.
6. Pre-heat the oven to broil. Put the salmon in the oven to broil for about 8 minutes or until the fish no longer looks raw in the middle and flakes easily. Check the color by using a fork to separate the flakes.
Serve with: Seasoned steamed broccoli, rice and a chardonnay.
Presentation: Place the salmon over a serving spoon sized pile of rice, with the broccoli in a half circle around the rice.
---
Pan Seared Fillet Mignon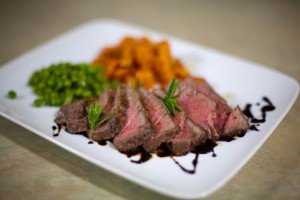 Ingredients:
2 8-10 oz. Beef filets

Canola oil
Directions:
1. Heat a small pan on high with 2 tbsps of oil.
2. Sear the filets on each side for 30 seconds.
3. Wrap the filets in foil and place in the oven.
4. Broil in the oven for 5 to 7 minutes. If you're not sure it's done, go ahead and cut into the middle to check its color. The meat should be a medium to dark shade of pink. If it's brown, it's overcooked, and too red means under-cooked.
Serve with: Roasted red potatoes, steamed asparagus and a cabernet sauvignon.
Presentation: Slice the filet in thin slices halfway through and spread it like a fan over the red potatoes, with the asparagus leaning on the other side of the potatoes. (not like the pic!)