Feet are the foundation of our bodies and must be cared for appropriately. One of the easiest and most beneficial ways to soothe the pain and relax is with a foot massage. You can take a foot massage at home through many techniques. And there are several foot massage machines readily available in pharmacies, health stores and other retailers. With so many types on the market, here's the foot massager reviews for the sake of you.
---
What is a Foot Massage Machine?
Foot massage machine is an electrical device which helps you to provide foot massage that makes you relieve from different types of problems associated with muscles and nerves. A foot massager not just helps you to get relief at home without going to a specialist, but saves money that you would have paid for a foot spa. This type of massage machines can take your comfort to a new level with the tiredness and stress from a-day-long hard work left behind, then you may have a fresh start to relish your free time along with your family.
---
Benefits of Foot Massage
Improve blood circulation: Due to a sedentary lifestyle, many people don't use their feet muscles properly which impedes good blood flow. Plus, tight, pointed shoes, especially high heels, hinder blood circulation. Several minutes of foot massage daily helps in transporting oxygen to the body's cells, which is essential for overall health.
Helps in relaxation: After a tiring and stressful day, a foot massage is a soothing way to relax, particularly after a long day of standing and walking around. Massage of 5 to 10 minutes before going to bed can improve feelings of general well-being.
Promotes better sleep: A soothing and relaxing foot massage improves the blood circulation, which helps in getting a peaceful sleep.
Improves mood and fights depression: Certain points on the feet are helpful in alleviating depression symptoms. Massaging these points or applying pressure to them for a few minutes a day can relieve symptoms of depression.
---
Types of Foot Massage Machines
Manual massagers: These have a ball or balls which you roll your feet over. Some of them use multiple rollers to cover your entire foot bottom. They are generally inexpensive and you have to make it function manually.
Electric massagers: This type uses a motor which vibrates using the oscillation of rolling heads to do the work. They also have extra features such as heat. They generally use electricity and are not powered by battery.
Shiatsu massagers: These use vibrators, rotating heads and heating elements to simulate the Japanese kneading method, simulating a therapist's hands.
Infrared massagers: These are ideal for massaging your feet and calf, and use infrared for the feet massage.
Water massagers: These use water together with heat, vibration, lights, bubbles and massage.
---
Best Foot Massage Machines at CrazySales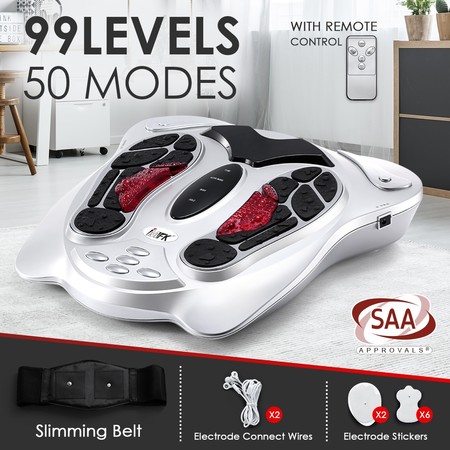 Price: $84.88
Features:
50 Massage Modes

99 Electromagnetic Wave Massage Intensity

Timer: 90 mins setting

Infrared Heating Therapy Function

8 Electrode Stickers

2 x Jacks Electrode Cables

Bonus Slimming Belt
This foot massager features a panel with 50 working modes and 99 electromagnetic wave intensities, making it easier to regulate your preferred level. Plus, the circulation booster is adjusted remotely via the remote control device. The electrode connecting cables and electrode stickers relax your whole body, relieve pain in muscles, improve your blood circulation and make you feel rejuvenated.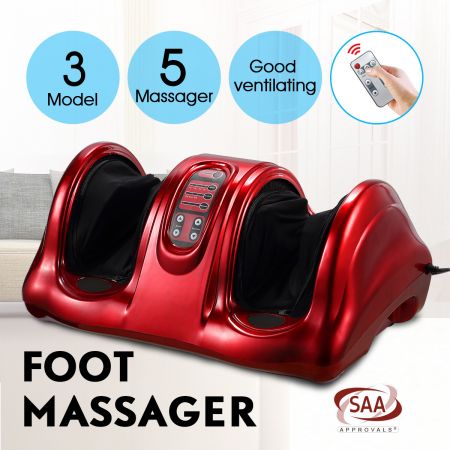 Price: $89.95
Features:
An automatic and Manual control system

Round-shaped protuberances are evenly distributed in the kneading roller.

The special design can massage your feet furthest

Controlled by microcomputer

People can have a stronger feeling to enjoy the finger pressing massage in kneading.

Three AUTO functions and two MANUAL functions for a user's free control
This foot circulation machine is controlled by a microcomputer, you can use it anywhere, anytime. It features 3 levels of speed – low, medium and high. With an easily accessible control panel, you can customize the device to the right pressure and speed. Also, the massager is designed with 3 auto functions and 2 manual functions for users' free control.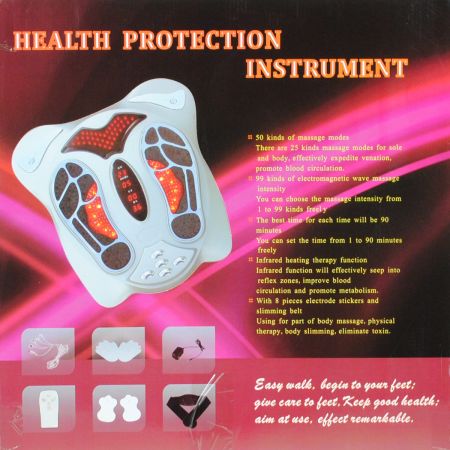 Price: $109.98
Features:
50 Massage Modes

99 Electromagnetic Wave Massage Intensity

1 – 90 Minutes Time Setting

Infrared Heating Therapy Function

8 Electrode Stickers

2 x Jacks Electrode Cables

Bonus Slimming Belt
Targeting the reflex areas on the bottom of your feet, the electromagnetic waves provide the ultimate comfort for your feet. With 50 kinds of massage modes and 99 kinds of electromagnetic waves intensity, the foot massager is great for those who appreciate a relaxing foot massage.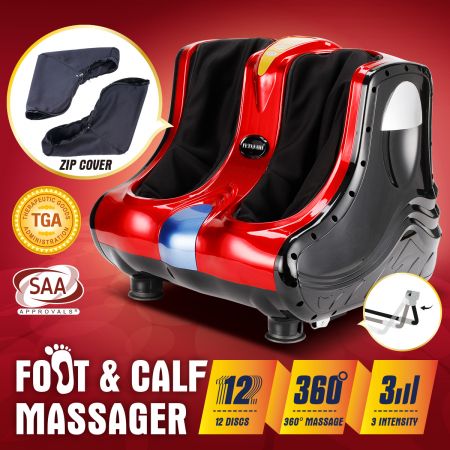 Price: $159.97
Features:
15-Minute Auto Shut-Off

Choose From 3 Levels Of Intensity

Zip-Out Hand-Washable Fabric Liner

Easy Access On/Off/Program Control Pad

Foot Massage And Calf Massage Can Work Independently

Special Roller Targets Calf Muscles, Ball, And Arch Of Foot!

Flexible Air-Pressure Kneading Pads Feel Like A Real Massage.

Effectively Squeezes And Massages Feet, Ankles & Calves All At The Same Time.

8 Massage Discs For Feet And 4 Discs For Calves
Equipped with 8 massage discs and air pressure kneading pads, this portable massager is the equivalent of a real massaging. The easy-to-use control panel allows you to customize the foot massage to the just the right pressure and speed.
Wrap Up
The above foot massaging items are the best foot massage machines at CrazySales. Their stunning, compact designs and styles give you plenty of options to ensure you get something which suits your needs perfectly. Moreover, all of them have efficient features that enhance versatility, durability, and most importantly, ultimate performance. For more foot massage machines, visit Foot Massager.