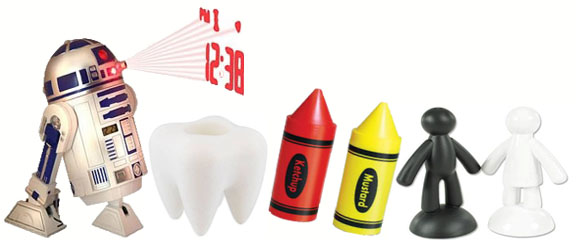 Spice up your life and add a little humor on small things. Laughing, smiling & being happy relieves stress and lessen the risk of many diseases.
You can be happy & laugh on small things like during your burger party or when just want to prepare burger and sandwiches at home, this Crayon Ketchup & Mustard Dispenser will add humor to it. It's fun & delicious in one.
And speaking on adding spice to your life, you can use this Buddy Salt & Pepper shaker on your house. Just like the salt & pepper which really goes well together, these two gnomes are just perfect for each other.
After eating this funny tooth pick holder will give you more reason to smile. Aside from using them to make sure that your teeth is clean even in between, this tooth pick holder add humor to it and make you smile more. Smile because your teeth are clean & smile because of this cool toothpick holder.
Seems like eating will be more fun and enjoy with this novelty kitchen items.
How about waking up in the morning with this Star wars alarm clock that project the time when it alarms so you will not be surprised when you're already late. This alarm clock will give you a fun way to wake up every morning.
With this items you can have a lighter life, lessen the stress and staying happy is a secret to a fruitful life. But let's never forget that we should be happy inside for us to be good outside. Because what's inside us is what reflects outside.
Start shopping at CrazySales website and get this novelty items for you to have a lighter life.