Office Chairs
Most of us spend most of our time sitting down. We sit down at work and school most days and even at home. Sitting is a comfortable way to rest but it can also hurt your back.
Our backs need to be taken care of, as you know any back injury could render you paralyzed or worse, that is why we need to take care of our backs.
How do we do this?
There are plenty of ways to take care of back pain such as: getting massages, therapy or strengthening abdominal muscles.
These are excellent methods of relieving back pain but they all consume time, you cannot do any of them while you're at work.
These days time is money and taking a bit of time to do anything else, might spell disaster for some of you with busy lives.
What if I told you there was a way of relieving your back pain while at work, interested?
There are plenty of automated massage options out there one can use to relieve pain.
But the best option I've found is the Office Massage Chair, it will allow you to sit and do work while getting relieved with a massage for your back. Enjoy productivity and relief at the same time thanks to these chairs.



Below I will give you the best Office Massage Chair I've found that is fairly priced.



Black PU Leather Office Massage Chair


This chair is great and has a variety of features such as: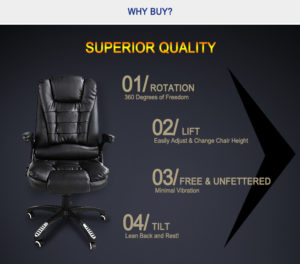 360 degrees of rotation
The chair rotates all the way around giving you free movement to work on multiple things at once.
Adjustable Height
The Height is easy to adjust with the 100mm Gas Lift

Tilt (Back is Adjustable)
Adjustable in both 90 and 180 degree angles with an easy lock function.
Wide Chair Back Rest to fit all sizes
The Back is wide enough for all sizes so adults and children can both enjoy comfort.
Soft and Comfortable Cushioning
Cushioning is twice as thick as normal giving unparallel comfort compared to other chairs.
Arm Rests are available for comfort
Arm Rests allow your arms and shoulders to maintain a relaxed position, while minimizing forceful movements.
Stable Base will prevent you from falling
The Base is strong and stable to prevent any accidents.
Massages your back in 7 different Massage Points
The Massage Chair will make sure to hit the problematic areas of your back.
Massage Function w/Shoulder, Back, Lumbar & Seat Cushion Massage
The Massage Chair will provide adequate support for your whole back while massaging it, keeping your back healthy.
Don't these features sound great?
The Chair massages doubling as an Office Racing Chair will safeguard and relieve your back. No longer will you dread going to the office because your back will hurt from the hours and hours of sitting down.
The Office Massage Chair I got was from Crazysales.com
It's a great site so make sure to check out their bargains and great deals, save money with free shipping day every Tuesday.