Business trips, holidays, round-the-world adventures…whatever kind of journey you're about to embark on, it pays to have the right luggage to stow your stuff in. There are plenty of options to choose from when it comes to buying a suitcase, but the range of styles, sizes and prices can be a little overwhelming if you do not know what to look for. That's why we've put together a buying guide to help you find the best luggage.
---
How to find the best luggage
Size and weight
Perhaps the most important factors to consider is the size and weight of the luggage. Not only will it determine how much you can pack in but also with strict size and weight regulations it is essential that you ensure your travel luggage is appropriate for your favored airlines. This means not only what you pack, but the size of the empty bag is important. Hence, the lightweight and durable ones are a great option.
Interior compartments
Traveling can be stressful, and so the last thing you need is to be sifting through a pile of clothes to look for important things. That's why interior compartments, pockets, zips and straps become so important. Hard-case luggage sale usually allows you to pack it from both sides, and probably offers the most effective way to pack your luggage. They usually include pockets and straps to keep the sides as one. Soft-case luggage can be a little more hassle in this regard, although the top luggage should include some compartments.
Soft/hard case
Usually, people have a preference for either hard or soft cases, but the usefulness of each type really does depend on the type of travel you do. If you require added space and flexibility beyond what an expandable zip can do, soft cases can be more appropriate as they allow for awkward shapes and tighter fits.
Hard-case luggage has the advantage of being entirely waterproof and offers a more contained enclosure. They are less flexible in regards to shape and something seen in hard rolling luggage reviews is that they scratch more easily. However, they do have the advantage of often being stronger and more durable.
Single/set
It can definitely be tempting to buy luggage sets. The advantage this offers is one size for each trip. For those who travel frequently, they will know the convenience this can offer. It gives you the flexibility to leave the check in bag at home for shorter trips and to bring it along on the longer ones.
---
The best luggage reviews
3pc Luggage Suitcase Set-Blue with 3X Covers & TSA Lock Review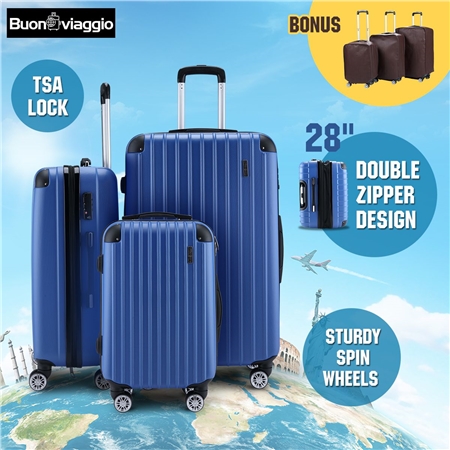 This blue 3-Piece Hard Shell Suitcase Trolley Set allows you to travel in style. The set includes a 20″, 24″ and 28 case with each piece equipped with a durable outer shell, adjustable top handle, a side handle and 4 smooth 360-degree swivel wheels.
The super lightweight and large capacity of these luggage bags ensures you get the most of the allotted weight allowance. The interior is equipped with tie-down straps to secure clothing in place and a mesh pocket for toiletries; these suitcases make it easy to organize your belongings in a compact space. The protective corners and secure combination lock make this luggage trolley set a must have for savvy travelers! This luggage is easily one of the top-rated luggage options for 2018.
Click for the latest prices for the 3pc Luggage Suitcase Set with 3X Covers & TSA Lock.
Hard Shell Lightweight Spinner Suitcase 3 Piece Luggage Sets Trolley w/TSA Lock Review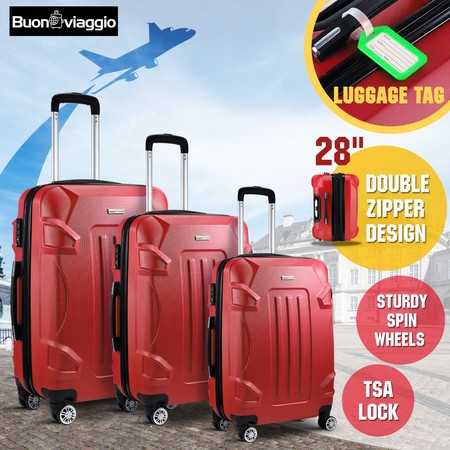 Pack all your belongings and other necessities tightly in the 3 Piece Luggage Sets Hard Shell Travel Spinner Suitcase Lightweight Trolley w/TAG & TSA Lock – Red. The 3 piece luggage sets include one 20 inch suitcase, one 24 inch suitcase and one 28 inch suitcase, which allows you to assign all your clothes in perfect order for your own preferences.
Featuring new ABS hardshell material with polyester lining and aluminum handles, the carry on luggage can do a better job of resistance to pressure and can be last for years with careful maintenance. The 360-degree spinner wheels and pull rod even ensure you maneuver the luggage effortlessly anytime anywhere. The TSA approved lock can perfectly protect your belongings from intentional theft. The travel suitcase also comes with 3 luggage tags to identify your own luggage at the first sight through the numerous suitcases. Take the lightweight suitcases or present them as a gift to yourself or your lovely ones to start a relaxed but stylish journey from this moment.
Click for the latest prices for the Hard Shell Lightweight Spinner Suitcase w/TSA Lock.
Milano ABS Luxury Shockproof Luggage 3pc Set Review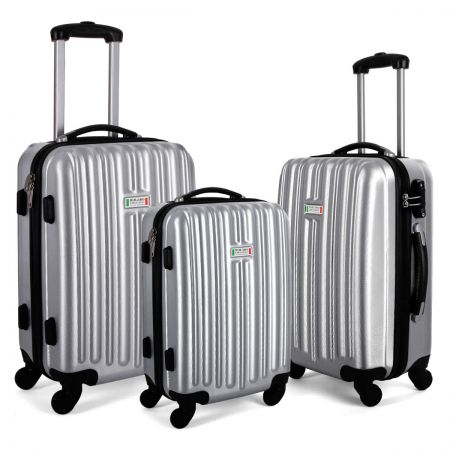 Designed to meet the needs of jetsetters, the Milano ABS Luxury Shockproof Luggage Set is intended to combine versatility and durability to cater to the demands and rigors of travel. The luggage set includes a small, medium and large trolley case so you're set for any adventure, big or small!
Each piece boasts a scratch resistant hard shell with a combination lock, and shockproof technology for optimal protection and peace of mind. Made with 100% abs, this luggage set is lightweight yet extremely durable. The suitcase set is a great option for both longer and shorter trips.
Click for the latest prices for the Milano ABS Luxury Shockproof luggage 3pc Set.
Wanderlite 3 Pieces Hard-shell Luggage Set Review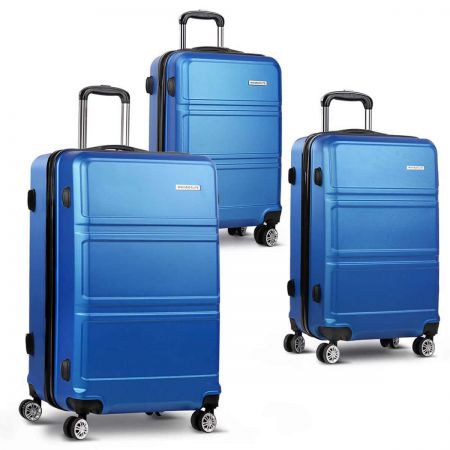 This Wanderlite 3 Pieces Hard-shell Luggage Set will make sure your belongings are secured during the entire journey so you can enjoy a stress-free holiday or business trip. Besides a durable hard shell, having smooth dual wheels for great mobility and secured TSA lock for extra security are a plus for an easy trip.
The functionality of the luggage is very essential too. Guarded with corner protectors to ensure a longer lasting material as it travels in and out of the luggage belt from time to time. Retractable aluminum pull rod gives you the flexibility of height and quality guarantee. Both luggage have huge storage that includes zipped compartments and X-strap that is more secure than normal side straps.
Click for the latest prices for the Wanderlite 3 Pieces Hard-shell Luggage Set.
---
Conclusion
Traveling can be stressful. Here at CrazySales, we aim to make your adventures as calm and hassle-free as possible. A sure way to decrease drama while traveling is to ensure you're using the best travel luggage for your needs. For more suitcase sale, you can visit Luggage & Travel Bags.