A steam cleaner is a versatile appliance that provides a healthier and greener way of cleaning. If you are thinking about looking for the best steam cleaner for souped-up hygiene for your home, from kitchen floors to carpets and upholstery, even your windows, check out this essential steam mop reviews to discover what type will suit you best.
---
How Does a Steam Cleaner Work?
A steam cleaner utilizes "dry" vapour steam to quickly clean, disinfect, and remove most stains and buildup. Water in a steam cleaner is heated in a boiler, which converts the liquid to vapour that exits the appliance via a hose or nozzle. These devices are suitable for hard surfaces, like sealed floors and grout and tile, and spot cleanings of softer materials, like carpets and upholstery. Since the steam cleaners generate high temperatures, they produce hot steam that is easy to clean grimy floors and eliminate bacteria and mites without using chemicals.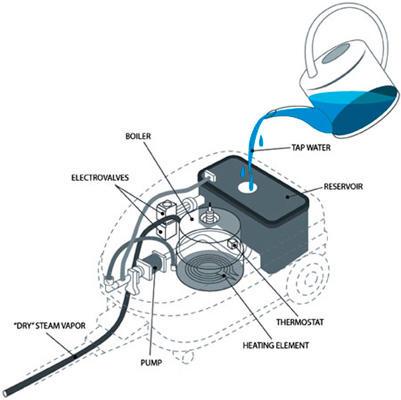 ---
The Choices
Steam cleaners vary but fall into one of three types: mop, handheld, and cylinder. Details below introduce their differences. However, each model has its own features and attachments, so check carefully what is included before buying.
Steam mops are generally upright, easy to handle and lightweight, and usually include a water tank either in or attached to the handle. Most come with a swivel and double-hinged head making them easy to move around obstacles and furniture. They can be used for hard floors such as tiles and some have a variable steam control to use with laminate and wood floors.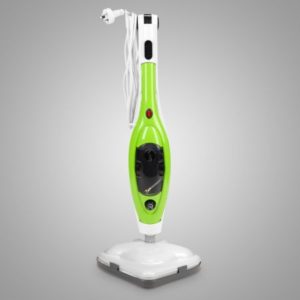 Handheld steam cleaners are small and portable steam cleaners, which are easy to store and ideal for cleaning hard-to-reach spots, like corners, drapes and underneath furniture.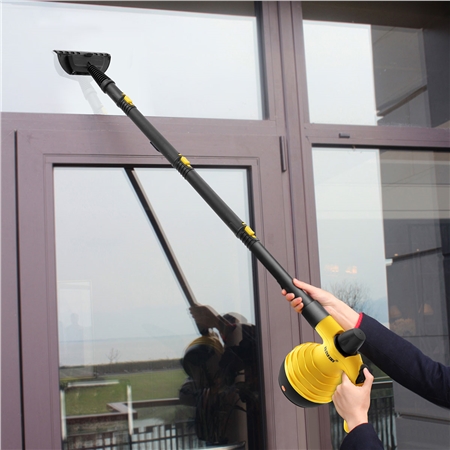 These machines are often the heaviest of the three, but usually carry more water so you do not have to refill them as often. They are used to clean different types of surfaces including floors, oven doors, taps, and grout.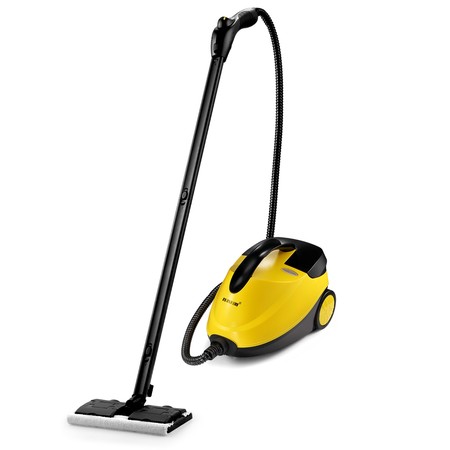 ---
Features to Consider When Buying a Steam Cleaner
Steam mops come in a wide range of sizes, shapes, and weight. Before you buy a steam mop, make sure you read the dimensions and weight of the unit. As long as you know the size and weight, you can be sure whether the floor steamer fits your need or not. Another thing to keep in mind, before you buy it, make sure you have enough room to store it when it is not in use.
The greater the boiler capacity, the longer the operating time. However, this must be offset by the time it takes to heat versus the length of steam time available as a result. Depending on which model you settle on, the time it takes to boil the steam can be different.
Floor steam cleaners that have a higher temperature produce dryer vapour and higher temperature, which offers a more sanitary cleaning and kill more germs. To make it more complex, the pressure level and temperature the machine can reach is important, but so is the consistency at which it can keep the pressure at. If the device is unable to consistently maintain the pressure level and temperature, it will be less likely to clean up your house as efficiently as you like.
Attachments and Accessories
Most portable steam cleaners come with a few basic attachments that you can use on different surfaces, helping you sanitize different areas of your house. Most brands also offer more tools and accessories for their steam cleaners that you can buy separately.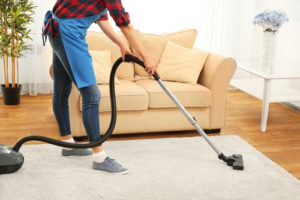 ---
Best Steam Cleaner Reviews
Image
Name
10-in-1 Steam Cleaning Mop-1300W-Blue&White
Maxkon 11 in 1 Handheld Steam Cleaner With Steam Mop Function
12-in-1 Multi-functionalSteam Mop-1300W
13-in-1 Best Multifunctional Premium Steam Mop Cleaner-1500w
Price
$49. 98
$79. 96
$69. 97
$99. 95
Size
30.5CMx21.2CMx110.5CM
28CMx13CMx22CM
27CMx23CMx120CM
27CMx23CMx124CM
Materials
ABS,PA66, PP
PP+PA66
PP, Thick Stainless Steel
PP, Thick Stainless Steel
Power
1300W
1050W
1300W
1500W
Max Temperature
140 Celsius Degree
140 Celsius Degree
110 Celsius Degree
110 Celsius Degree
Power Cord
5M
Not Specified
5M
5M
Water Tank Capacity
450ML
250ML
450ML
450ML
Steam Time
13-45 Mins
8-10 Mins
10-14 Mins
10-14 Mins
Features
10-26G/Min Adjustable Steam Flow Controller, Triangle-Shaped Head, 180 Degree Swivel Head
Aluminum Boiler, 4.2Bar Steam Pressure, Thermostat
and Thermal Fuse, Handheld Steamer Cleaner + Steam Mop
Indicator Light, Strap Design, Triangular Shape Mop Head, Steam Pressure Knob, Curved Handle, Strong and Fast Steam, Overheat Protection
Indicator Light, Strap Design, Triangular Shape Mop Head, Steam Pressure Knob, Curved Handle, Strong and Fast Steam, Overheat Protection
Accessories Included
1x Jet Nozzle
1x Slender Brush
1x Measuring Cup
1x Window Cleaner
1x Round Brass Brush
1x Round Nylon Brush
1x Scrap Shovel & Bend Nozzle
2x Microfiber Pads
1x Garment Cloth
1x Carpet Glider
1x User Manual
3x Floor Steamer Extension Tubes
1x Garment Steamer
1x Window Cleaning Attachment
1x Floor Steamer
1x Measuring Jug
1x Flexible Hose
1x Funnel
1x Garment Steamer Cloth
1x Cotton Floor Cloth
1x Connector Nozzle
1x Straight Nozzle
1x Round Brush
1x Bent Spray Nozzle
1x User Manual
1x Garment Steaming Head Sand Cloth
1x Sofa Cleaning Head with Cloth
1x Window Cleaner Squeegee with Rubber Slip and Cloth
1x Long Nozzle
1x Bent Nozzle
2x Brush Nozzle(Metal and Plastic Fins)
1x Cloth Holder
1x Mop Cloth
1x Funnel
1x Beaker
1x Belt
1x Funnel
1x Beaker
1x Mop Cloth
1x Cloth Holder
1x Long Nozzle
1x Bent Nozzle
1x Connection Hose
1x Sofa Cleaning Head with Cloth
1x Garment Steaming Head & Cloth
1x Squeegue/ Rubber Slip & Cloth
2x Brush Nozzle(Metal & Plastic Fins)
More: Steam Mops Reviewed
---
Conclusion
No matter which model you settle on, you need to take the above factors into account before making a sound decision. There are various types of cheap steam cleaners that are sold at CrazySales, check them out now!