Rowing machines benefit your entire body, boosting your cardiovascular health and stamina like a treadmill, but toning almost every one of your muscles and building your strength as well. Simply put, a rowing machine is one of the most efficient gym equipments you can choose, you don't have to go to the gym, and it helps you lose weight while building a better body.
---
How to Select the Best Rowing Machine
Fitness Level – Rowing machines offer different levels of endurance depending on your fitness level. Each gym rowing machine aims to help you use 80% of your entire body's musculature, but some make you work harder than others. You can dictate how hard you want to work and how fast you want to go.
Storage – Unless you have a home gym or a big house, it can be difficult to know where to place your rowing machine. You should do your research and watch tutorials to see how the machine you are going to purchase stores easy. Not all is suitable for your home.
Comfort – The best rowing machine is supposed to have comfortable foot pedals, handles and seat. If you're uncomfortable from any other facet than the exercise itself, you will not use the machine for long.
Features – Each rowing machine for sale will offer users different features. Some are largely electronic whilst, other require a little more manual input. Make sure you understand what features the row exercise machines offer.
---
Rowing Machine Types
Water Rowing Machines
Water rowing machines become one of the most popular rowing options for athletes. They have a water flywheel in a tank of water which is hooked up to the chain and the handles. When you pull on the handle, the paddles move in the water, creating a resistance. The faster you row, the more resistance is achieved.
Air Resistance Rowing Machines
Air rowing machines are also one of the most popular rowing machine options on the market They work by pushing air over an internal flywheel to create a resistance force. The flywheel is connected to the rowing handle which spins the flywheel as you pull. Air resistance rowers are preferred by professional because they come extremely close to producing the same resistance experience you get from actually rowing on the water.
Magnetic Resistance Rowing Machines
Magnetic resistance rowing machines work by using strong magnets and the spinning flywheel attached to the handle by a chain. You can adjust the resistance levels yourself with mechanical sliders or on the monitor. They generally take up less space and are quieter than other models. If you are looking for a truly authentic experience, you may not like as they produce constant resistance.
Piston Resistance Rowing Machines
Piston resistance rowers are normally the cheapest rowing machines on the market. They work with hydraulic cylinders attached to the handles which are adjustable. When you use the handles, the length becomes fixed. This makes the stroke much less accurate than on other kinds of machines. They also have a fixed position seat which alters the leg drive depending on the user's height. Because leg drive is important in competitive rowing, this type of rowing exercise machine is usually not suitable for a professional rower.
---
Top 5 Rowing Machine Picks
#Genki Hydraulic Exercise Rowing Machine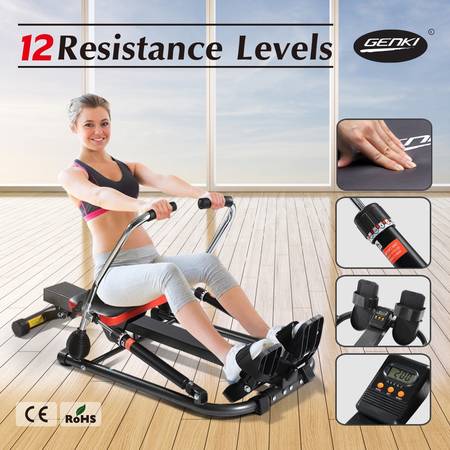 ➡ CHECK LATEST PRICE ON CRAZYSALES
Features
🔺12 Resistance Levels
🔺 Multifunctional LCD Display
🔺 Full Body Workout
🔺 Strong Tubular Steel Framework
🔺 Smooth Magnetic Resistance
🔺 150KG Maximum Weight Capacity
The rowing machine is ideal for working large muscle groups such as your back, legs, arms and abs, and providing you great cardio simultaneously. With 12 resistance levels, safety pedals and comfortable seat, it ensures comfort, safety as well as different rowing resistance feelings.
#Lifespan ROWER-441 Rowing Machine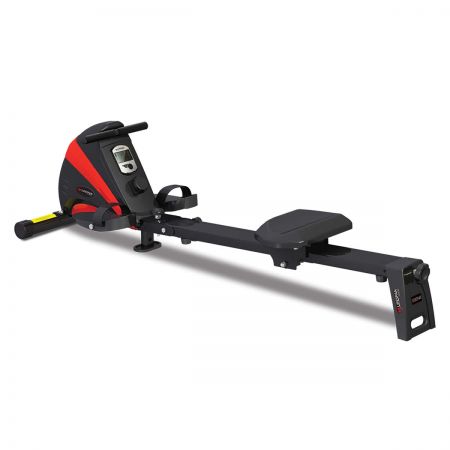 ➡ CHECK LATEST PRICE ON CRAZYSALES
Features
🔺 Magnetic Resistance with Adjustable Tension
🔺 Large LCD Display
🔺 Heavy Duty Flywheel
🔺 Large Foot Pedals with Foot Straps
🔺 Tubular Steel Framework
🔺 120KG Maximum Weight Capacity
The rowing machine features a smooth 4-roller system with a smart LCD computer which shows time, calories, stroke count and strokes each minute. It operates through a magnetic flywheel drivetrain and has different levels of resistance.
#Genki Rowing Machine Magnetic Fitness Exercise Equipment Home Workout Rower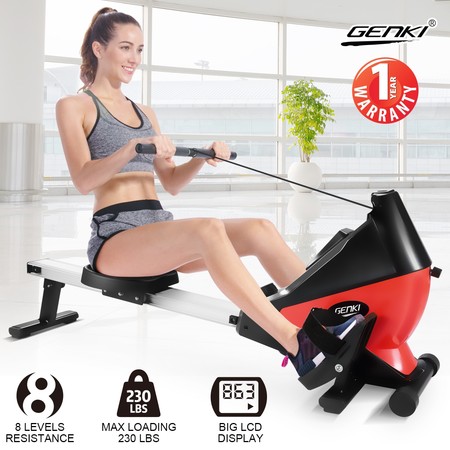 ➡ CHECK LATEST PRICE ON CRAZYSALES
Features
🔺 8 Magnetic Resistance Levels
🔺 LCD Display
🔺 Fully Padded Seat
🔺 Non-slip Grip Handlebars
🔺 Large Anti-slip Pivoting Foot Pedals
🔺 104KG Maximum Weight Capacity
Featuring 8 adjustable resistance levels, the rower meets your different training purposes. The large LCD monitor displays time, count, distance, calories and strokes per minute for everyday workout routines. The foldable, portable and compact design makes it easier to store.
#Genki Magnetic Exercise Rowing Machine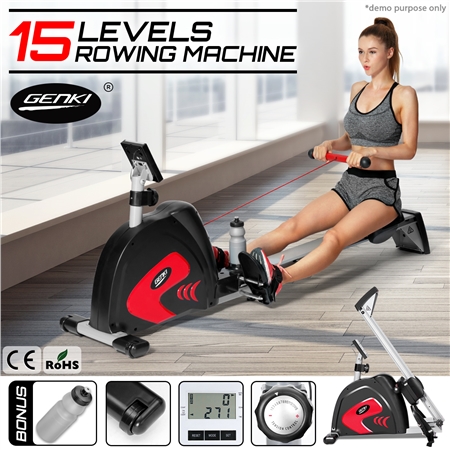 ➡ CHECK LATEST PRICE ON CRAZYSALES
Features
🔺 15 Magnetic Resistance Levels
🔺 Strong Tubular Steel Framework
🔺 Big LCD Display
🔺 Wheel Glide Rail System
🔺 Safety Pedals & Heavy-duty Flywheel
🔺 200KG Maximum Weight Capacity
Equipped with a large LCD display console and an adjustable seat cap, this rowing machine is ideal for home fitness routines. The anti-slip pedals with adjustable foot straps ensure secure smooth glides. Row your way to shape with this amazing fitness machine!
#Everfit Rowing Machine with Air Resistance System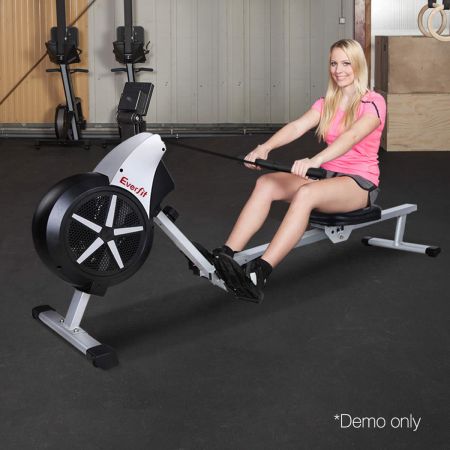 ➡ CHECK LATEST PRICE ON CRAZYSALES
Features
🔺 Air Resistance System with 10 Resistance Levels
🔺 Big LCD Display
🔺 Durable Steel Wheel Glide Rail System
🔺 Comfortable Moulded Seat
🔺 Non-slip Stand & Adjustable Footrest
🔺 150KG Maximum Weight Capacity
The wheel glide rail system is made of durable steel while the molded seat and adjustable footrest let you work out safely can comfortably. You can easily check out your workout rate to ensure desired results.
---
Conclusion
Fitness should be the mantra in every individual's life and rowing exercise has become more convenient and affordable. Want to get back in shape, order one right now and get yourself working out at the comfort of your home.