A vacuum cleaner has become a necessity in most families to get thoroughly clean floor, whether you're an experienced housewife or a single who're tired of chores. But there're so many types of vacuum cleaners on the market that it may be confusing to make a choice. At CrazySales, we've stocked bagless vacuum cleaners (equipped with a canister), handheld vacuum cleaners and automatic robot vacuum cleaners for sale. In the following we'll make a comparison among the three types of vacuums and deliver a detailed vacuum cleaner review Australia, so as to help you find the vacuum cleaner that fits your needs.
---
Types of Vacuum Cleaner
All vacuum cleaners can be divided into a large number of vacuuming machines, such as bagged and bagless, upright and canister, handheld and robot, wet and dry… Here we have reviews of three major vacuum cleaners: bagless, handhelds, and robots.
Bagless, Handheld & Robot Vacuum Cleaner Comparison
| | | | |
| --- | --- | --- | --- |
| Vacuum Types | Bagless Vacuum Cleaners | Handheld Vacuum Cleaners | Robot Vacuum Cleaners |
| CrazySales Price | $59.97-$109.96 | $5.99-$52.95 | $149.88-$349.88 |
| Cleaning Performance | No suction loss, perfect for deep cleaning. | Surface dust and spills, especially for crack and crevice cleaning. | Sucking dust and spills on bare floor and carpets, perfect for frequent daily cleaning |
| Mopping Function | Yes | Some have a bonus mopping head. | Yes |
| Manoeuvrability | Most carry a canister and a hose or a stick. | Small and light; one hand can hold.it with a handle. | Automatically move, a walking cleaning robot. |
| Match Floor Material | Basic ceramic flooring, wooden floor, wool carpeting. | Car seat, furniture surface, and leather bags etc. | Wooden floor, marble and brick floor. |
| Corner/ Death Edge Cleaning | Physical operation needed, not convenient for cleaning stairs. | Handheld design allows them to clean tiny corners effortlessly. | Anti-collision and edge sensors. |
| Particle Sucked | Particles with size similar to coins, seeds, beans and biscuits | Common dust and spills | Mites, parasitic ovum, pathogenic bacteria |
Bagless & Canister Vacuum Cleaners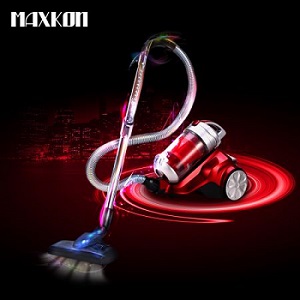 Our bagless vacuum cleaners are also canister vacuum cleaners, which carry a canister and a hose or stick for you to hold. Compared to the bagged vacuum cleaners, bagless vacuums don't have the dust bag that requires frequent changes. In the long term, it can save a lot on buying the dust bags. But no matter which bagless vacuum cleaners you choose, it still comes down to removing a container full of dust and allergens and dumping the trash into a bin carefully. Otherwise a cloud of dust and allergens will come back to the indoor air.
Compared to handheld vacuums and robotic vacuuming machines, bagless vacuum cleaners can beat them with the deep cleaning ability. With a powerful motor and a flexible hose with large nozzle, it can help you suck all particles from cigarette butts to tiny dust. In a word, our bagless vacuum cleaners can do a great job on deep cleaning.
Dust and allergens do not only stay on the floor, but also lie in your furniture, car seats, windows and wall. Those are the places that canister vacuums and robot vacuum cleaners can reach. For these places, you need a mini handheld vacuum cleaners to vacuum all dust and spills. Daily vacuuming of your bed, couch, and car seats is necessary, especially you're a pet owner. Handheld vacuums are also perfect for cleaning hidden dust in the crevices and gaps. Some of them are even equipped with a storage bag, which is available to carry it around.
Robot vacuum cleaners are the most high-tech models among vacuums. They don't require any physical efforts and even your attention to watch out. All you need to do is setting cleaning programme and cleaning time. Then you can let it go around and clean. Most of them are equipped with anti-collision function and edge sensors. Automatic charge is also available for some devices when they run out of power.It seems that it's a flawless vacuum cleaner with automatic configuration and basic cleaning ability.
However, only one con of robot vacuum cleaners is that it's not suitable for deep cleaning,thought frankly speaking it's a flawless device for daily mopping and sweeping.
---
Nowadays technologies have made vacuum cleaners vacuum easier and faster, hence buying a vacuum cleaner isn't a luxurious purchase any more. To relieve yourself from tedious mopping chores, buy one vacuum machine at CrazySales after reading the vacuum cleaner review Australia!