Looking for something interesting to get into this weekend? Here's a summary of events taking place near you.
---
Adelaide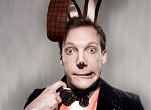 A family-friendly musical fantasy made its South Australian debut this month at the Adelaide Festival Centre. Presented by the State Theatre Company of South Australia along with Sydney's Griffin Theatre Company, Masquerade intertwines writer Kate Mulvany's childhood memories with British illustrator Kit William's best-selling 1970s children's book.
Clad in a silver wig and pearlescent dress, Kate Cheel is The Moon, who has fallen in love with The Sun, played by Balkan cabaret crooner and guitarist Mikelangelo. Unable to contain her love for him any longer, she bids her floppy-eared servant Jack Hare (Nathan O'Keefe) deliver a message to him in the form of a riddle, and a hare-shaped amulet made of a jewel from each corner of the Earth. But there is a catch: the message must be delivered by sundown or Jack will be banished forever. Find out more.
---
Brisbane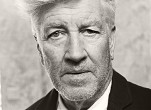 This 50-year retrospective, which considers David Lynch's practice across all media, will feature rarely seen paintings and drawing from the mid 1960s and will also include lithographs, photograph, films, video and television work. A complementary program of events around the exhibition includes the artist in-conversation, and special musical performances.
Curator José Da Silva says the exhibition explores three ideas that connect Lynch's practice across art, cinema and music: 'man and machine', 'the extra-ordinary' and 'psychic aches'. Find out more.
---
Perth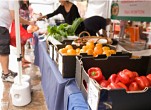 Looking for something to do on your lazy Sundays? Perth Home Grown Markets brings sustainable living to the city every Sunday, selling organic produce, tasty preserves and homemade wares.
You'll be able to stock up on fresh fruit and veg, organic meat, free-range eggs, nuts, chutneys, spices, organic teas and an array of freshly cut herbs and flowers.
Swing by for lunch or brunch and choose from freshly made goods like pies, pizza, paella, crepes and cupcakes. The homegrown vibe continues into the arvo with live and local musicians entertaining the crowd. Find out more.
---
Melbourne

It's the ultimate pop princess's birthday, and while it's never polite to mention a lady's age, it's always appropriate to celebrate her birthday, and that's exactly what the GH Hotel will be doing. It'll be an orgy of feathers and glitter as the adoring crowd dances to back-to-back Kylie songs from DJs Mary Mary, and a special performance by Millie Minogue and her dancing boys and girls – of course. Find out more.
---
Sydney

Ever wanted to play Nintendo 64 in a nightclub? Well here's your chance. Press Play will be taking over Soho's XX Pop-Up Club for a night of gaming, music and art. There will be a Super Smash Brothers Nintendo 64 tournament in which 16 teams and 64 participants will battle it out for the champion position. Find out more.
---