Love Toast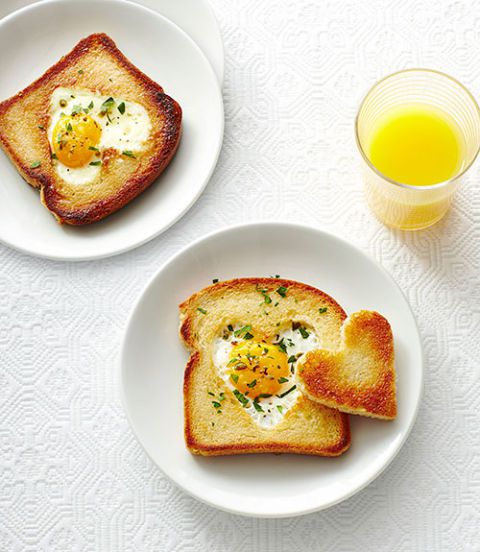 INGREDIENTS
2 slice white sandwich bread
4 tsp. mayonnaise
1 tbsp. butter
2 large eggs
salt
Pepper
Finely chopped capers
Finely chopped fresh herbs
DIRECTIONS
Spread mayonnaise on both sides of 2 slices white sandwich bread. With medium heart-shaped cookie cutter, cut centers from bread.
In 12-inch nonstick skillet, melt butter on medium. Add bread (and centers) to skillet. Cook 5 minutes or until golden brown. Turn bread over. To each heart-shaped hole, add 1 large egg; sprinkle eggs with pinch of salt and pepper.
Reduce heat to medium-low. Cook 5 to 7 minutes, or until whites are set. Sprinkle with finely chopped capers and herbs (such as parsley, chives or basil) if desired.
---
Chocolate Lovebugs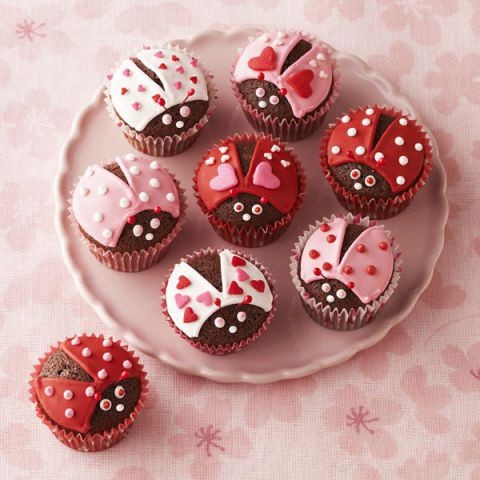 INGREDIENTS
Cupcakes
Mini paper liners
c. granulated sugar
1/2 c. all-purpose flour
3 tbsp. unsweetened dark cocoa
1 tsp. baking powder
1/4 tsp. kosher salt
4 large egg whites
2 tbsp. canola oil
1 tsp. pure vanilla extract
2 oz. bittersweet chocolate
Royal Icing and Decorations
3 large egg whites
1/2 tsp. cream of tartar
1 lb. confectioners' sugar
Red gel food colouring
Red, pink, and white medium nonpareils
Red, pink, and white sugar hearts
Sanding sugar
DIRECTIONS
To make the cupcakes:
Heat oven to 400 degrees F. Line a 24-cup mini muffin pan with paper liners.
In a large bowl, sift together the sugar, flour, cocoa, baking powder, and salt. In a medium bowl, whisk the egg whites until foamy, then whisk in the oil, and vanilla. Add the egg white mixture to the flour mixture, stirring just until moistened. Fold in the chocolate.
Divide the batter among the lined muffin cups and bake until a wooden pick inserted into the centre comes out clean, 7 to 9 minutes. Remove from pans and let cool on wire racks. Decorate as desired.
To make the icing:
Using an electric mixer, beat the egg whites and cream of tartar on medium-high speed until foamy, about 1 minute. Reduce the speed to low and gradually add the sugar, beating until just incorporated. Increase the speed to high and beat until medium-stiff glossy peaks forms, 5 to 7 minutes.
Separate into bowls and tint different colours. Transfer 1/3 of each colour to separate pastry bags fitted with fine tips. Use a few drops of water to thin the icing remaining in the bowls for flooding: place in separate resealable bags; snip off the corners.
Using the thicker icing, outline the lovebug wings on the cupcakes, then flood using the thinner icing. Decorate while the icing is still wet. For multiple colours, let each icing dry before applying another.
---
Molten Chocolate Lava Cakes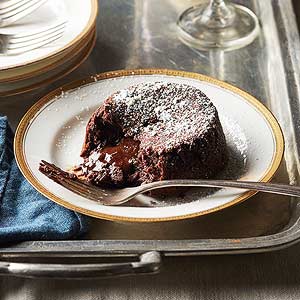 INGREDIENTS
2 tablespoons butter
8 ounces bittersweet chocolate, coarsely chopped
3/4 cup butter
3 eggs
3 egg yolks
1/3 cup granulated sugar
1 teaspoon vanilla
1 tablespoon all-purpose flour
Powdered sugar
DIRECTIONS
Using the 2 tablespoons butter, grease six 8- to 10-ounce ramekins, soufflé dishes or custard cups. Place ramekins in a 15x10x1-inch baking pan; set aside. In a heavy small saucepan, combine chocolate and the 3/4 cup butter. Cook and stir over low heat until chocolate melts. Remove pan from heat; set aside.
In a large mixing bowl, beat eggs, egg yolks, granulated sugar and vanilla with an electric mixer on high speed for 8 to 10 minutes or until thick and lemon colored. Fold one-third of the chocolate mixture into egg mixture. Fold remaining chocolate mixture and flour into egg mixture. Spoon about 2/3 cup batter into each prepared ramekin, dividing evenly.
Bake in a 425 degree F oven about 12 minutes or until cake edges feel firm. Cool in ramekins on a wire rack for 2 to 3 minutes. Using a knife, loosen cake from sides of ramekins. Invert onto dessert plates. Sift with powdered sugar. Garnish with fresh raspberries and mint leaves if desired. Serve immediately. Makes 6 servings.
---
Double Thumbprint Cookies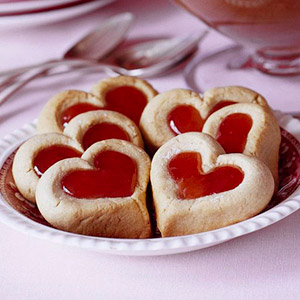 INGREDIENTS
1/2 cup butter, softened
1/4 cup granulated sugar
1/4 cup packed brown sugar
1 teaspoon baking powder
1/2 teaspoon salt
1 egg
1 tablespoon milk
1 teaspoon vanilla
2 cups all-purpose flour
1/4-1/3 cup cherry jam or preserves, or seedless raspberry preserves
DIRECTIONS
Preheat oven to 375 degree F (191 degree C). In a large bowl beat butter with an electric mixer on medium to high speed for 30 seconds. Add granulated sugar, brown sugar, baking powder, and salt.
Beat until mixture is combined, scraping sides of bowl occasionally. Beat in egg, milk, and vanilla until combined. Beat in as much of the flour as you can with the mixer. Stir in any remaining flour.
Shape dough into 3/4-inch balls. For each cookie on an ungreased or parchment paper-lined cookie sheet place 2 dough balls side by side with one side touching. Press thumbs into each ball to form an indentation in each. Press in center of each with thumb and taper bottom of cookie with fingers to form a heart shape. Repeat with remaining dough balls, leaving about 2 inches between cookies.
Bake for 7 to 9 minutes or until edges are lightly browned. Remove from oven and transfer cookies to a wire rack. While warm, fill each indentation with jam or preserves (if necessary, snip any large pieces of fruit). Cool completely. Makes about 30 cookies.
---
Hidden heart cake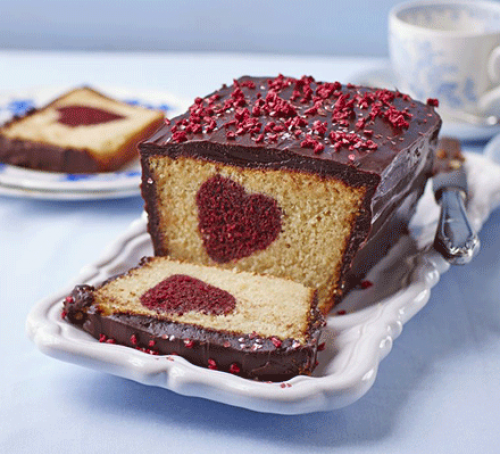 INGREDIENTS
For the cake
2 x 175g unsalted butter, softened
2 x 175g golden caster sugar
6 large eggs
2 x 140g self-raising flour, sifted
2 x ½ tsp baking powder
3 tbsp cocoa powder
2 x 85g ground almond
2 x 100ml milk
3 tsp vanilla extract
28ml bottle red food colouring or ½ tsp red food colouring gel
For the icing
100ml double cream
200g dark chocolate, finely chopped
50g unsalted butter
pink sprinkles (optional)
DIRECTIONS
Heat oven to 160C/140C fan/gas 3. Grease a 900g loaf tin and line with a long strip of baking parchment. Cream 175g butter and 175g sugar until light and fluffy. Beat 3 of the eggs and pour in, a little at a time, mixing after each addition. Sift together 140g flour, 1⁄2 tsp baking powder and the cocoa, then fold into the butter mixture along with the almonds. Combine 100ml milk, 11⁄2 tsp vanilla and all the food colouring and add to the batter, then mix until evenly coloured.
Pour into the prepared loaf tin and bake for 1 hr 10 mins until a skewer comes out clean. Cool for 10 mins in the tin, then transfer to a wire rack. When cool, cut the cake into 4cm slices. Using a 5cm cutter, stamp out the hearts (save any remaining cake for another treat).
Repeat step 1 to make a second cake mixture – you won't have cocoa or food colour in this batch. Pour 3⁄4 of the mixture into the prepared loaf tin. Push the bottoms of the hearts into the batter in a tightly packed row. Spoon over the remaining cake mixture, covering as much of the hearts as possible. bake for 1 hr or until a skewer comes out clean. Cool for 10 mins in the tin, then transfer to a wire rack to cool completely.
For the icing, gently heat all the ingredients over a low heat until combined. Leave to cool, then chill until needed. Spread over the cooled cake and decorate with the sprinkles, if using. Will keep for 3 days stored in a cake tin.
---
To sum up, a quality oven is a necessary kitchen appliance for different occasions. Now that you've inspired to these beautiful and delicious baking recipes, it's time to start shopping for an inexpensive yet high-quality oven!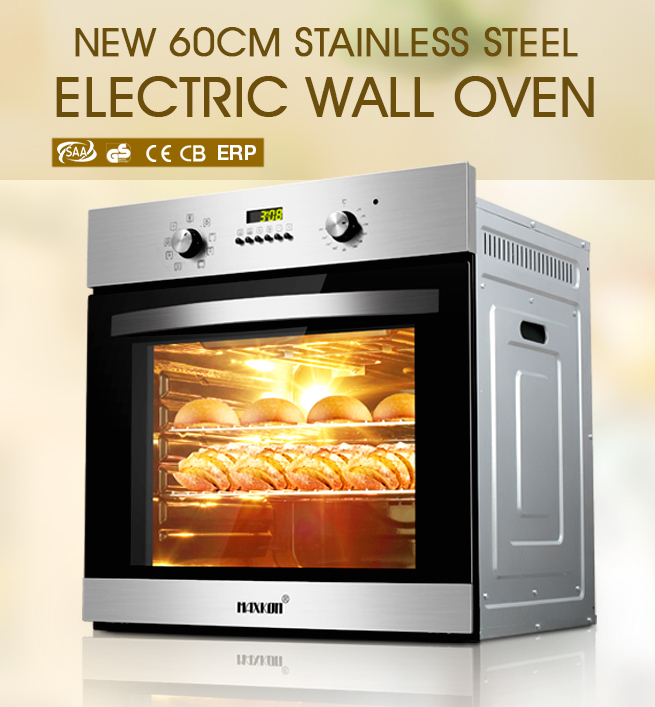 This 60cm High Electric Wall Oven with 8 Functions is what you need for cooking a perfect meal. Equipped with a 2-knob controller, an automatic timer and a large viewing window, this oven allows you to safely prepare meat, bake cakes or warm up prepared food. The adjustable shelf provides space for large or small pots and pans. The cool touch glass and aluminium handle ensure safety as you move freely around the kitchen. Its digital clock helps keep track of meal preparation time. Save space and cook with the utmost convenience with this high quality built-in wall oven! If you're looking for a best-selling countertop oven, click here to find out more >>> CrazySales Ovens
References:
http://www.womansday.com/food-recipes/food-drinks/recipes/a40385/love-toast-recipe-ghk0215/
http://www.womansday.com/food-recipes/food-drinks/recipes/a12547/chocolate-lovebugs-recipe-wdy0215/
http://www.midwestliving.com/recipe/chocolate-cakes/molten-chocolate-lava-cakes
http://www.midwestliving.com/recipe/cookies/double-thumbprint-cookies
https://www.bbcgoodfood.com/recipes/hidden-heart-cake