It's not surprising that you have to give up fried food due to the health issues. But after getting an air fryer, you can eat healthier without sacrificing the taste of fried food. Now we'd like to recommend five most popular airfryer recipes that can bring you healthy diet and delicious taste.
Here're the healthy air-fried dishes and snacks that need little time and cooking skills. Enjoy the oil-free fried food with one of our Air Fryers on Sale at CrazySales!
---
Ingredients: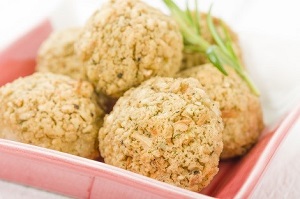 100g Sausage Meat
½ Small Onion (peeled and diced)
½ Tsp Garlic Puree
1Tsp Sage
3Tbsp Breadcrumbs
Salt & Pepper
Instruction:
Place your ingredients into a mixing bowl and mix well.
Form into medium sized balls and place them in the Air Fryer
Cook at 180c for 15 minutes and then serve.
---
Ingredients: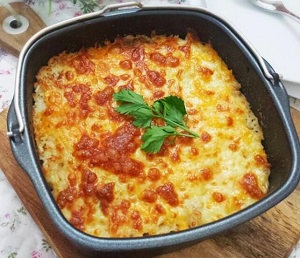 2 pax overnight cooked rice
1 tbsp butter
4 garlic cloves (minced)
3 tbsp of broccoli florets
2 tbsp of carrot cubes
1 veal sausage (sliced)
8-10 tbsp of creamy butter sauce
3 tbsp of shredded cheddar cheese
2 tbsp of shredded mozzarella cheese
Instruction:
Preheat air fryer for 3-5mins at temperature 180C.
Melt butter inside baking pan for about 1-2mins.
Saute minced garlic for about 1-2mins or until fragrant.
Add in broccoli florets and carrot cubes to fry for 3-4mins.
Add a little water will help to speed up the softening.
Add sausage slices and cook for 2-3mins or until they turn slightly browned.
Add in the rice and mix well.
Pour in the enough creamy sauce and mix well, level the rice with a ladle.
Sprinkle cheese evenly and air fry for 8-10mins. Above photo was done in 8mins.
---
Ingredients: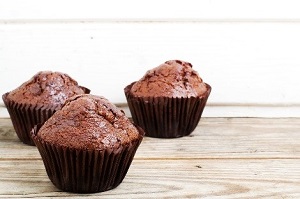 200g Self Raising
225 Caster Sugar
25g Cocoa Powder
75g Milk Chocolate
100g Butter
2 Medium Eggs
5Tbsp Milk
Water
1/2 Tsp Vanilla Essence
Instruction:
Preheat the airfryer to 180c.
Mix the flour, sugar and cocoa in a large mixing bowl.
Rub in the butter until have a breadcrumbs consistency.
Crack the eggs into a small mixing bowl, add the milk and mix well.
Add the egg/milk mixture into the large mixing bowl and mix well.
Add the vanilla essence, mix well and then add a little water if it is too thick. You should now have something that resembles a bun mix.
Using a rolling pin bash your milk chocolate in a sandwich bag until they are a mix of sizes. Add it to the bowl and mix again for the last time.
Spoon into little bun cases and place in the airfryer.
Cook for 9 minutes on 180c followed by 6 minutes on 160c.
---
Ingredients: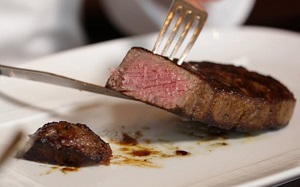 Steak with thickness about 3 cm
Salt
Pepper
Olive oil
Instruction:
Place the baking tray into your air fryer.
Pre-heat the machine first in about 5 minutes.
Have your steak coated with olive oil at both sides.
Season the two sides of the steak with pepper and salt.
Put the steak into the baking tray of the air fryer and set the air fryer timer in 3 minutes.
After 3 minutes, turn the steak into the other side and set the timer in another 3minutes.
Take the steak out, rest it for about 3 minutes and enjoy the masterpieces.
---
Ingredients: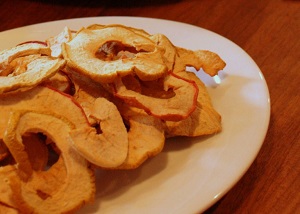 1 apple
½ teaspoon of ground cinnamon
1 tablespoon of sugar
A pinch of Kosher salt
Instruction:
Preheat your sir fryer to 390 degrees.
Clean, peel and core the apple, and slice it into thinly sliced pieces.
Place the apple slices on a baking sheet.
Mix the cinnamon, sugar and salt in a bowl and sprinkle the mixture over the apples.
Place the apple slices in the fryer basket and place them in the air fryer.
Cook for about 7 minutes, or until golden brown, turning halfway through cooking.
---
Air fryers must be one of set-and-go kitchen appliances to cook a wide range of dishes and snacks, with oil-free technology. Since you've been inspired by the simple and attractive healthy air fryer recipes, why not grab one and perform your cooking right now? If you still have questions about choosing a helpful airfryer, check out our Air Fryer Review: How Do Air Fryers Work? Maxkon Airfryer VS Philips Air Fryer Reviews