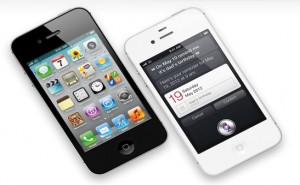 The long wait for iPhone5 will continue as the rushing excitement over what's next to iPhone4 has ended with the official launch of iPhone4 S. All the circulating news about this iPhone4 S is true, after all. And iPhone5? It is still yet to be unveiled. The desperate fans are still endlessly waiting for more news about the next big thing in the smartphone market.
Besides, iPhone4S can never kill the competition even if it has faster dual-core iOS5 processor, better 8-megapixel camera with flash, better video recording with 1090p at 30fps, and wider coverage compared to its predecessor.
One more thing, it has Siri, the intelligent voice assistant. Some of the much-awaited software upgrades on iPhone5 are already there. Yet still, these upgrades are not enough to kill the competition. Will iPhone5 do it? Well, it certainly must beat the competition.
Faster processor. Although iPhone4S has upgraded to a dual-core, its speed is not yet enough to be the fastest smartphone today. So iPhone5 must be the king of speed again.
New OS. Every iPhone model is always partnered with a new operating system. So far, iOS 5 is the newest pair for the newly launched iPhone4S. What's next for iPhone5? It must be the iOS 6. There's a high chance that Apple will not make a new platform for iPhone5 but maybe a new version of the newest iOS. It could be iOS 5.3 or 5.7? Whatever it is, it must be a new OS to support about 200 more features.
Better display. iPhone5 will most likely use the Quantum Dot LED to give competitive OLED-quality display while conserving power. It will have a curved glass display also to give more privacy. And lastly, while iPhone 4S has 3.5-inch screen, the Apple iPhone5 is believed to be having a bigger display at 4-inch or at least 3.7-inch.
4G, WiMAX, and LTE. There has been news that Apple is testing a new phone to work on a 4G and equivalent networks. It's definitely not iPhone4S. So will it be included in the features of iPhone5? With enough leeway for Apple, it will be a shame not to have 4G, WiMAX, and LTE on the next iPhone release.
Longer battery life. iPhone4 S can last up to 8 hours talk time on 3G. iPhone models have always had better battery life than their predecessor so expect that the features of iPhone5 will most likely have that too.
As always, there are huge expectations from iPhone5 especially that the newest iPhone4S can still be matched by its closest rivals. The next Apple iPhone must kill the competition with mind-blowing new features so that in the end, it will not only be on top of the game but set the new smartphone trend again.