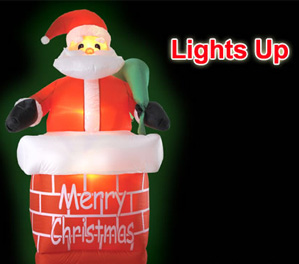 Be brave to try something new for this year's Christmas and get some inflatable Christmas decorations! Not yet aware of its benefits? Here are the fascinating reasons why this year's Christmas will never be complete without inflatable decorations.
1. Easy to set-up. How many hours do you spend decorating the traditional Christmas tree? With the inflatable Christmas tree with inside lights, decorating will only need a few minutes of your time. Simply put it anywhere you like, turn its built-in fan on, and have fun watching it as it self-inflates from being a flat flame-retardant fabric to a full-blown Christmas tree! Now you're done setting up the Christmas tree.
2. Family-friendly. Naughty rugrats are just too naughty to help in the decoration. Well not anymore with inflatable decorations. The little ones can help set up Father Christmas whether inside or outside the house. Get the simplest inflatable Santa with inside lights for the living room or Santa in Hot Rod Car for the patio. Help the kids to turn on the fan and watch the decorations grow and grow and grow. Now turn the lights on and tada! Kids have finally set up easy Santa decorations.
3. Perfect anywhere. No need to resist the temptation to decorate the roof or the chimney. Get outdoor-compatible inflatable decorations like the waterproof Santa climbing up ladder into chimney. Let Daddy put it on the roof, turn on the built-in fan for self-inflation, watch as the Santa decoration comes to life, and turn its light on. Not only on the rooftop, outdoor inflatable decorations can be placed anywhere- besides the gate, on top of the tree, near the pond or pool, and even in the middle of a lonely lawn.
4. Light and safe. Displaying huge decorations on the roof may cause accident if improperly installed but not with inflatable Christmas decorations. It may fall but will never hurt anyone. An inflatable Snowglobe with lights for example, can be installed anywhere even if it is a meter tall. They are also made of fire retardant fabrics.
5. Easy to store. It's no fun removing and storing Christmas decorations. But with inflatable decorations, packing up is super easy, fast, and fun. Simply turn off the fan and they will self-deflate. Unplug them and they're now ready for the pack-up without eating up a lot of space.
So, do you know what you'll gonna add for this year's Christmas? Inflatable decorations, of course! It will be a shame to pass on this year's celebration without adding something interesting to your usual decorations. Having fun with the entire family will start right from setting up these easy inflatable Christmas decorations.