Christmas trees have been one among the Yuletide Season traditions since the 18th century, though the use of a tree for a happy celebration started in 15th century in the present-day Latvia and Estonia. Today, the Christmas tree tradition has spread all over the world. So no matter how many gifts there are in every Australian home, it wouldn't be the same without a Christmas tree.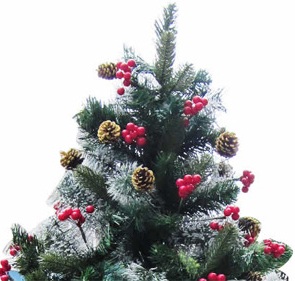 •Christmas tree with snow and pine cones. Christmas trees should have that festive look. And this type of Christmas tree has it right out of the box! It is already decorated with silver and gold pine cones, red berries, and realistic snow. The combination of red, silver, gold, and green brings in the spirit of the holiday season. Simply take it out and place it anywhere you like. Just don't forget to put the presents under the tree and place the star or angel on top of it and it's ready to amaze everyone. For a more festive look, add blinking Christmas lights, too.
•Christmas tree with fibre optic lights. Before the modern Christmas lights were invented, people were decorating real trees with real candles. Today, there's no need to add either candles or modern Christmas lights if you have a Christmas tree with fibre optics lights. Every single strand of this white Christmas tree lights up at the end, creating a very astonishing effect that can wow anyone. No need to add anything to it because it's already beautiful as it is. But for better effect, add a glowing angel or star and it will look even more astonishing.
•Pine needle Christmas tree. This is undoubtedly the most common of all Christmas trees. But unlike the first two, it doesn't have a festive look and doesn't light up on its own. All it has are realistic pine needles and a few brown pine cones. Well that's bare enough for anyone who wants to decorate a Christmas tree on their own with a fancy tinsel, Angel Yellow Christmas Lights, stars, ribbons, Christmas balls, golden snow, mini hanging gifts, candy canes, and whatever you want to hang from every branch of this tree.
You're sure to find the perfect Christmas tree for your home this holiday season. Explore, use your imagination, and you might be surprised that you are a creative Christmas tree decorator, after all.