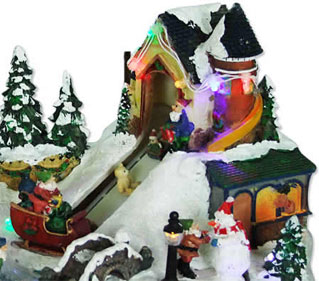 If you want to make everything in the home look festive, don't forget your dining table. You don't have to follow the same old boring table decoration this Christmas. Forget about that and try something new this year.
Take a look at these tips on how to dazzle up your celebration with these fresh Christmas table decorations:
•Festive Christmas foods. It's easy to forget how great the Christmas table decoration is if the foods are as festive as the occasion. But since it is Christmas, why don't you make a Christmas cake? The basic cake will do. Just add a Christmas themed frosting and decoration and that's it. But if you want something more special, then bake the cake using a pan with Christmas tree design. Simply frost it and it will already add to the Christmas spirit.
Don't forget the traditional Christmas cookies. Red and green star-shaped sweet cookies will be great. Better yet, get a complete Christmas baking set to create any baking goodies that will not only make the table look festive but will make the celebration tastes festive, too.
•Light up the celebration. If Christmas lights are used around the house, then why not on the table? Try to use the table display with fibre optics lights as a centerpiece. The glowing lights from the end of hundreds of fibre optic threads will liven up the table without making it too flashy.
The regular LED string lights will look great, too. How? Just stuff it into a big transparent vase or bowl. Add some crystals in the container and you'll see how fabulous it can be. The string lights may also be used for a mini Christmas tree on the table.
•Jazz up with music. No need to turn on a separate stereo just to listen to the Christmas melody. Simply add the Santa Train Musical decoration on the table and jazz up the celebration with familiar Christmas songs. This display has many colourful LED lights that will surely add to the table's festive look.
•Scent of Christmas. If aromatherapy can affect the senses, so as simple scents that you can make up for Christmas. Simply boil the peelings of oranges, apples, or any left-over fruits and the scent of Christmas will overflow in your home. Light up also some scented candles or some scented incense on the table. Make the scent even more appealing with a lit up oil burner inside the dining area.
Deciding on the Christmas table decorations will be easier if you have a theme. It can be colours or significant Christmas symbols. Just make sure that everything is in order and clean. And don't forget that a beautiful Christmas table decoration will only be complete if everyone in the family is there for this joyful celebration.