Summer and outdoor only mean one thing- barbeques! Australians are known for barbeques, anyway. But despite that partly true stereotyping, it is still a hassle for many Aussies to host a perfect BBQ party, especially large ones. Experience only fun, fun, and fun with these helpful BBQ accessories that will certainly make every BBQ party easy and hassle-free.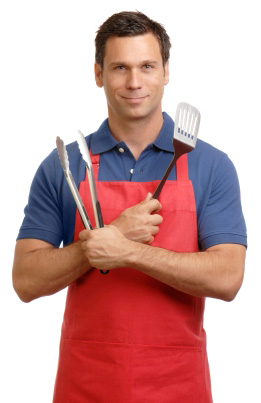 1. BBQ Grill. It will never be a BBQ party without the best full-size BBQ grill or mini portable BBQ. For this, you have two primary choices- coals or gas cylinder. If you are strict about BBQ tradition, then go with the coals. Coals are more economical, easy to setup, and give that unique smoky BBQ taste. Don't' forget to use a BBQ grill tool set to make your outdoor cooking much easier
Gas cylinder is cleaner, more convenient, more versatile, and cooks faster. Choose this to accommodate more hungry tummies or when your place prohibits using smoky coals. Just make sure that you get an electronic BBQ scale with this to know how much gas is left in the cylinder.
2. Basting bowl. Mix the perfect marinade and turn the dull and boring sausages and steak into tasty marinates. A basting bowl perfectly marinates food due to its intelligent depth. Many basting bowls in the market include a BBQ brush for diligent spreading of that flavourful marinade for the grilled food. It's a tougher work but the taste will be worth it.
3. Skewers. These can be made out of thin metals or clean wooden sticks. The metal skewers are more expensive but can be reused while the wooden skewers give that more natural appeal but they are more prone to burning. Skewers give that distinctive BBQ look for the marinated food. Plus, skewers make manual grilling a lot easier.
4. Thermometer. How will you know if that thick piece of steak is cooked enough? Check the meat's temperature using the BBQ thermometer. This handy device is much more important when grilling meat over coals.
5. BBQ Covers. After the successful BBQ party, never leave the BBQ grill exposed to anything damaging. Use a sturdy BBQ cover to protect the grill. Some recipes also call for a BBQ cover to speed up the cooking process.
Besides these five BBQ accessories, why don't you wear a chef hat and an apron too? Feel like a real BBQ chef with that 'costume.' Your guests will be more delighted if a 'chef' is serving them gourmet BBQ.
You might still need more practice on grilling and try more marinade recipes before hosting that perfect BBQ party. But with these BBQ accessories to help you, every summer or outdoor BBQ party will be more fun and easier.