What Is the Rowing Machine?

A rowing machine is a type of home or gym fitness equipment. It mimics the stroke of rowing a boat on the water, allowing users to achieve the purpose of exercising by repeating rowing action in the comfort of home or gym. Home rowers are perfect for full-body strength training, core training, low-impact workouts, low-intensity endurance development, and posture control. Typically, the machine works together with a data monitor, allowing you to track your fitness records and implement your fitness regime smoothly. It seems that indoor rowers can have you covered whatever goal you wish to reach.
Benefits of Rowing Machines
We highly recommend buying a rowing machine and setting up a compact fitness gym of your own. The rowing machine comes with many benefits which make it stand out among other cardio machines, and it suits a wider range of users' needs. Even the elderly who just start their first time of fitness training can find it easy to handle a rowing machine.
Full-Body Workout
The rower machine perfectly combines strength training and aerobic training. To do the strokes requires almost all of the body muscles to take part in the process, which is ideal for building strength and losing fat. Therefore, a rowing machine does a better job in full-body workouts in comparison with other cardiovascular equipment such as a tread miller, elliptical machine, spinning bike, exercise bike and stepper.
Here is the rank of aerobic training machines ordered by how many muscle groups they can mobilize: rowing machine>spinning bike>tread miller≥elliptical machine
Intensity Without Injury
Rowing exercise is surprisingly low-impact. Even at a high-intensity workout, it won't cause much tear and wear on your joints. This benefit makes the rowing machine a better choice when you want to do high-intensity exercises. Other high-intensity exercises like plyometrics and sprinting can pose tough challenges to your lower body.
Here is a ranking ordered by the impact damage they can do to your knee: tread miller> spinning bike> rowing machine> elliptical machines
Efficient Fat Loss
Capable of producing strength and cardio training effect, the rower is the unquestioned fat-burning machine. It burns calories amazingly and easily which is between 400 and 500 calories an hour, but it all depends on your weight and what rowing frequency you adopt.
Improve Aerobic Fitness
Stroking 15 minutes on the rower machine can be counted as an effective aerobic workout. It is perfect for those who have limited energy for fitness exercises. People with rowing training on their daily schedule seem to have better cardiovascular health, and show greater endurance and stamina in their features.
Improve Lower-Body Conditioning
Training on a rowing machine can fully mobilize your leg muscles. When you feel at home with the machine, your lower-body conditioning will be greatly improved. Also, you can use a rower machine for targeted leg exercises.
Build Better Posture
If you want to get an effective workout on the rowing machine, you will have to do it with the correct posture. Keeping in the correct posture helps strengthen the posterior chain of your back, which is important for balancing your muscle strength. Better still, it helps reduce back pain for those sedentary office workers.
Beginner Friendly
People like to go into McDonald's again and again because the restaurant serves very fast. Fast results are everyone's favourite. The rowing machine also includes the feature. It allows you to see and feel the results quickly, which can keep beginners' passion to hop on the rowing machine again and again. If you are new to aerobic exercises, the rowing machine should be your first choice.
The Types of Rowing Machine Resistance
Since you've learned the advantages of a rowing machine, you might want to buy one immediately. But hold on there, you won't be able to find the most suitable rower machine for your own if you do not know the difference between the varied types of rowing machine resistance.
Air Resistance Rowing Machines
Air rowers are the most popular model in the market even today. They come with a wider range of options, including affordable, great value options, high tech and expensive models, and thus able to suit a larger popularity's needs. The air resistance rowers are equipped with a flywheel and damper. When you stroke, the flywheel will suck in air and the damper will dictate how much air is allowed to enter the flywheel. The faster you row, the higher the resistance.
Water Resistance Rowing Machines
The biggest fun of using a water resistance rowing machine is that you can enjoy the realistic feel and sound of rowing on water. The water rowers are equipped with a transparent water tank, and at each row you can see the water flow and hear the water sound. They are heavy and have to work on a perfectly flat surface to function properly. Some water rowers offer adjustable resistance levels.
Magnetic Resistance Rowing Machine
This type of rowers relies on no water or air coming in or out. They adopt magnets to produce resistance, which means you can control the distance between the magnets to produce varied resistance levels. Typically, there is a dial on the magnetic rower for you to adjust the difficulty with ease. However, advanced technology often comes with high prices. Magnetic resistance rowing machines are usually more expensive than others.
Hydraulic Resistance Rowing Machines
The hydraulic resistance rowers differ greatly from the other three machines in the rowing manner. The hydraulic ones require you to pull two individual handles in an arced motion, which will make it harder to handle the techniques. They utilise cylinders or pistons to generate resistance.
The chart below has listed the advantages and disadvantages of all these four types of rowers. Hope it can help you make a correct purchase decision.
| | Advantages | Disadvantages | Noise rank (5>1) |
| --- | --- | --- | --- |
| Air Resistance | Your speed decides the difficulty; Lightweight; More affordable | Noisy; No difficulty settings | 5 |
| Water Resistance | Quiet; Realistic water rowing experience; Adjustment options | Difficult to adjust; Heavy, difficult to move around; Have to work on a flat surface | 3 |
| Magnetic Resistance | Almost silent; Easy to adjust; Varied resistance settings | Expensive; Less natural feeling | 1 |
| Hydraulic Resistance | Cheapest option; Small and easy to store | Less fun | 4 |
How to Choose the Best Rowing Machine After You've Chosen a Resistance Type?
Noise Level – If you have a grouchy neighbour who is touchy to noises, you must be careful with the noises that a rower machine can produce. Air resistance type might be the last option you would like to opt for.
Easy Maintenance – the maintenance of large equipment can be complex and expensive. Make sure you pick one that requires the least maintenance.
Foldable Size for Easy Storage – a limited living space will not welcome a cumbersome piece. There are many foldable rowing machines to choose from. If you don't want a rower to take up a lot of your floor space, opt for a foldable type for easy storage.
Best Rowing Machine Reviews at Crazysales
Buy the best rowing machines at Crazysales. Here are the top two best sellers of rower machines in our online shop. If you have no idea or any time to find out a suitable rowing machine, go to our website and pick anyone you like. We offer only reliable product and professional after-sale service. You can never go wrong with our high-quality and high-value rowing machines.
| Model | #1 - Genki Magnetic Exercise Rowing Machine | #2 - GENKI Water Rowing Machine Indoor Rower Water Resistance |
| --- | --- | --- |
| Product Size | 159 x 47x 89cm | 197 x 32 x 66cm |
| Weight | 23.6kg | 26.4kg |
| Max. User Weight | 120kg | 120kg |
| LCD Monitor | Scan, time, calories, RPM, count, distance | Scan, Time, Distance, Count, Calories, RPM |
| Resistance | Magnetic resistance | Water resistance |
| Adjustable Resistance Levels | 16 | Depends on your speed |
#1 – Genki Magnetic Exercise Rowing Machine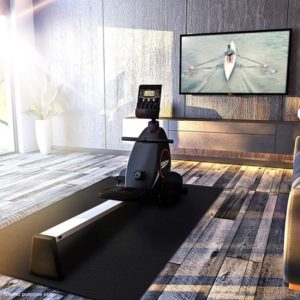 This Genki rowing machine comes with 16 adjustable levels of magnetic resistance. The magnetic resistance is smooth, quiet and strong enough for exercising your back, legs, arms and abs. The rower also features a large LCD monitor to track time, count, distance, calories, and strokes per minute. Better still, the large seat, non-slip handlebars, anti-slip foot pedals and adjustable foot straps are also included to offer you optimal comfort. The solid construction made of a steel frame is easy to maintain and can bear a maximum user weight of 120kg. It is foldable and comes with wheels.
#2 – GENKI Water Rowing Machine Indoor Rower Water Resistance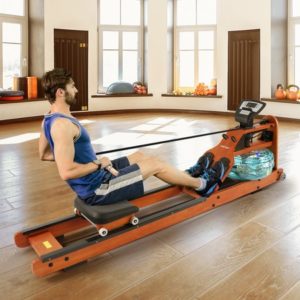 An exercise machine with a beautiful look will be more attractive for users to hop on. This water rower features a premium-quality construction, using 100% New Zealand natural wood and durable components. It is a masterpiece in any gym. The water resistance is smooth and powerful, and you can add or decrease water in its water tank to suit your fitness needs. It also comes with adjustable footplates, an ergonomic handle and a comfortable seat. The rowing machine is perfect for those who enjoy realistic water rowing.
Conclusion
Rowing machines offer the best choice for any levels of gym enthusiasts, as it covers leg training, back training, strength exercise, and a variety of other training needs, and it goes easy on your joints. Start or advance your gym career with indoor rowers right now.