Dream of having your own garden full of your favourite flowers or plants for thousands of times? How about building an indoor garden right now? Compared to outdoor gardens, indoor gardens are much easier to maintain and beneficial for us both physically and mentally through taking care of plants like growing, trimming, and watering.
Health & Benefits of Indoor Gardening
Make people happy (Nobody denies this.)
Build confidence and self-esteem by preparing, planting, nurturing and harvesting
Improve body strength naturally.
Alleviate the symptoms of stress, depression and anxiety at work and in life
Some plants like peace lilies, snake plants and spider plants, are good at improving the indoor air by absorbing the harmful toxic pollutants, such as benzene and formaldehyde
Brighten up the space and create a vibrant atmosphere
Preparation Before Gardening
Indoor gardening is suitable for different individuals, from young people with busy lifestyles to seniors who are already retired. Most houseplants are easier to care for and keep alive as their growing environment, temperature, humidity can be controlled. However, what do you need to prepare or consider before starting with your indoor gardening career?
First things first, find out how much space you have for your plants. For example, if you own a big sunroom or a greenhouse, you can grow anything you like. Otherwise, you have to grow small greens or flowers.
Decide what type of plants you're going to grow: greens, herbs or flowers. If you want to start with something easy, try plants like cacti, succulents, or peace lilies.
Pick up seeds, organic potting soil, and solid or liquid fertiliser at the local grocery store or online gardening shop.
Select a proper spot for your house plants. Some plants only need a little indirect light while others like fruiting or flowering plants tend to the area with a sunny or south-facing window.
Prepare regular or special gardening pots or containers with drainage holes, hanging baskets (if you like), watering cans.
Understand the needs of specific plants you're planning to grow and set a watering schedule around them for healthy growth.
Garden Supplies for An Easier Indoor Gardening
Growing a vibrant indoor garden isn't as easy as we might think, but there are always some ways to make things less complicated, such as adding grow lights and more. These simple and great gardening supplies will make your indoor gardening more efficient and easier, whether you are a novice or an experienced gardener. Now let's start with a list of the best garden supplies you need for fresh and healthy veggies, flowers and plants.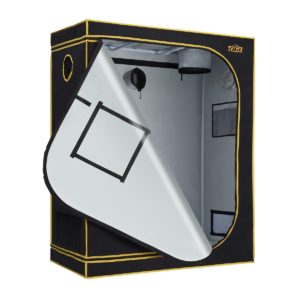 From plants and herbs to flowers and vegetables, grow tents are designed to suit every requirement of the greenery. The grow tent features strong galvanised steel construction, integrated with reflective materials, and heavy-duty 1680D oxford cloth. It offers a safe and stable environment with proper humidity and temperature for the growth of your greens. Moreover, multiple accessories, such as exhaust fans, carbon filters or other lighting kits can be added into the tent to accelerate the plant growth and keep them healthy.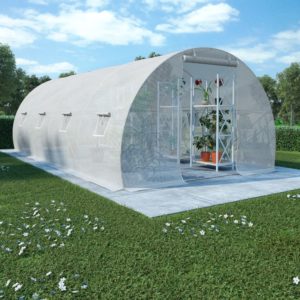 A greenhouse is a hotbed of wonders, which provides a constant temperature for your plants to grow through all four seasons. Thus, growing your favourite greenery will be possible even during challenging times. The greenhouse offers great protection against extreme weather conditions, such as hail or gale, while effectively keeping away from bugs, insects, birds and rodents. This greenhouse is made of a sturdy steel frame, integrated with durable PE cover which is designed with screen windows for ample ventilation.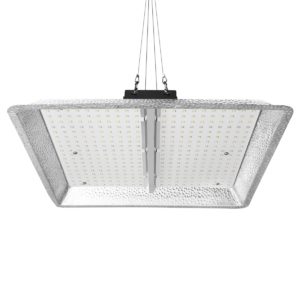 The use of LED grow lights can greatly increase the growth rate and yield of your plants, flowers or vegetables. This grow light offers a balanced full spectrum of lighting which mimic the natural outdoor sunlight to help plants grow healthier and faster. It is an eco-friendly, energy-saving and cost-effective solution alternative to a traditional lighting system. The LED light can be suspended above the plants at different heights to provide the perfect light for every stage of plant growth.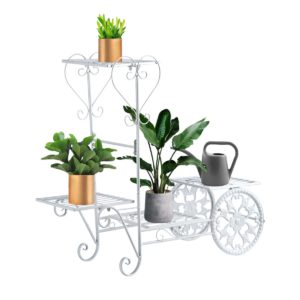 Plant stands with tiers or shelves will display your favourite houseplants in style as well as save space. The nicely-designed shape will surely lend a stylish touch to any home decoration. The durably built steel construction, along with powder coating, makes the stand strong, durable and resistant to rust and corrosion. Suitable for indoors and outdoors, this flower stand is odourless and safe for families with children and pets.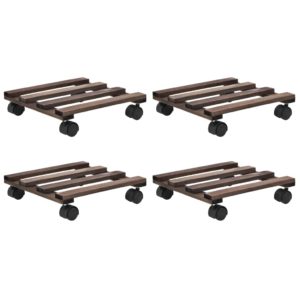 With these well-designed plant trolleys, moving around your potted plants for cleaning and rotating or other purposes will be effortless. The vintage cast iron look will lend a touch of style to any home decoration. They are all made from durable PP material, integrated with 360-degree rotatable castors which have brakes for extra stability and convenience. The plant caddies can be used outdoors as they have excellent resistance to UV rays and weather.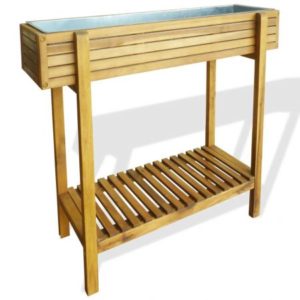 Suitable for growing a variety of flowers or plants, this versatile planter has a raised height, making it easier to water or trim plants without bending down. The solid acacia wood construction combines rust-resistant zinc lining and natural colour for long terms of use and beautiful home decoration. The shelf underneath allows you to store your gardening tools for easy access when needed.
Conclusion
Hopefully, these high-quality gardening supplies we listed above can help you start with your first indoor flower or plant garden or upgrade your current backyard garden. Together with your gardening knowledge and considerate care of plants, getting a veritable jungle of fruit, veggies, flowers or foliage is at your fingertips.