"Meow, meow…", the adorable voice of your cat friend surely make your heart melt for thousands of time. This is something that probably happens to every cat parent. These natural hunters can sneak into our hearts, bring us comfort, laugher and joy, and in return, we cat parents can't help but providing them with the most comfortable living space and accessories to keep them entertained.
Whether you are a new or experienced cat owner, we believe that you never stop giving them the best from sleeping area to playing area for a longer, happier and healthier life. Now, if you tend to try something new or replace the obsolete toys for your feline friends, you're in the right place. Let's dive in.
---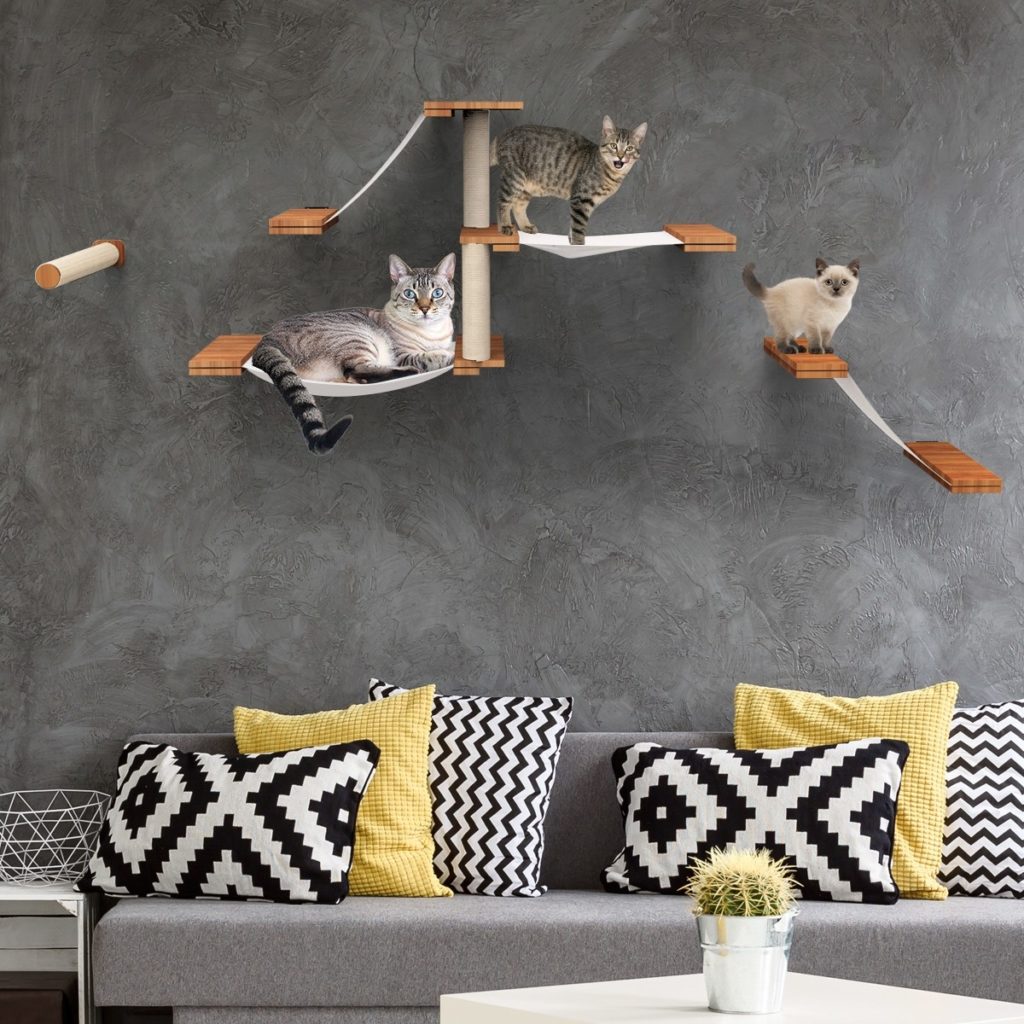 Cats enjoy being in high places, where they feel safer and more comfortable. Besides, they can keep an eye on the world around and below them when high up. As cat parents, we should cater to their instincts such as installing a wall climbing system at home and make them happy at all times.
The floating cat perch offers you a great chance to show your cats how much you care. Ideal for families with more than one cat, this perch allows your cats to jump back and forth to promote exercise. The perch set consists of high quality and eco-friendly materials, such as sisal scratching posts, solid wood and stainless-steel sheets, which are sturdy and durable to make both you and your cats feel safe and secure. The classic and elegant design with pearwood colours suits your home style whether it's modern, traditional, rustic or eclectic while encouraging a healthy lifestyle for your cat.
---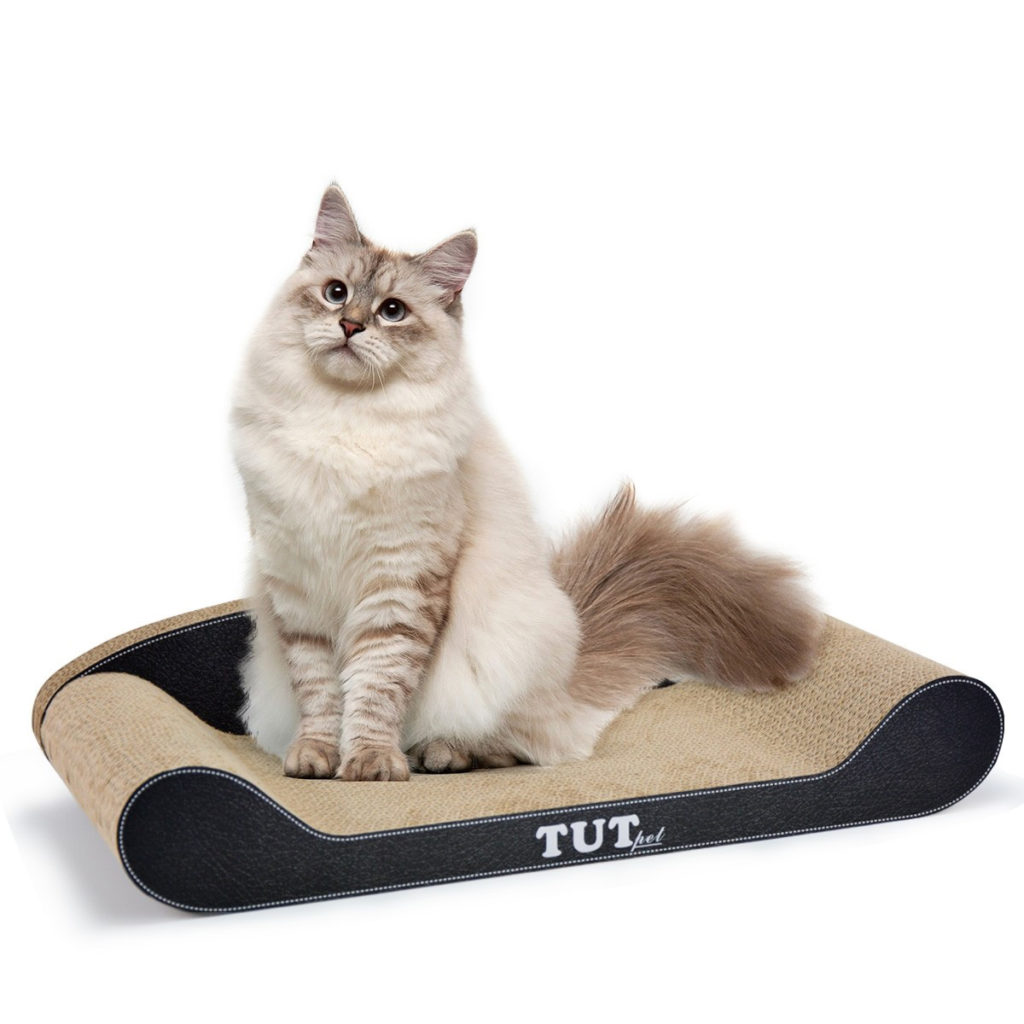 Scratching is an important activity for cats. This is not only cats' nature but also a way of marking their territory. If you want your curtain, carpet or couch away from their scratching, you'd better choose a better place like a scratcher to accommodate their paws.
The cat scratcher comes in a beautiful sofa shape which is sure to attract your cat's attention and enable them to sharpen their claws unconsciously. It can also be a lounge bed where your cat can stretch and snooze leisurely. The durably high-strength corrugated cardboard is environmentally friendly and safe for constant use. Besides, it looks perfect in any classic or modern home.
---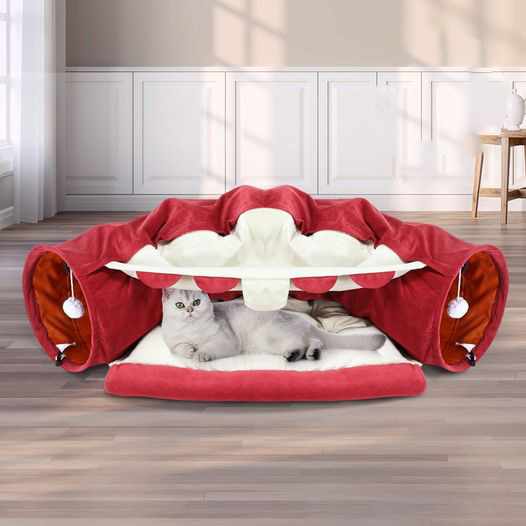 Most cat lovers agree that cats should have their own beds to nap and sleep, although sometimes they share the bed with us. Cats spend most of their time sleeping, therefore providing your feline with her or his own bed is much more important than you realize. It will give them better night's sleep as well as leave them feeling more happier.
Your picky feline will surely love this comfortable bed in a bright colour. The bed combines with a tunnel where your lovely cat can play hide-and-seek or chase around freely and happily. After playing time is over, they can curl up in the soft half-moon bed to take a nap or sleep comfortably. The hanging ball toys at the entrance will occupy your cat's time and give them lots of pleasure. This bed can hold a cat weighing up to 7.5kg. The distinctive design adds style to your home and matches any contemporary or traditional interior.
---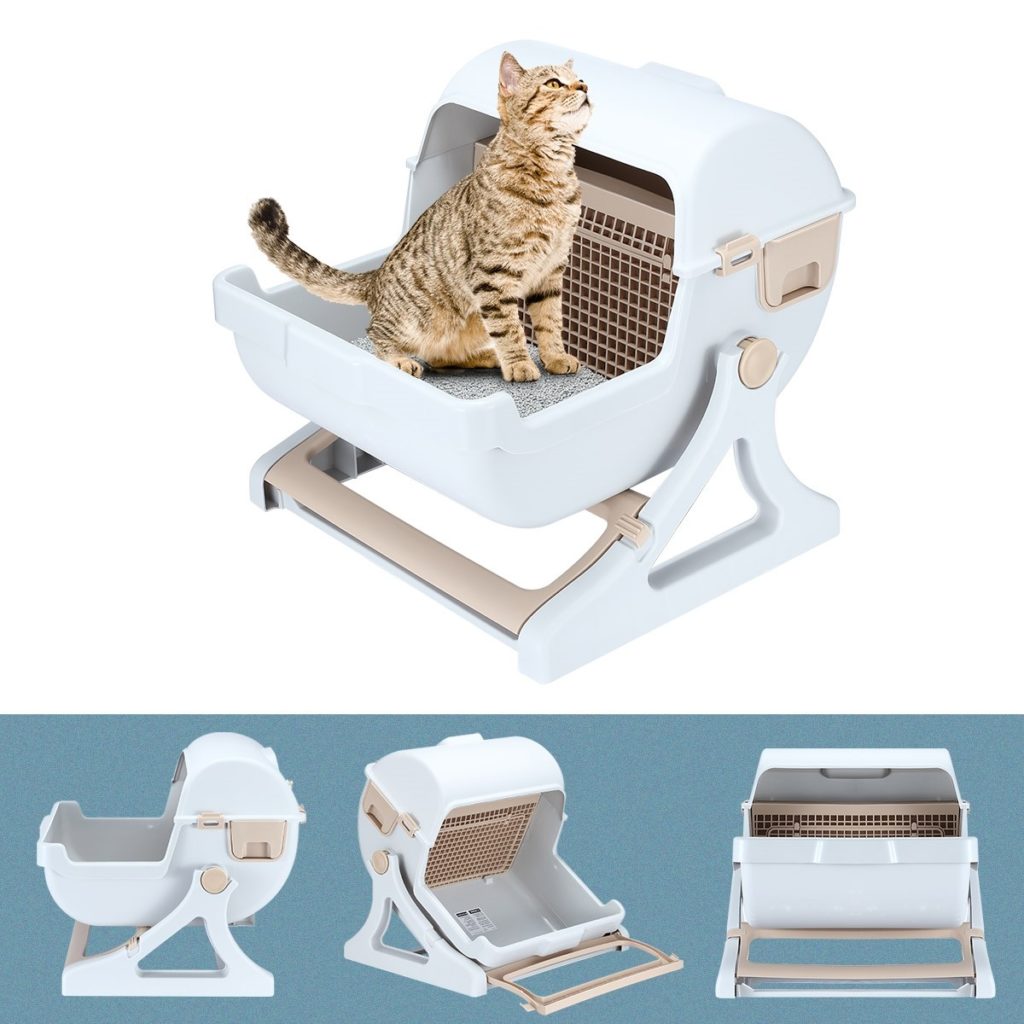 Cats are like a human who needs to go to a proper toilet. As their parents, we have the responsibility to provide them with the best litter box for the sake of keeping your house fresh and making your cat comfortable as well.
This innovative cat litter box fits exactly as you wish and offers you a great solution to deal with the odour and mess of cat poop. Its non-toxic and eco-friendly PP construction is safe and durable for both young kittens and adult cats. With this semi-automatic cat toilet, there is no necessary to scoop the soiled, clumped litter manually. After the cat defecates, all you have to do is to lift and flip up the base of the toilet, separate the clean litre from the solid waste through sifting, then reset the box, and finally take out the drawer and empty it.
---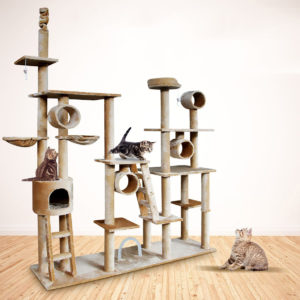 Home cats have the same instinct as cats that live in the wild. They like to climb high up and spend time observing their surroundings, and easily see what's happening around them without fear. Having a cat tree in your house can greatly satisfy these natural instincts of your lovely feline friends.
Families who keep one or more cats must have a multi-level cat tree. It is an innovative piece of furniture combining perches, hideaways, ladders, condos, and hammocks for your kittens and adult cats to nap, play and relax anytime. The play centre helps increase your cats' horizontal and vertical territory while giving each cat the space he/she prefers and keeping them entertained and healthy. The sturdy frame and durable soft plush fabric are built to withstand constant climbing, stretching and jumping.
---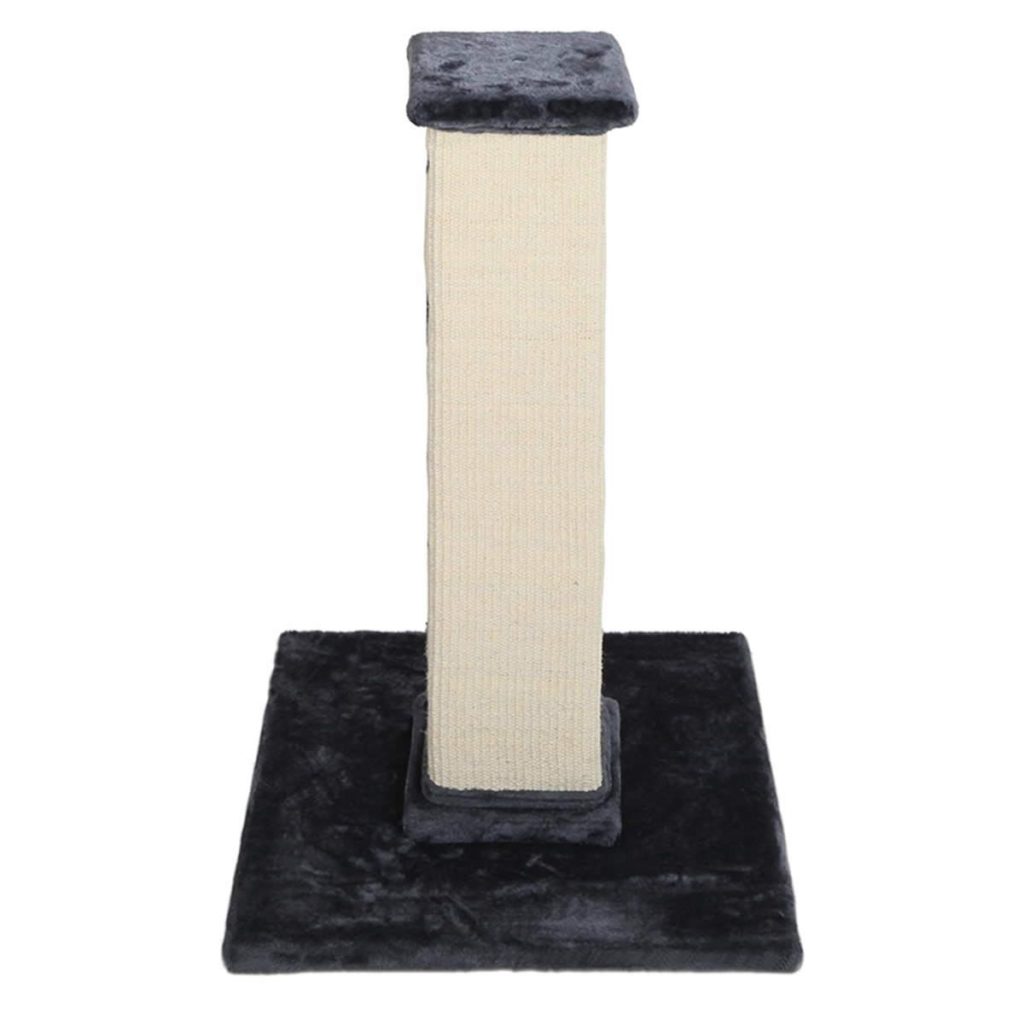 As we've mentioned above, cats scratching is a kind of play as well as a form of exercise. Cats can't resist scratching to sharpen their claws even if they don't have a proper place to do it. The cat scratching post, as a cat's must-have piece of furniture, will help every feline owner solve many of the headaches and improve the cats' health.
Setting up a sisal scratching post in any room of your house helps keep your cat from scratching your precious furniture or sofa. This nice-looking scratching post is fitted with sturdy wooden construction, durable natural woven-sisal and plush velvety scratching surfaces. You can rest assured that the post is heavy enough to keep still even if there are vigorous scratches or leaps. The 92cm height is tall enough for your cat to stretch out comfortably. The soft platform at the top is great for your cat to perch on. And the post is easy to install and move whenever needed.
---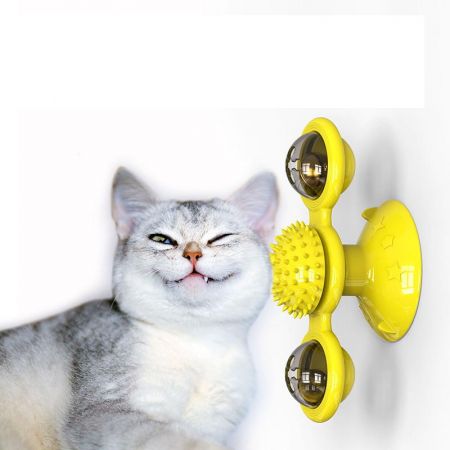 Nowadays, a variety of interactive toys or games have been invented to satisfy your kitten or big cat's natural hunting instincts and keep them stimulated and active even in the hours you are busy doing daily tasks of life. As cat owners, you will experience the different growing stages of your cat. Kittens will play with everything, from wands and stuffed animals to bigger electronic toys or even things which are not toys. However, as your cat ages, you may find that they need some encouragement to play with these toys.
You may find that your feline family members love rolling toys such as toys filled with catnip which can keep them occupied for hours as these things make them feel like a good hunter. The multifunctional windmill toy is one of those toys which are created to add more fun, relieve their anxiety and save more efforts on hair's grooming and teeth's cleaning. The turntable toy combines with a glowing ball and two catnip balls and a hair and face rubbing device in the middle. There's a strong suction cup at the bottom which can stick tightly to any flat surface, such as glass, tile, wood or mirrors.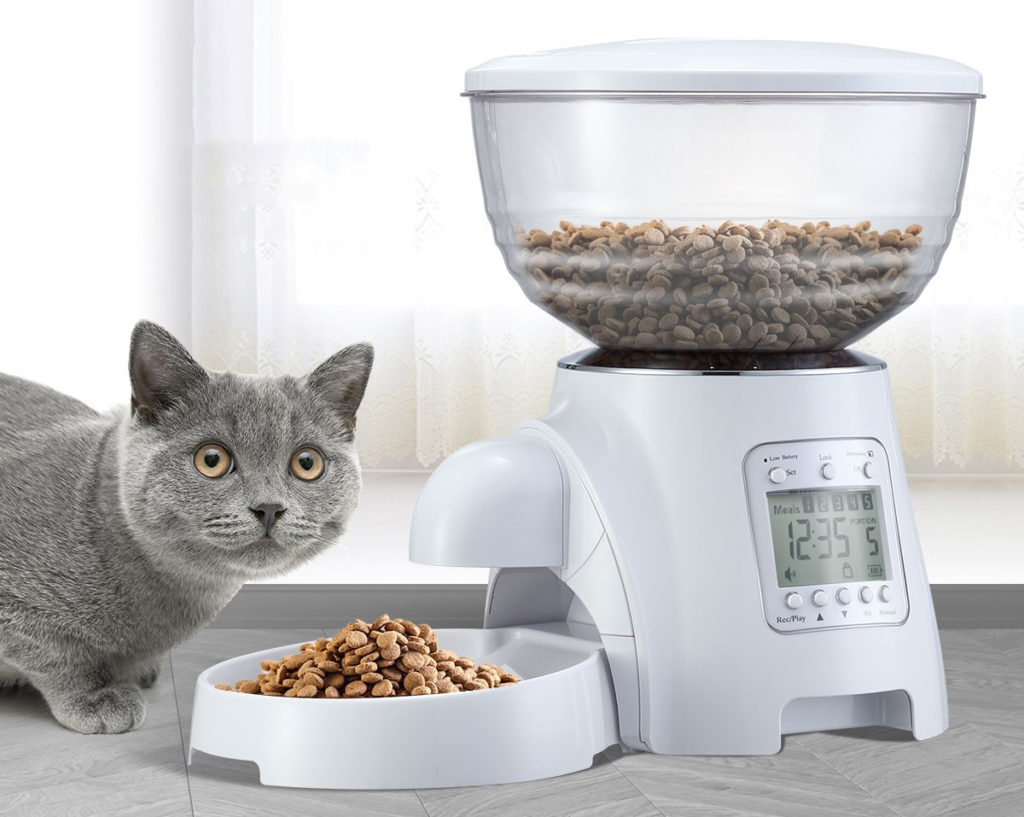 An automatic feeder will be one of your cat's must-have items if you are a cat parent who is often busy with office chores or out of home for business or travel or just don't want to get up early. You are sure to know that your kitty always gets her meals. One of the great benefits of an automatic cat feeder is its ability to program the whole daily food intake in set portions. This will help your cat develop good eating habits, control their weight and keep them in good condition.
Even Garfield will love this beautifully-designed automatic cat feeder, which holds up to 45 cups (90 meals) and separates from 10 grams to 200 grams of food per meal. What makes this food dispenser unique is the ability for cat owners to record a 10-second voice message reminding your feline friends its mealtime. There's also an infrared sensor to prevent food from getting stuck and spills. Perfect for small, medium or large cats. If you don't want your cats to be hungry, then don't hesitate to buy one to schedule the feeding time.
---
Taking care of your beloved kittens or older cats can be a big challenge for most cat owners. Luckily, there is a lot of joy and happiness in these processes. Whether you are looking for a scratching post for them to sharpen their paws or a windmill toy to keep them entertained for hours, there is always an excellent item to match your specific needs. Grab one home to pamper your feline family members and to be the best cat owner you can be.