Wine and special occasion are always paired—be it white wine for anniversary, red wine for a birthday party, or sparkling wine on New Year's Eve. The point is, special occasion is always celebrated with the perfect quality wine.
Red Wines
Red wine is perfect for exclusive parties like a romantic dinner for two or an intimate wedding anniversary party.
Shiraz – It's "shiraz" in Australia but "syrah" in Europe. This aromatic red wine is best paired with beef, steak, and stews. Not only average red wines, but shiraz grape also produces the world's best, deepest and reddest wine like the 2002 Penfolds Grange Bin 95.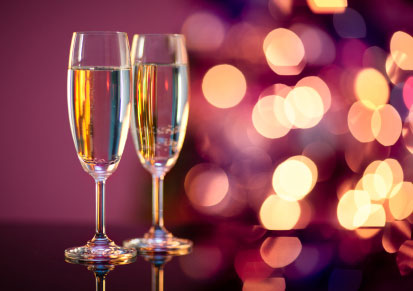 Merlot – It's one of the world's most planted grape varieties, making Merlot among the most popular red wines. It is perfect for newbie red wine drinkers and perfect with any food.
Cabernet Sauvignon – Despite it's being new in the market, Cabernet Sauvignon is already tagged as the world's best red wine variety. Blend it with Merlot and Cabernet Franc to achieve a unique taste. Get better taste when it's paired with simple red meat recipes.
Pinot Noir – This grape is rarely blended because it's difficult to grow. But it sure provides a memorable experience with its fresh, delicate, and soft taste and fruity, tea-leaf, and earth aroma. Serve it with sushi rolls, lamb, chicken, or grilled salmon.
White Wines
Elegant parties will be perfect when served with white wine.
Savignon Blanc – It's the best dry white wine for the greatest food varieties like smoked cheese, raw garlic, cilantro, bell peppers, and tomatoes.
Riesling – This is the perfect wine to go with entrée, appetizers, and desserts due to Riesling's aromatic and flavorful combination of pear, peach, and apple.
Pinot Grigio – Think about a mutated Pinot Noir and you'll get Pinot Grigio. This light dry white wine has flowery fragrance and clean, short taste. It's best paired with raw or cooked seafood.
Moscato – In Australia, this white wine variety is known as Brown Muscat due to the small red tint, resulting to brownish color. Victoria's Rutherglen produces the world's best quality and fortified Moscato wine.
Chardonnay – This is the most widely-planted grape variety in the world for white wine production. Remember the ever popular Oyster Bay Chardonnay? Chardonnay is also a significant ingredient of sparkling wines.
Sparkling Wines
Hyper parties will be more exciting with a sparkling wine. The magic is in the bubbles.
Sparkling wines have sparkling bubbles due to the ingredients. Take for example the Blue Pyrenees Vintage Sparkling Wine, which is an exceptional blend of Pinot Meunier, Pinot Noir, and Chardonnay. But since it's a vintage wine, expect this to be extra special, perfect for extra special occasion.
Always go with quality wine no matter what variety you buy. After all, choosing the perfect wine will make any occasion a special occasion.