What are Green Toys?
A toy can qualify as a green toy if its manufacturing, packaging, marketing, and fun-using will never cause any damaging effect to the environment.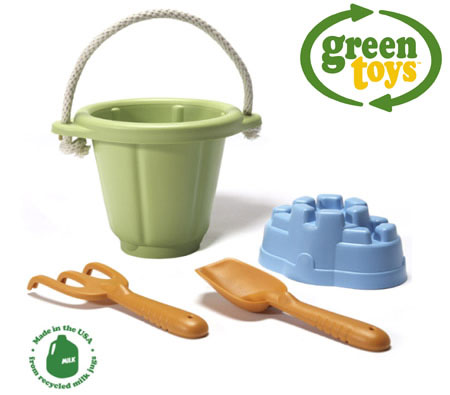 Green toys should be made out of environmentally friendly materials like recycled plastic. Or they must use renewable sources of energy for powering up like the sun or wind. So a solar powered truck, an electric car toy with integrated wind machine, and a dinner set made out of recycled plastic are all green toys.
Best Green Toys for Kids
Thanks to the increasing market demand, more and more manufacturers are at least including a line of green toys in their products. But there are just so many that choosing can be quite tiring. Consider our recommended green toys below:
Wooden toys. Remember how much fun you had stacking up wooden blocks or putting wooden puzzle pieces together? Wooden toys are classic and they are made out of environmentally friendly materials. Just make sure to pick wooden toys coated with non-hazardous paint.
Toy Dinner Set and Toy Truck. Girls love a toy dinner set as much as boys love a toy truck. But these popular toys are mostly made out of hazardous plastic. Better opt for non-hazardous recycled plastic toys. Patronizing recycled toys is helpful in eliminating the non-biodegradable garbage problem.
Solar Powered Electric Car. No need to buy batteries over and over again with a solar-powered electric car. It's a fun way to teach kids science, especially how the sun's rays create electric energy that power up the toy car.
DIY Wind Powered Machine Kit. It's complete with everything needed to build your own wind machine. Kids will learn that wind can generate electricity for recharging batteries.
Eco Planet DIY Kit. Learn about the environment while you grow your very own eco system. Build this kit with your kids and explain to them how the eco system works and how species grow and affect one another.
These toys are not only fun but also educational. More than being green toys, these are also your way to start a new generation of children who are responsible and committed to protect the overall welfare of the environment.