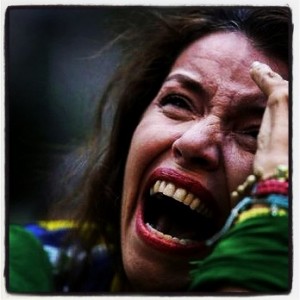 This look of disappointment pretty much sums up the feeling throughout Brazil today, as Germany used the hometown favourites like a speed punching ball, issuing a severe and thorough beating in the first semi-final of the 2014 Fifa World Cup. It was a match that quickly turned into a football clinic in which striker Miroslav Klose became the highest scorer of all time with his 16th World Cup goal.
Germany will move on to face the winner of the Netherlands v. Argentina match this Thursday.
Did nerves get the best of Brazil? One can only imagine the intense amount of pressure anyone would feel when put on such a giant stage in front of millions of admiring and hopeful fans. In the self proclaimed worst day of his life, Brazil coach Luis Felipe Scolari exited the stage admitting that he alone is to blame for the upsetting defeat. One of Brazil's best players, Neymar da Silva Santos, was out with injury, however in a beating this brutal it's unlikely that his presence would have made any difference whatsoever. Whatever the cause of the meltdown in Brazil's performance, Germany took full advantage in every opportunity that came their way.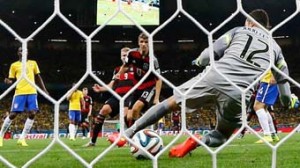 German coach Joachim Low knew that Brazil would be full of emotion coming into the match, especially with the absence of Neymar. It was important, he said, to meet this passion and emotion full on and take advantage of it where possible. After scoring the first few goals, Germany knew the obvious: that the emotional air had been deflated from the Brazilian team.
Germany scored 4 goals in a span of 6 minutes (23-29), putting out any flames of hope and stunning most of the 58,000 fans in attendance. It was Brazil's biggest margin of defeat ever (tied with a 6–0 loss to Uruguay in 1920), and it broke a 62-match home unbeaten streak in competitive matches going back to 1975, when Brazil lost 3–1 to Peru.