Yes, that is what it looks like…American late night television host Jimmy Kimmel interviewing fashion designer Tom Ford while wearing an entire suit made from loom bands! About 250,000 loom bands, to be exact. This suit was later auctioned on eBay for $40,000.
Loom bands have been hot for a while now, but they're still picking up steam as the newest and most fun arts & crafts hobby toy for kids, teens and adults alike. Maybe you haven't yet had the opportunity to get on the Loom Train, but you will.
When I was a child I had a similar kit. I can't say it was ever as popular as rainbow loom bands, but it was popular in my home. Elastic loops were woven together on a plastic frame with pegs, and the result was a stretchy square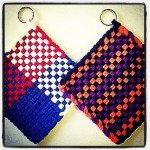 potholder, like the ones shown in the image. It was something I did together with my brothers and sisters, and it's a memory that I'll always keep. It's interesting to see how trends repeat themselves over time. With society so overwhelmed by technology and gadgets, it's refreshing to have something as simple as loom bands pop up out of nowhere and bring us a new sense of playful creativity.
Stressed out from school or work, and tired of staring at screens all day? Take a digital detox and sit down with this fun little hobby. Explore how relaxing it is to simply be in the moment, and enjoy the feeling of childhood nostalgia you'll get from making fun and colourful key chains, wristbands, or even a beanie. The internet is full of tutorials on how to create various interesting loom band items. Create an entire suit if you want!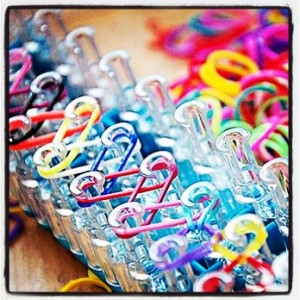 Loom bands are definitely more popular among younger people, and are believed to improve motor skills in children. So if you purchase a kit for your child, don't think for a minute that it's only a toy; it can also be a great learning tool. But don't be surprised when you find yourself sitting down with your kids and exploring your own loomsanity, because loom bands can be as addictive as they are popular! Needless to say this loom craze is a Crazy train that is going to be moving for a long time to come.