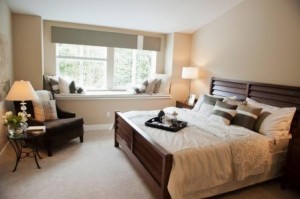 A well-deserved rest is all you need after a day's hard work. But how can you do that if your bedroom looks more stressed than you are. Your place of rest must be calm, cozy, and comfortable. To create a room that feels and looks good is easy if you follow these four easy steps: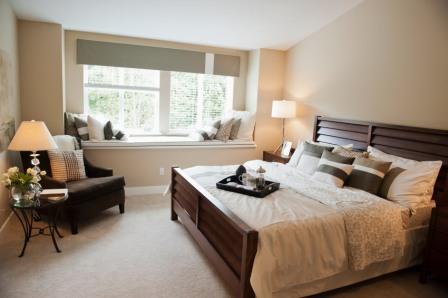 Choose the Right Bed and Mattress
The average person spends eight hours a day on their bed and mattress—that's 33% of your time. A bed makes or breaks the overall look of a room because it is generally the focal point. It is wiser to invest on the best quality and most attractive bed for your price range. Your guest bed should be stylish too. If space is an issue a bunk bed or sofa bed could be the perfect solution.
Bed Accessories Adds Style to a Room

Bed accessories add style and colour to a room. When left bare beds are boring. Dress them up with bed accessories that can instantly revamp a bedroom with bed linen: blanket, quilt, and pillow, and pillow case.
It's a good idea to have your bed linen in at least three colour schemes —one plain with neutral color, one plain with bold color, and one printed. The secret is creating the right blends. It is not recommended to mix printed with printed. A floral doona and a checkered pillow case are old-fashioned. Here's a short guide on how to mix bed accessories:
Plain-neutral and plain-neutral = Relaxing and Minimalist
Plain-neutral and plain-bold = Soothing and Artistic
Plain-neutral and printed = Earthen and Natural
Plain-bold and printed = Warm and Brave
When using printed accessories, try to match it with a plain colour that is also found within the print.
Strategic Storage
The trick to a clever bedroom storage system is organizing everything without showing anything.
Socks, scarves, belts and other small items may be neatly kept away with a tall boy or chest of drawers.
Your wardrobe should be large enough to house your clothing but not so big that it takes over the entire room.
A hat stand is perfect to easily locate your small purse, belts or neck ties.
The perfect jewellery storage has separate containers for earring, rings, bracelets and necklaces.
Finishing Touches
Add traditional furniture pieces like a bedside table, dressing table, mirror, cupboard, and jewellery storage mirror. For a safe choice, choose neutral colors and shapes for bigger bedroom accessories like the bedside table, cupboard and dressing table. Accentuate the bedroom with bold-color accessories, like a neon green mirror.
Who needs to renovate the entire room if simple bedroom essentials can instantly do the make-over?