Busy at work? Why don't you relax and have fun…with your kids, of course! It's great for your health and a fun way to bond with your children. Try some of the following toys for kids-parents bonding and learning.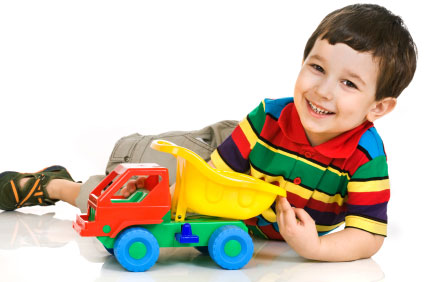 Mental-Challenge Toys
Build, solve, compete, and complete. Sounds boring? Not with these brain exercise toys:
Building toys Toddlers and small children will love putting colorful pieces together, especially the ever-popular preschool toys like blocks, puzzles, and Lego. Level-up this building game with the extra challenging Meccano and build animals, dinosaurs, helicopters, a boat, car, or even train set.
Board games toys For older children, try board games like Scrabble and Chess instead of the easy puzzles. Competing with them will help kids develop logic and broaden their vocabulary.
Try other educational toys involving school subjects that interest your children such as science and math. Buy flashcards or better yet, laptops for children that have all the pre-installed educational games.
Pro-Creativity Toys
Children are highly imaginative that even you will be surprised. Here are more toys for enhancing kids' creativity:
Arts and Crafts. Color, paint, cut, and mold using arts and crafts supplies like crayons, water color, scissors, color papers, beads, paste, and clay. Kids will have fun creating something beautiful and you might discover a new de-stressing hobby.
Dress Ups Play pretend with materials for dress ups. Be a knight, princess, frog, flower, or even a star. Don't think it's silly if you find yourself squeeking in a high pitched voice dressed as a mouse!
Play House. Exchange role with your kids—be the kid and let them be the parents.
Puppets Make up a story and let your kid be the narrator. If you can't find puppets, then use soft toys or collectibles to re-enact the story.
Magic Tricks Buy easy magic tricks supplies like magic hat or magic box. Teach kids how to use these perfectly and set-up their magic performance after a few practice.
Musical toys Let kids play the piano, guitar, and keyboard the way they want it. Test their listening skills by matching laptops music with these instruments.
Outdoor Fun with Outdoor Toys
Don't just bathe under the sun. It will be more enjoyable to enjoy the sunshine with popular outdoor toys.
Ride the bike or scooter around the park.
Have a radio control toy race. Tarantula against Racing Car!
Teach your kids how to fly the kite or learn how to do it together.
Have an outdoor bath with Slip "n" Slide.
Be a big part of your child's critical stage of development. These bonding-learning toys will make everyone happier and healthier. All you need is to take the first step now and shop for the best fun learning toys for kids.