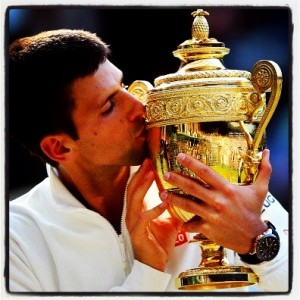 Another Major tennis championship is finished for 2014, leaving only the US Open in August before the excitement returns to Melbourne in January. Novac Djokovic took the Wimbledon final from seven-time champion Roger Federer in a thrilling match that lasted all five sets at the All England Club on Sunday. The crowd favourite Federer won the first set in a tiebreaker, only to lose the next two sets to the Serbian warrior. Federer battled back to take the fourth 7-5, setting up what would be a spectacular final set. The 27 year old Djokovic eventually broke the 32 year old Federer, winning six games to four in the 5th set.
The End Of An Era? Let's Hope Not
Roger Federer won his first Major at Wimbledon in 2003 at the age of 21. What followed was a decade of dominance that is nearly unparalleled by any athlete in almost any sport. His grace and elegance on and off the court made him a crowd favourite at nearly every tournament, and solidified his place in the hearts and memories of sports fans worldwide.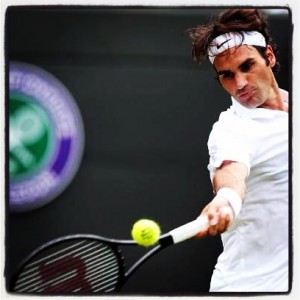 2009 was possibly the biggest year ever for the Swede. Besides winning both Wimbledon and his first French Open, completing a career Grand Slam, his wife also gave birth to identical twin girls. After winning in Australia in 2010, he began to show a decline in his dominance, and many tennis fans wondered if either his age, or his new family obligations were going to be factors in his inevitable fall from the top.
Federer's last and 17th Major came again at Wimbledon in 2012. He was close yesterday, but is it over at this point? Is he too told to win again? Only time will tell. Besides getting to the age where it's simply impossible for most to compete with the younger athletes, his wife recently gave birth to a second set of distractions. Yes, another set of twins! This time boys, named Leo and Lenny.
Congrats Roger! Here's to hoping you make it back to the top again soon.
A Star-Studded Finale
The Duke and Dutchess of Cambridge left baby George at home to take in the final on Sunday. Besides actual Royalty, there were a handful of Hollywood and sports royalty in attendance as well.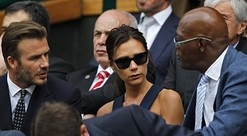 The Becks were in the house giving free lessons, as usual, on how to be more attractive than you. Between lessons they found a few minutes to chat with actor Samuel L. Jackson. (Thanks to the gentleman in front of them for trying to get out of the photo. It's the effort that counts.)
Also in attendance were Hugh Jackman, as well as Bradley Cooper & Suki Waterhouse, Orland Bloom & Kate Beckensale. Colin Firth attended with his Father. Keira Knightly and Jude Law were both also taking in the final (not together…let's not start any rumours) among many, many more.
And finally, let's not forget Australia's own Rod Laver, a 2-time (Open Era) Wimbledon Champion.