What are your usual family activities? If it does not include camping and hiking yet, you are missing a great adventure that can be shared by each member of the family. Believe it or not, packing the backpacks for the whole family for an out of town activity can strengthen family ties whilst having fun.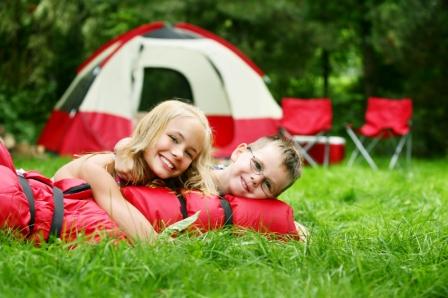 A lot of parents may not be confident with the idea of camping with their children somewhere they are not really familiar with. However, with forward planning and packing correctly ensures you will have a happy and safe camping experience that you'll want to do again.
Check out these basic points to keep in mind:
Make the first activity short. Pick a good place near your home to camp or hike and set the date on a weekend. A short trip with the kids to kick start this bonding activity will help experience the sweetness of camping and hiking without being too much overwhelmed.
Make the camp comfortable for everyone. With the right gear camping can be comfortable for everyone. Make sure your tent is clean and bring inflatable mattress for everyone. A camping bed needs not be the ground these days. You can make everyone comfortable just by bringing an air pump with inflatable beds and even an inflatable couch for the day.
Load up on essentials. Make sure everyone has their own sleeping bag, headlamp, torch, raincoat, backpack, and blanket. Take note that there is no more other way for everyone to enjoy the trip than making sure all of them are comfortable and all their needs are right within their reach like headlamps or lantern.
Attend to the family's main needs. To avoid your children and the rest of your family troubled with toilet issues, it may be wise to get portable toilet and even camp shower such as a solar shower.
Guarantee the safety of everyone. Make sure you pack first-aid kits, give emergency flashlights to everyone, and brief everyone about the safety rules and regulations when in a camp or a hike. As much as possible, buddy up family members with one adult and a kid. Get a caravan cover as well to secure your other things while on the camp.
A camping or a hiking trip out of town with your whole family can be a very fun experience. You can even upgrade the experience by picking camping and hiking sites near the lake. You can bring an inflatable raft to bring the trip to a higher level. Enjoy!