Have you gone on a road trip or maybe just hit the road on vacation? Once every now and then we get tired of driving and we find a perfect spot to relax. So now you're relaxing and having a good time in the great outdoors, but then the weather starts acting up. Either it rains or maybe the wind is just too strong or worse the sun just shines a little too brightly. So what do we do in these types of situations? Usually we just pack up and leave. What if I told you that there was a way to still enjoy the outdoors despite the weather. Interested? There are multiple ways out there but what I will be talking about is using awnings.
Awnings are portable shades that we can easily assemble to shield us from the elements.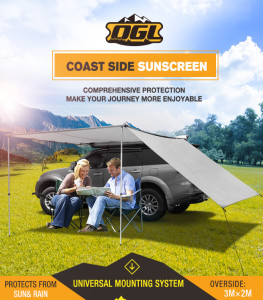 This particular one from crazysales.com.au comes with multiple features for the modest price. Normal car awnings are all well and good but not enough most of the time. Often they aren't enough they don't give enough shade, don't protect from rain sufficiently and do not protect from harsh weather.
420D Oxford Sun Shade Extension-3M x2M was created specifically to protect against all of the above, while offering a lot of options. This particular awning has a side screen that is reversible, meaning you can use it on either side.
Why buy this product?
Quality
Uses 420D Polyester Oxford material coated with high quality protective elements.
UV and Heat Resistant
This awning will protect your skin from the harsh rays of the sun. 100% shade rating will block out excess heat.
Waterproof
100% waterproof meticulous edge sewing makes the fabric smooth and firm. Rain water rolls away smoothly with no resistance.
Durable
This product can rival any high grade awning while having twice the service life of most.
Easy to Install
The awning is easy to install made with an intuitive design.
This all comes with a waterproof bag to prevent dripping and hassle of a wet awning. The best part of all this is that it is made with a universal design in mind. That means this wonderful shield will fit any car. So you can enjoy uninterrupted fun no matter the weather.