Air Compressors make our lives easier in a number of ways. They power multiple devices that make work easier. Though daunting to use at first once you master its functions it will be second nature to use.
Air Brush Compressor 1/6HP for Spray Gun with Tank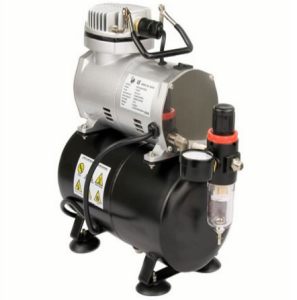 A sample of an air compressor.
I present you with the top 5 reasons to use an air compressor.
Arts and Crafts Projects
If you like building things you should know that a nail gun speeds up the process immensely. To use a nail gun however, you need an air compressor. Unless of course you want to buy a battery-operated model, which are $200 to $500. Air pressure nail guns last longer than the typical battery charged ones.
Spray Painting
An air compressor powered spray gun will enable you to paint like a pro. Not that there is anything wrong about painting with a brush, this just makes it faster. Paint kitchen cabinets or just restore some furniture an air compressor will make it easier. Why hire someone when you can do it yourself.
Fun Under the Sun
Air Compressors can be used to inflate a lot of summer toys. Inflate your swimming pool and cool down from the heat. Inflate an air mattress for peaceful sleep or basketballs for a good game. Don't forget that the compressor can be used as a high powered water gun.
Versatility
There are plenty of uses for an air compressor. You can power up different air tools or clean up sawdust with the air blower tool. Passing down a pink bike to a boy? Big deal just paint it to any color he wants. Sprucing up your kitchen? Paint faster by spraying. The air tools are longer lasting because they have less moving parts.
Usefulness
Air compressors take a bit of time to learn. Once you have worked how to read the gauges or set up a line you're golden. After learning how to use it everything will be a breeze.
So what are you waiting for? Get an air compressor now and save some time!