If you want to stay toasty warm as the nights get colder, then look no further than an electric blanket. Electric blankets are very adept at keeping you warm at nights, are much cheaper than an air conditioner and are much more convenient. Electric blankets have other benefits too, such as alleviating aching muscles and joints, as well as cutting down on the presence of dust mites – making them advantageous to allergy sufferers.
---
How Do Electric Blankets Work?
Electric blankets are placed in between your mattress and your sheets and heat both to keep you warm. They work by an integrated heating device which spreads the warmth throughout the area covered. The heat is distributed by carbon wires spread out in the fabric. For those with double or queen size beds, there are some heated blankets with dual controllers, to allow those on both sides of the bed to set their preferred temperatures.
Most electric blankets have a number of different heat settings you can choose from. The heating setting is adjusted by the controller, which can either hang loose or be attached to the mattress itself. Most people find that the highest heat setting is more than enough to keep nice and snug, and can even feel too hot. The general consensus is that the lower settings are perfect for keeping you just warm enough to survive the winter nights.
---
What Differences?
All electric blankets warm your bed, but they differ in how long they take to heat up, and how much control you have over the temperature. Some take under 5 minutes to warm up, while others take substantially longer.
All blankets have a range of heat settings, but the number might vary from 3 to 12. More advanced blankets might even have different settings for different zones, so you can have additional heat for your feet or have different heat levels for the two sides of a double bed.
---
Fitted VS Non-Fitted Electric Blankets
Fitted electric blankets are contoured to the shape of your mattress. They remain flat during the night and are generally not as noticeable as non-fitted blankets as they feel the same as the mattress beneath them. You need to make sure that it fits your bed's dimensions if you choose a fitted electric blanket.
Non-fitted blankets are also referred to as 'tie-down' blankets, which is because they do not fit around the corners of your mattress, but are rather tied down on top of your mattress and generally only cover a portion of it. Non-fitted blankets have the advantage of being cheaper and easier to put on.
---
CrazySales Best Electric Blanket Reviews
1. Fitted Heated Electric Blanket with Dual Control-Queen Size: $29.97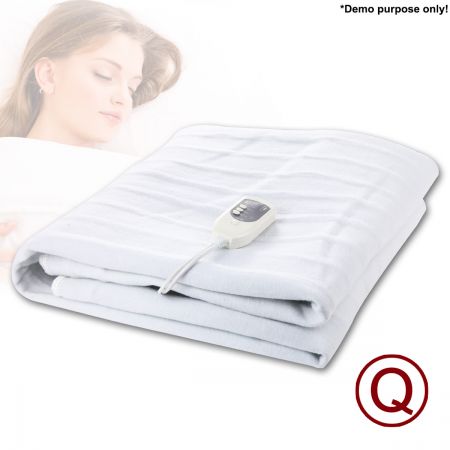 With an adjustable heat control, this electric blanket with timer is made from 100% polyester. Featuring a detachable dual-control for temperature and safety overheat protection, this blanket is flexible and safe to keep your bed warm and pleasant.
Key specs:
Queen size, 152cm x 203cm
Australian Standard & C-Tick approved
100% Polyester
4 Step adjustable heat control
Detachable controller
Safety overheat protection
Automatic shut down
Heat can be adjusted separately
Timer function
2. Fitted Heated Electric Blanket with Dual Control-King Size: $49.97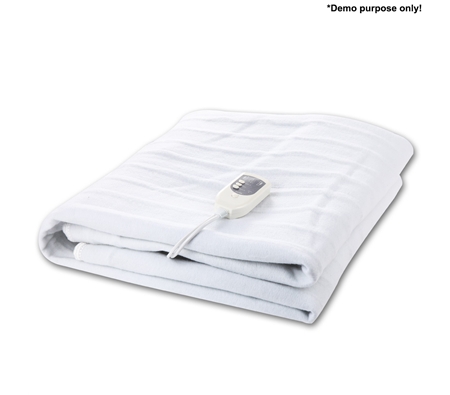 This fitted king size electric blanket is designed with adjustable heat control and made from 100% polyester. It will stay in place and features detachable control for blanket temperature and automatically turns off if it gets too hot.
Key specs:
King size, 182cm x 203cm
Polyester electric blanket
Australian Standard & C-Tick approved
4 Step adjustable heat control
Detachable controller
Safety overheat protection
Automatic shut down
Heat can be adjusted separately
Timer function
3. Giselle Bedding 9 Setting Fully Fitted Electric Blanket – Single: $59.95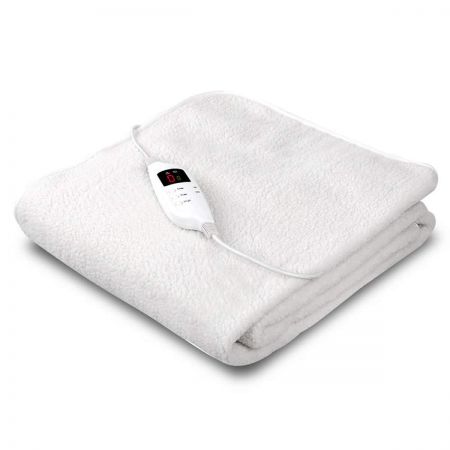 Featuring a synthetic faux wool underlay, the fully fitted cheap electric blanket allows you to set 9 different temperature levels on its LED display. A timer ranges from 1 to 9 hours. Even if you had forgotten to turn the blanket off, the automatic shut off protection will be available for your peace of mind.
Key specs:
Single size: 91cm x 193cm
Fleece synthetic wool
LED display
Overheat protection
Detachable controller
9 Temperature levels
Timer function: 1 to 9 hours
Automatic shut-off
Removable cables
Low energy consumption
4. Double Control Electric Blanket Luxury Fleecy Lily Hill – Queen Size: $59.97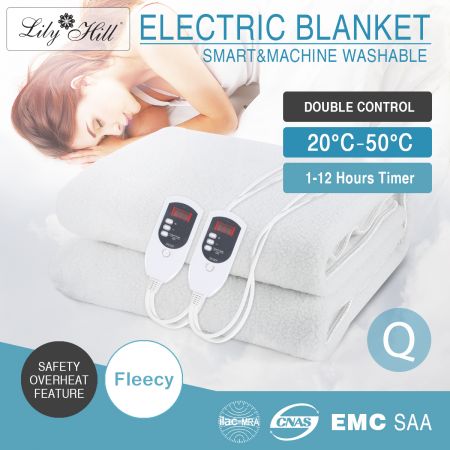 Equipped with a dual controller and separate heating zones, this fitted electric blanket is perfect for chilly winter nights. The LED helps you to choose the perfect temperature for you, and the overheat protection ensures safety as you sleep.
Key specs:
Queen size: 204cm x 152cm x 40cm
Fleecy underlay
LED display
Overheat protection
Heating in separate zones
Dual controller
Removable cables
Double-layers of helix heating system
Timer function: 1-12 hours
Automatic shut-off
International Standard safety-protection
---
Are Electric Blankets Safe?
Worried they're unsafe? Don't be. As long as you take care of them and use them properly, generally the electric blankets are safe. All electric warm blankets sold in Australia must adhere to extremely strict safety standards. Some enable you to keep them on all night, while others have auto shut-off if you want them to turn off.
After every season when you take them off your bed, check them for bent wiring, scorch marks, worn patches or general signs of damage. If you see any of them, replace it. Make sure you monitor your children's usage. For young children in particular, it is best if you set the temperature for them, due to the control involved. Also, being children, they can forget to turn them.
---
Conclusion
Hopefully, this review has told you enough of the basics for you to make your own informed decision about whether you'll purchase an electric blanket or not. If you're the kind of person who doesn't feel bothered by the cold, then you should also know that electric blankets are believed to have certain health benefits. If you bear all of these in mind, then you'll obtain a good chance of buying the best electric blanket. It's time to get cozy!